I'm kicking myself for the fact that I lost the "before" images for this room, when my phone died a sudden and tragic death, because I love a good before and after. In saying that, this room was never bad, it just wasn't quite right, wasn't completely suited to the client, and needing some fluffing out.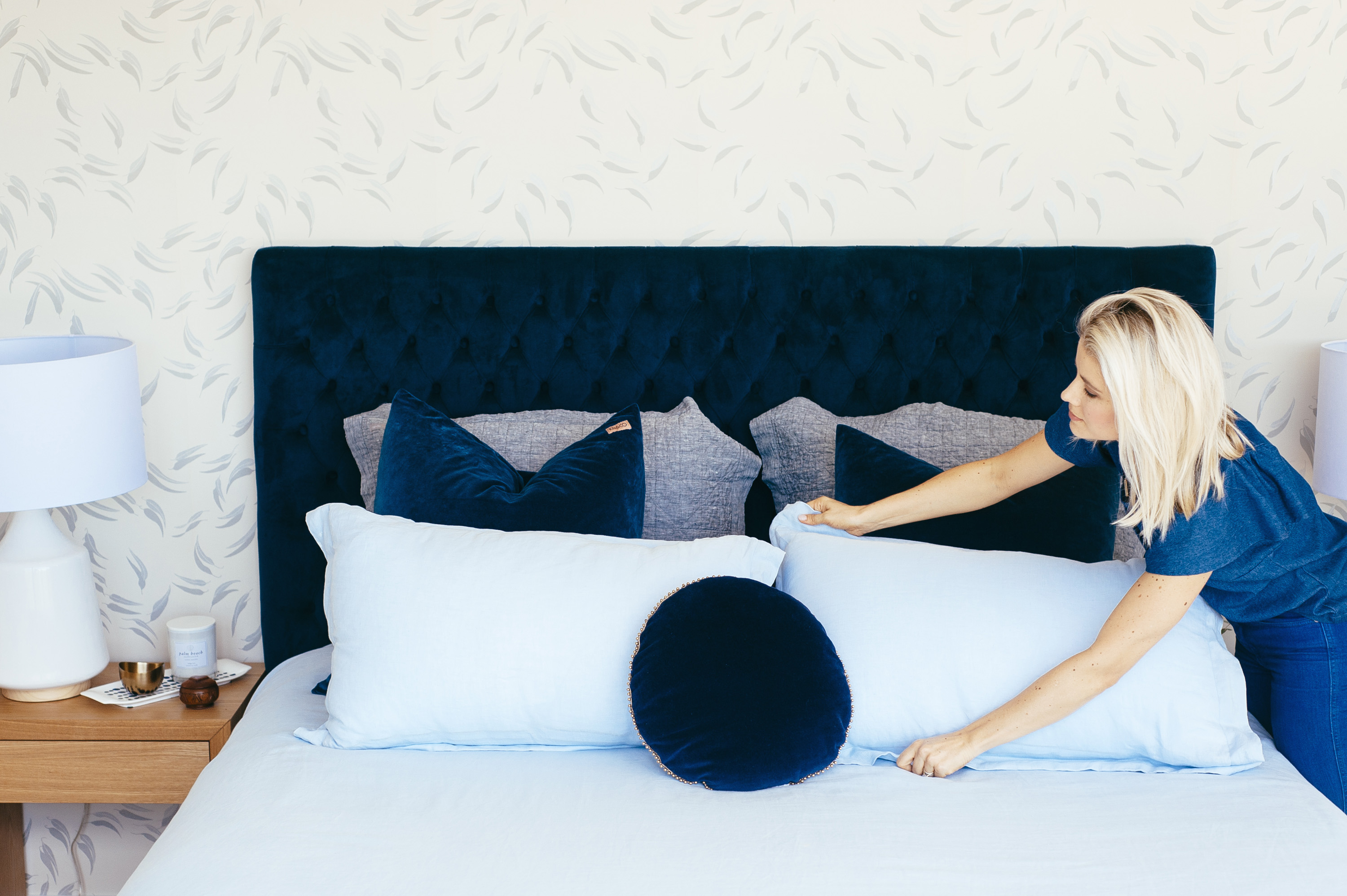 To start with, we got rid of the original wallpaper, which was quite a bright teal colour with a large strong pattern that didn't reflect my client and instead we hung this the more subtle, more sophisticated, falling gum leaf paper from Emily Ziz, which better reflected my client's personality. The fact that the leaves appear to be falling creates a sense of calm while at the same time providing a sense of movement and energy. That's a difficult thing to achieve.
Ps. I didn't end up using that front cushion in that spot. I play and go back and forth a million times before I decide. I'm going to have to start limiting my options for the sake of sanity.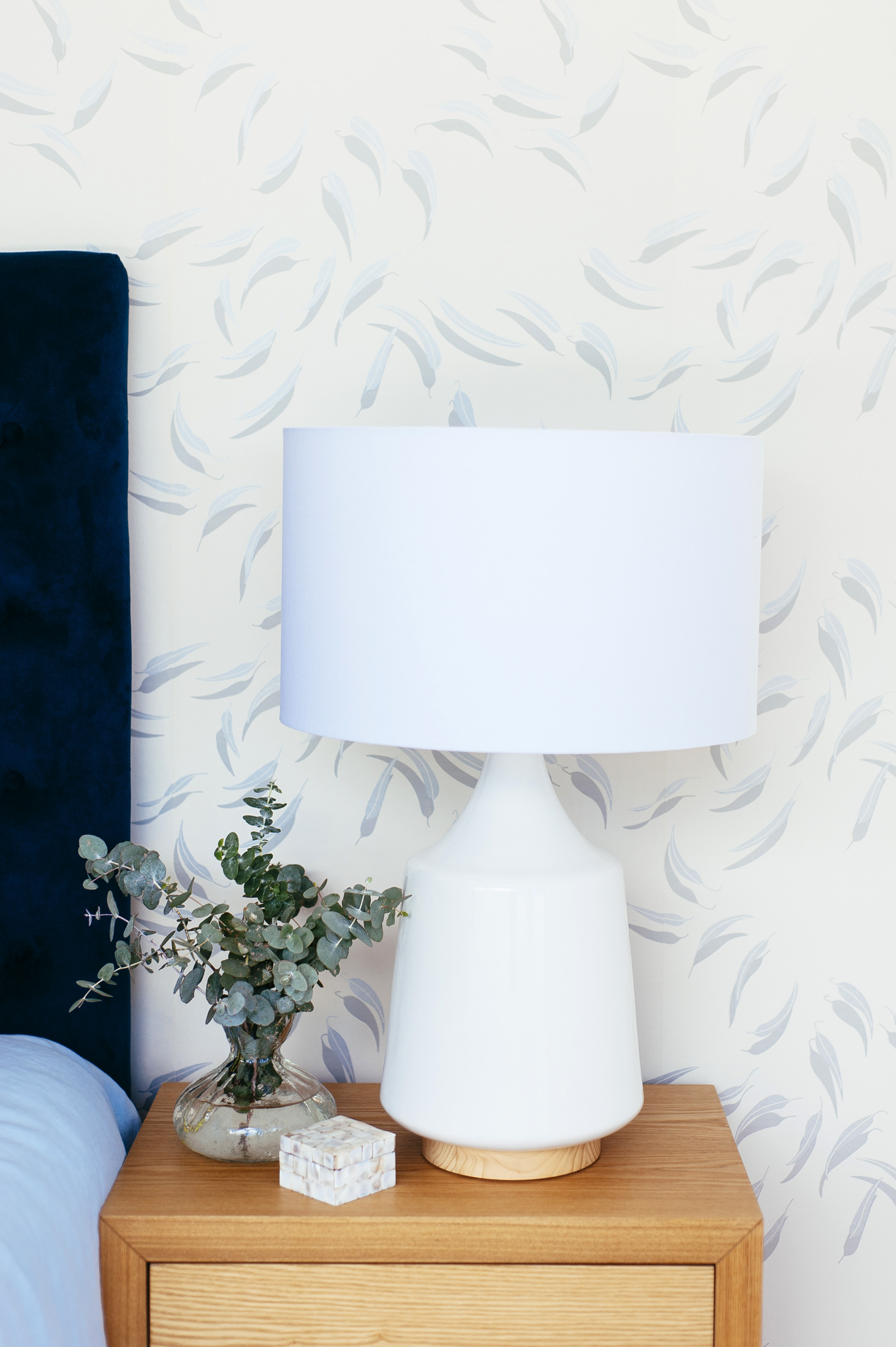 I've used this tufted, velvet bedhead before. It's from Canvas and Sasson and it provides serious bang for its buck. It's not cheap but it's not expensive and the colour is the most perfect shade of navy without having to go custom made.
Everything else in the room needed to be simple, understated and not steal any limelight from the wallpaper and the bedhead which were my defining, key pieces.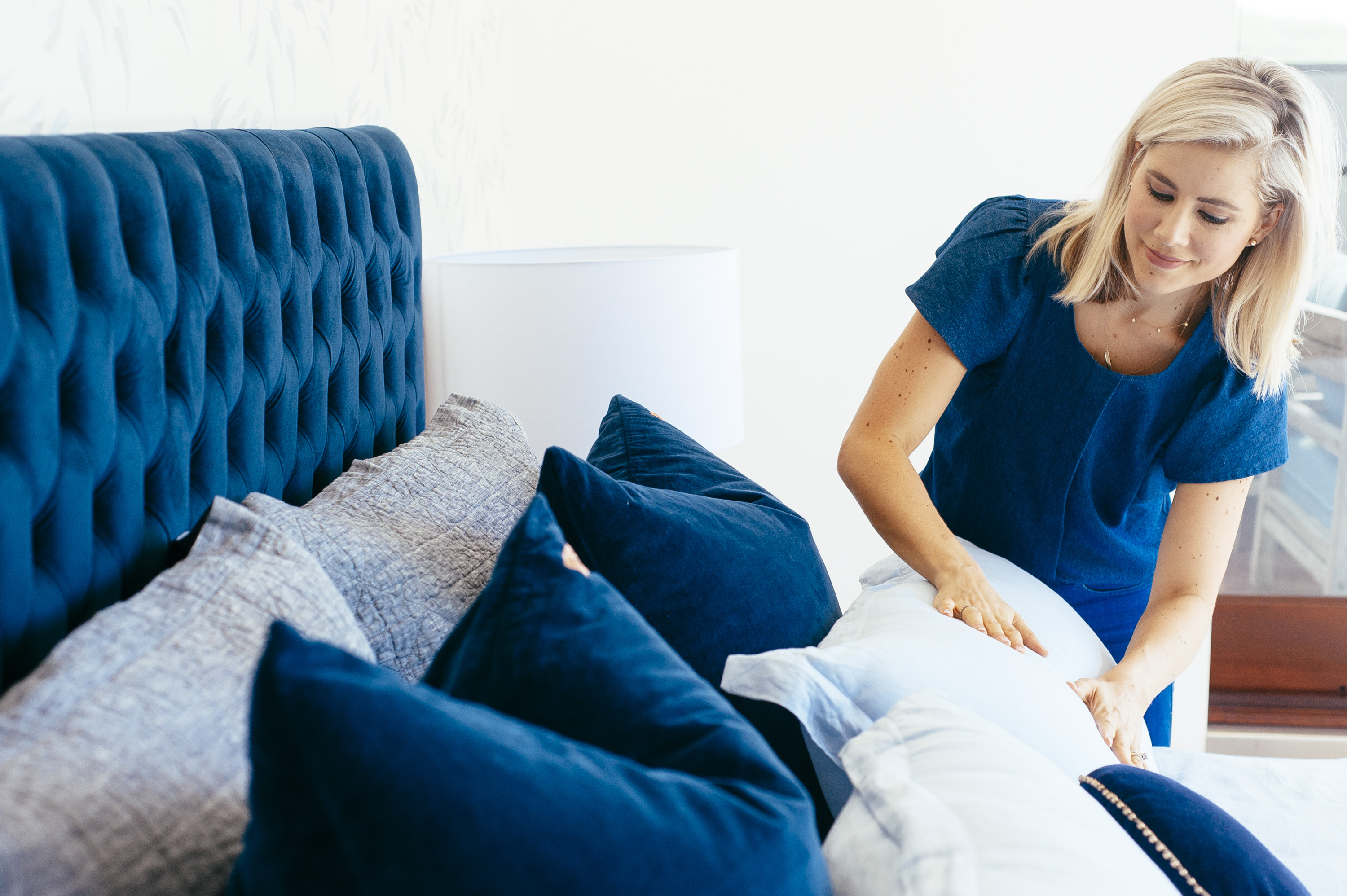 Because I love navy blue and powder blue together, the soft, blue, linen doona cover and pillow cases were a no brainer and the silver of the gum leaves in the wallpaper throws a subtle light blue in person so everything just works in harmony.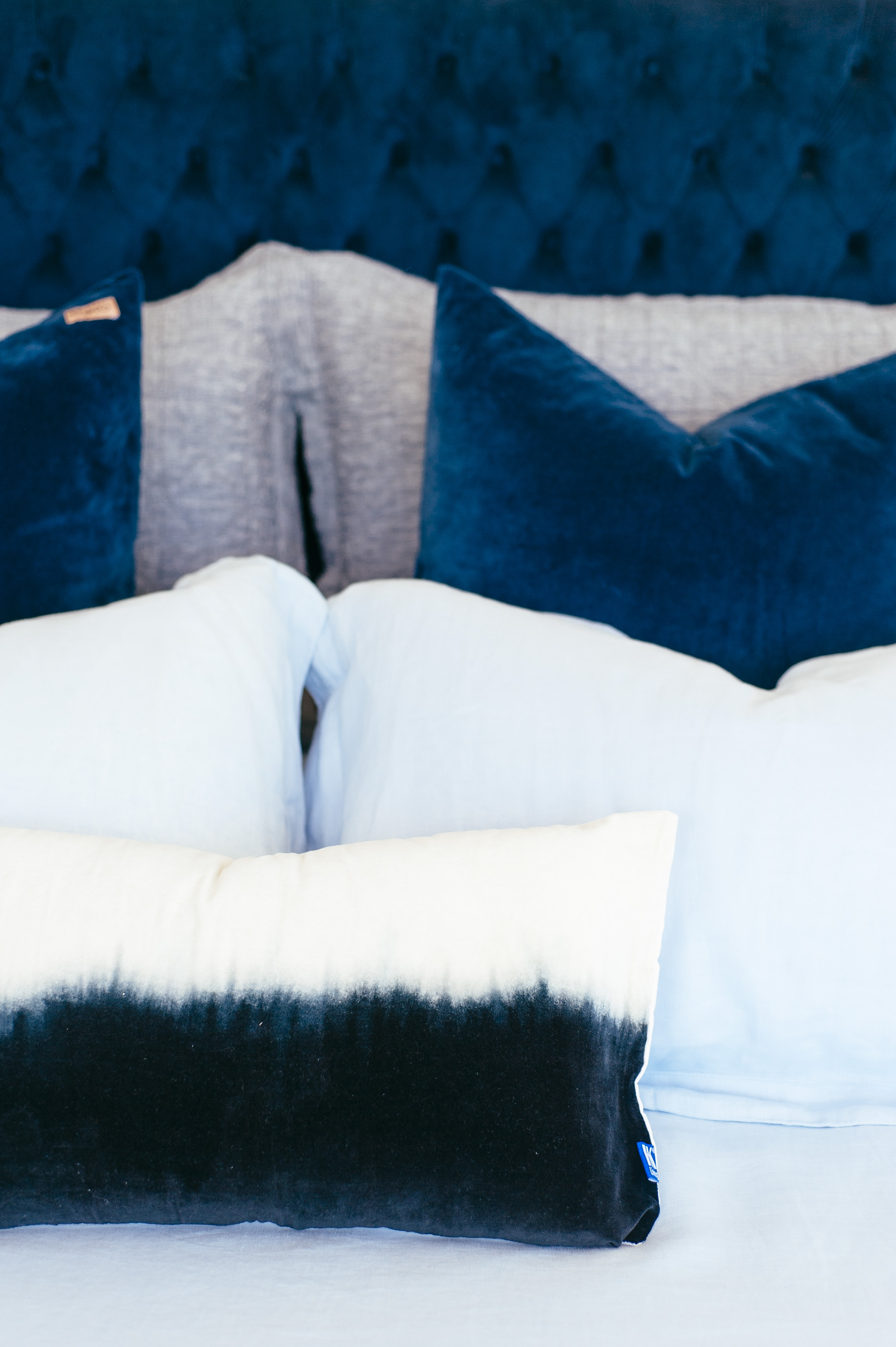 By some crazy miracle, the velvet navy euro cushions from Kip and Co matched perfectly with the navy of the bedhead and I surprised myself for liking the fact that they matched. The grey linen pillows provide enough of a break between the bedhead and euros that the euros don't disappear and I needed those grey pillows to help neutralise the blues.  I like the fact that the oblong cushion at the front indicates an ombre effect, which creates enough interest without introducing another pattern. I really wanted to avoid over complicating this room with too much pattern.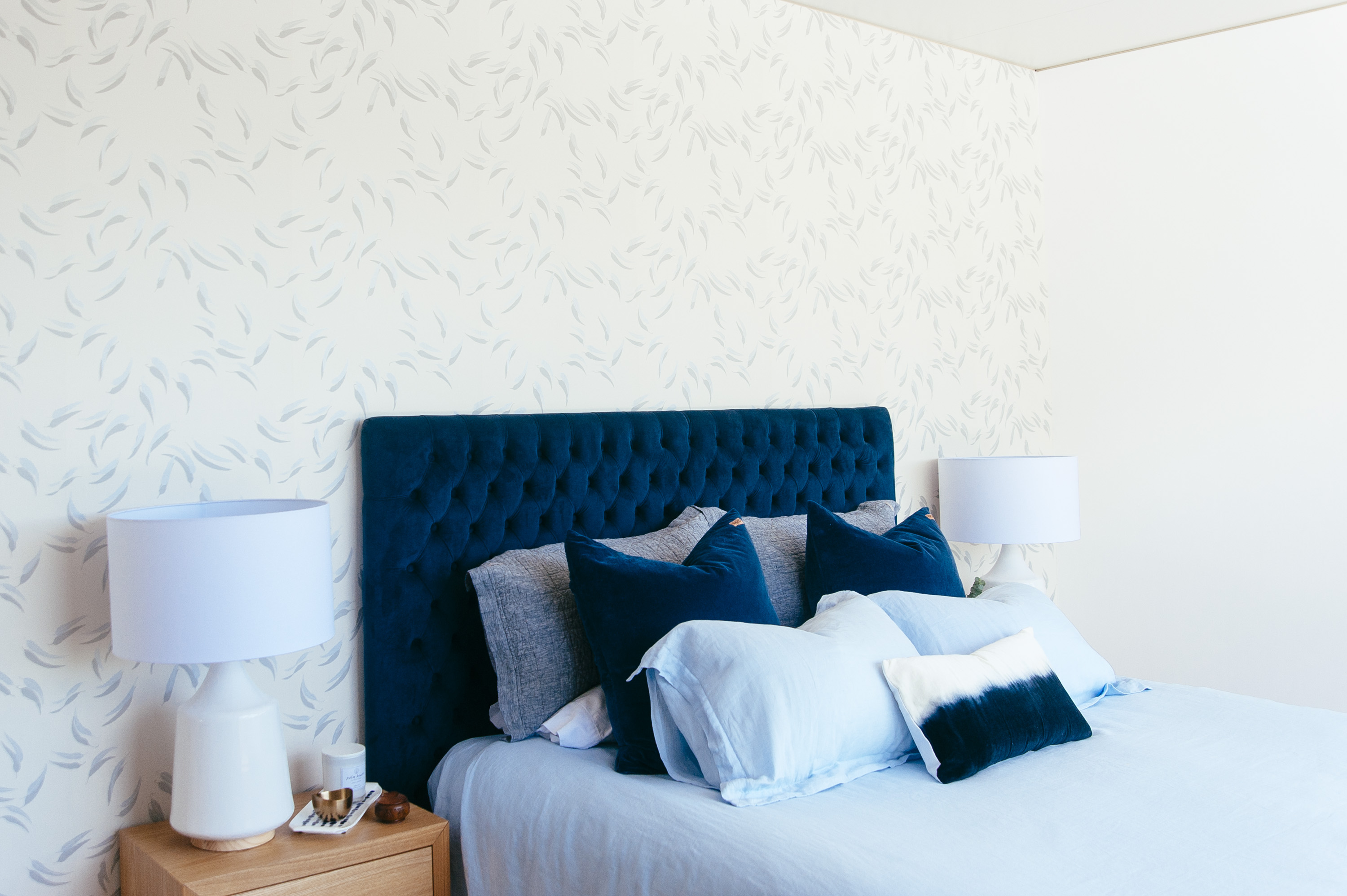 I took cues from the rest of the house and went with very simple and clean-lined bedsides in a timber veneer. I booted out the original bedsides to the downstairs bedroom, along with the original bedhead, because both items were good looking pieces that just weren't right in the master bedroom (I'll reveal the downstairs bedroom in another post).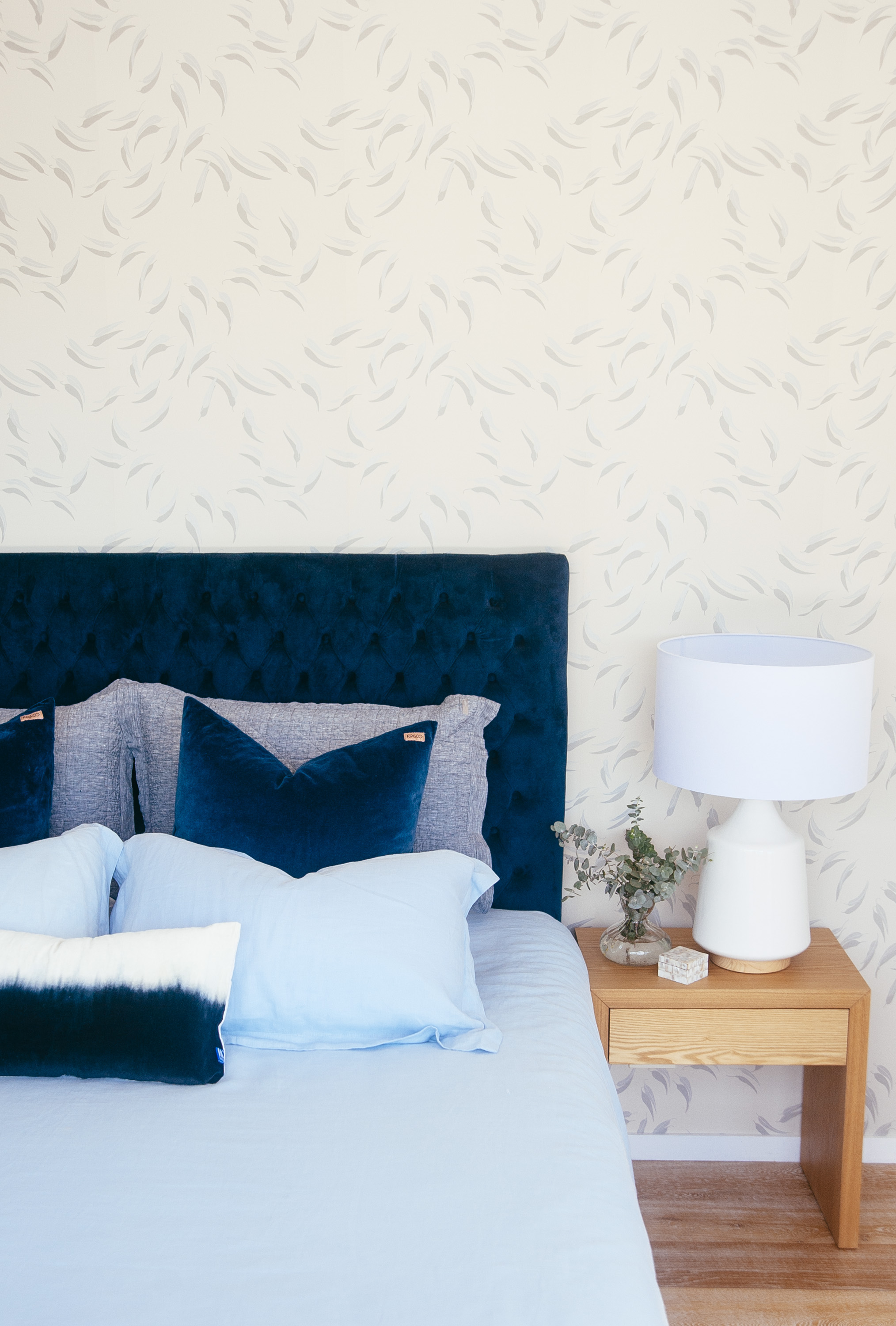 This is a big bedroom and the bed is on a big wall so I needed big lamps for the sake of balance. It ain't easy to find large lamps in retail stores, let me tell you but MRD supplies an excellent range of large lamps and this one was simple, crisp, and the perfect height for this room.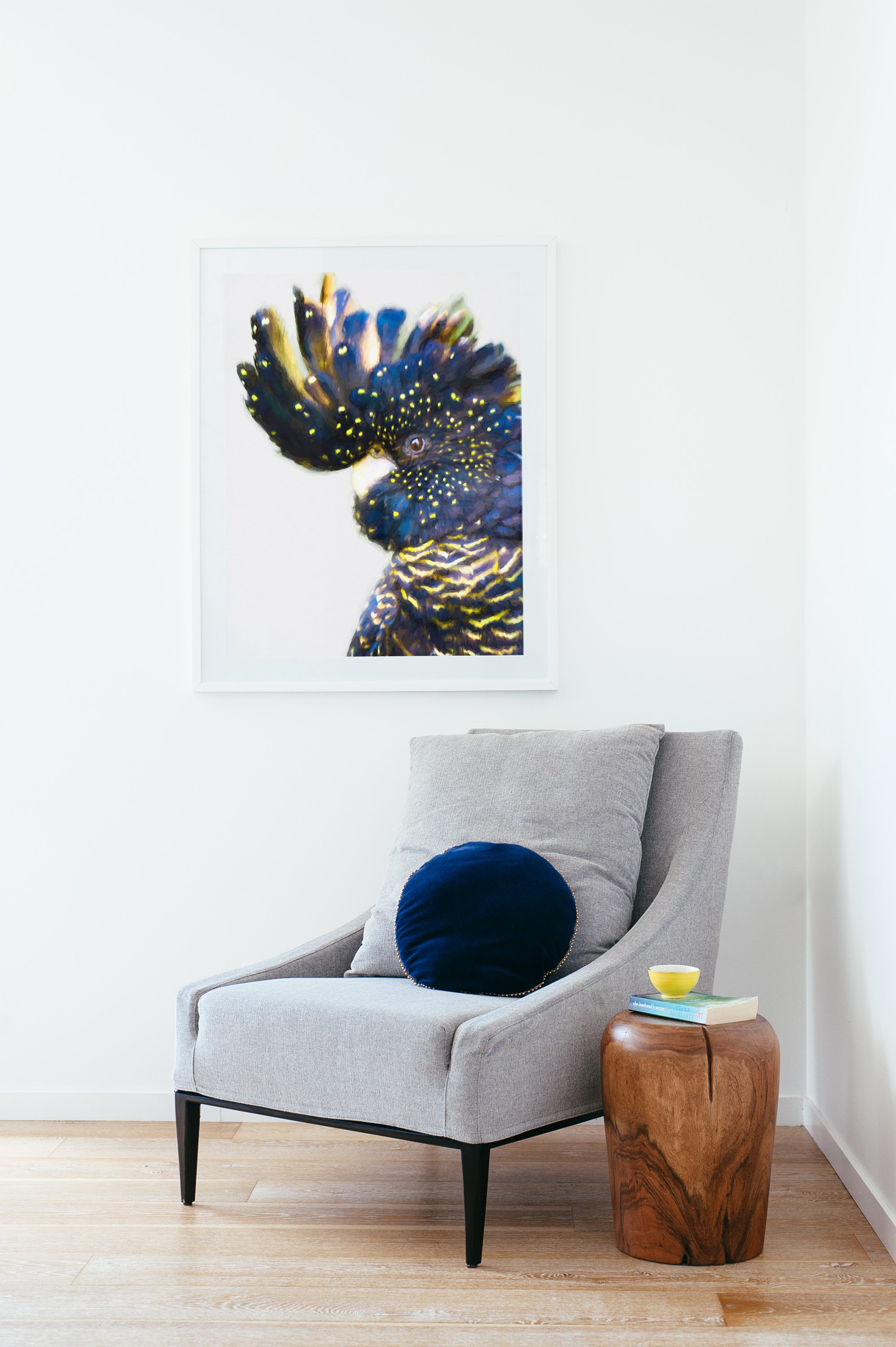 This corner was screaming for an armchair, artwork and side table so I obliged. The grey chair from Globe West made absolute and complete sense because I didn't want to introduce any other colours in this space. I really wanted the blues to sing. That beautiful, solid timber side table is also from Globe West and weighs an absolute ton so it's there to stay. It's a good thing it's so lovely.
My client loved the cockatoo print by Urban Road and it certainly worked into the Australiana theme, which came about very much by accident or maybe sub-consciously, it wasn't. Either way, it works for this space.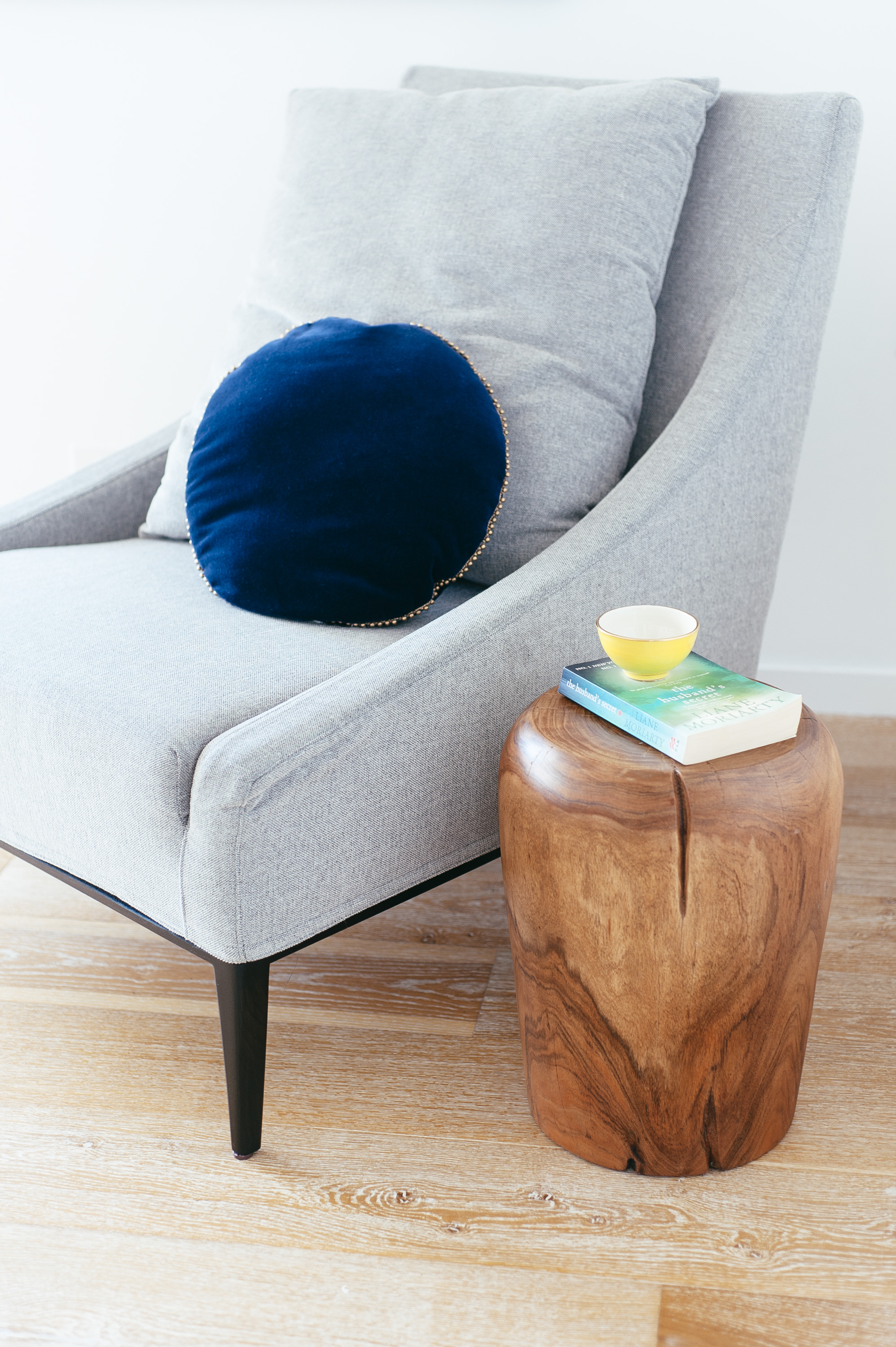 It was while shooting this room that I realised just how much this space needs a big, plush rug under the bed. I broke my own rule here where I preach all bedrooms with flooring other that carpet should include a rug for added warmth and comfort. Of course, I'm all for rugs over carpet in bedrooms too but only really if you feel the space needs another layer or more pattern and texture, otherwise you can probably save your money.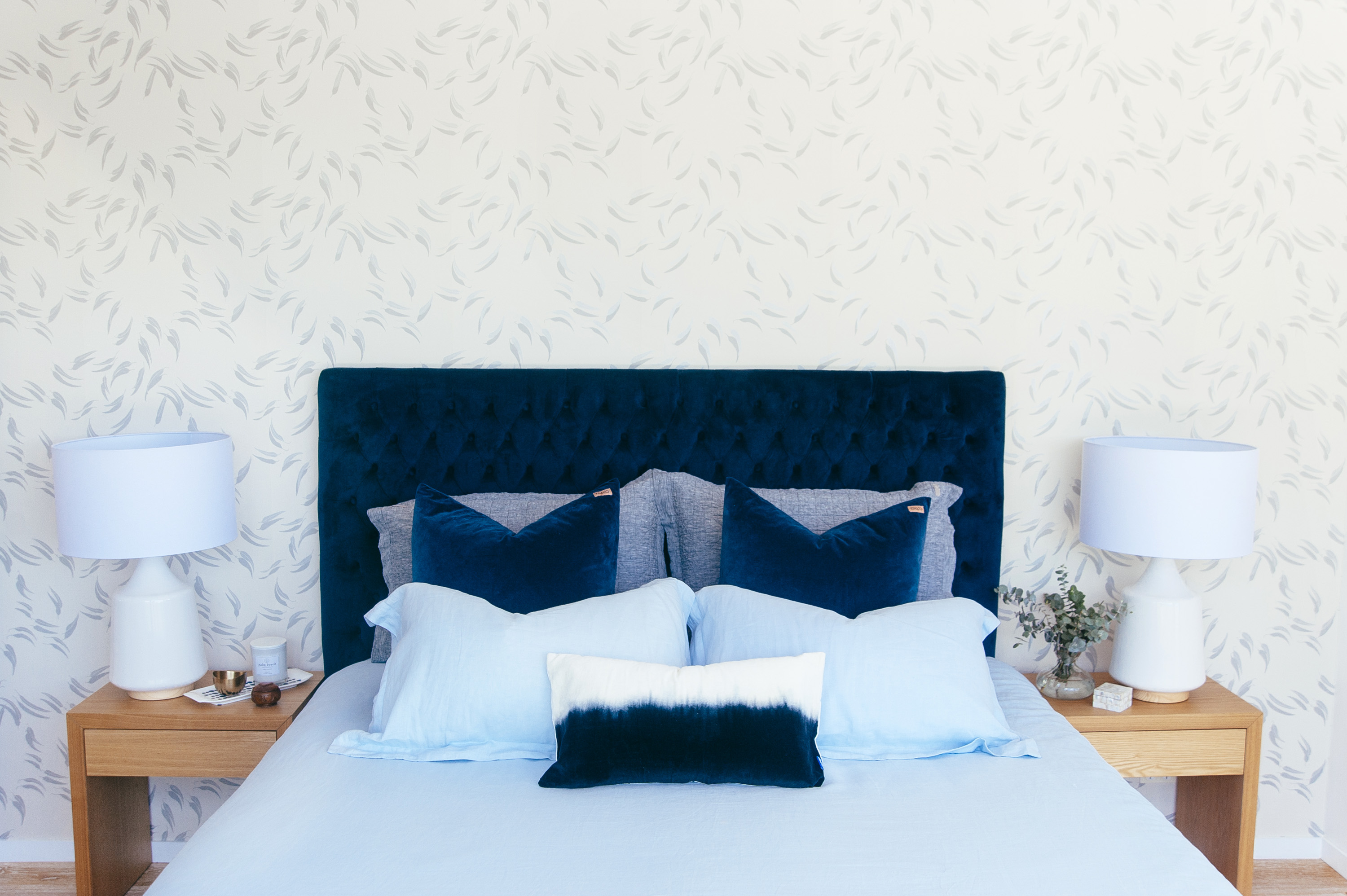 All in all, I was pretty darn happy with how this space was transformed and without having to spend a ton of money at that. In saying that, the cost of wallpaper always surprises people, which you should probably read more about here.
Carlene xx