After 4 years under our house patiently waiting for her moment in the sun, our 1970's vintage Viscount, Goldie was our chance to take what we learned from our previous 4 vans and create something truly just for us.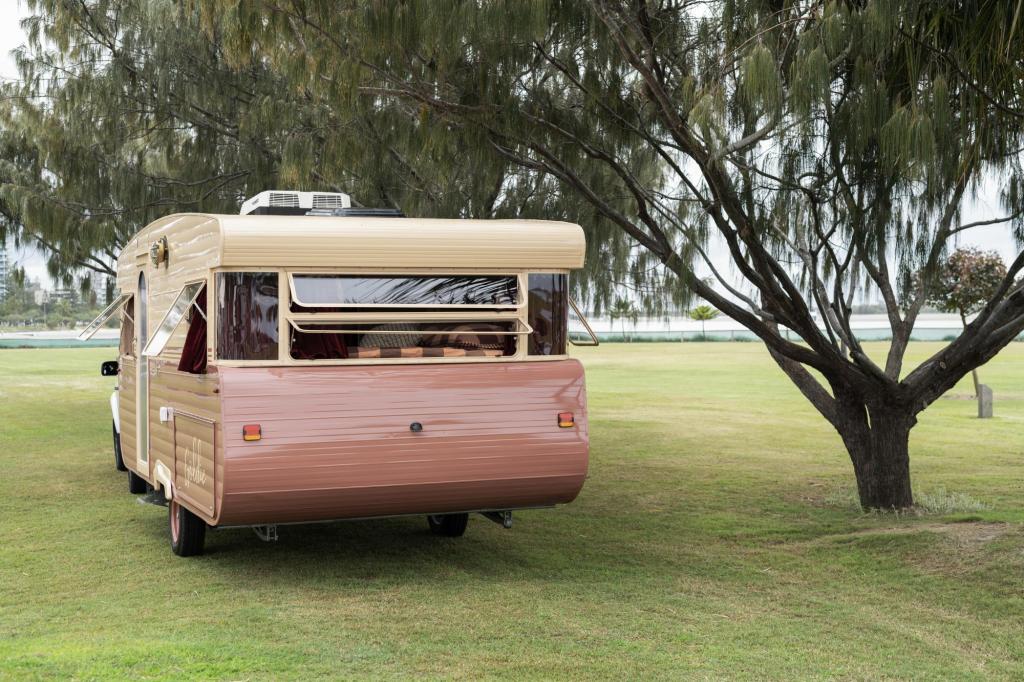 Goldie's colour scheme feels like a step back in time and pays tribute to golden hour, our favourite time of day and when the Gold Coast is at its best. We used the Taubmans Coloursmith app to come up with some seriously special paint colours, in White Knight Paints products that are designed to withstand small space living, life on the road and everything that comes with van life.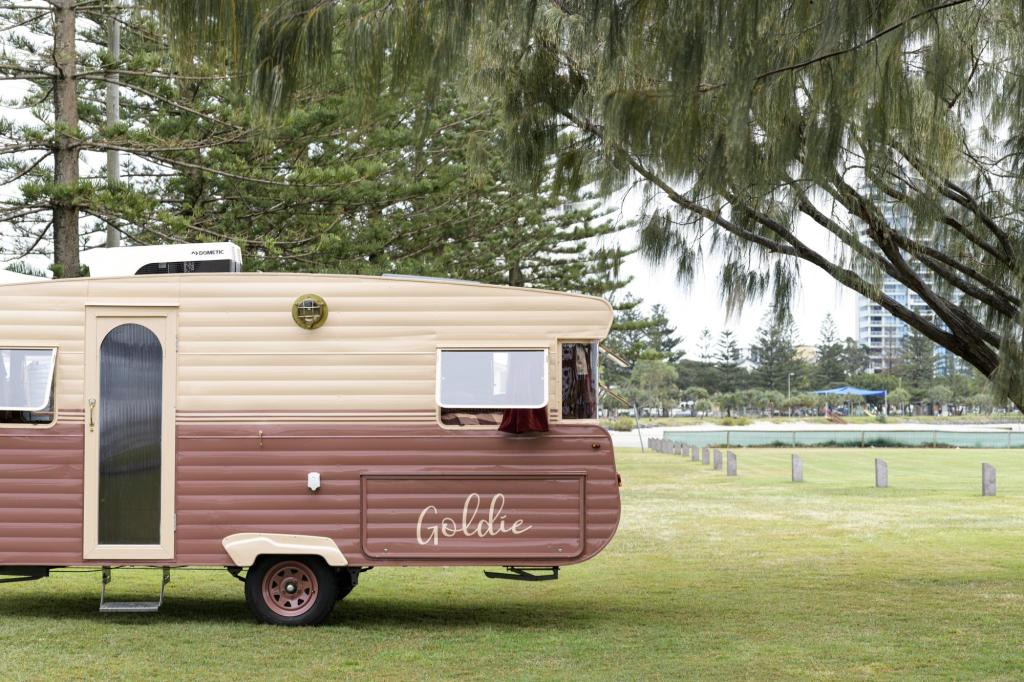 Painting the interior
Unlike some of our other vans, Goldie was a full strip out. There was nothing to be rescued inside so we used the opportunity to come up with a completely new layout that served our lifestyle and the way we like to use our vans. We lined all the walls and made all the cabinetry with light weight, bracing plywood, which was cost effective, durable and brings loads of warmth.
We sealed the top half of the walls with a polyurethane sealant and the rest we painted we primed with White Knight Renew Tile and Laminate primer before following with White Knight Renew Tile and Laminate paint. We could have used a standard interior wall paint on this surface, but we know from our previous vans that this paint is designed to be incredibly hardy and can take the knock about lifestyle that comes with small space van living. It can also be tinted in any colour. I came up with an earthy, dusky pink colour that I created with the Taubmans Coloursmith app which complements the timber as well as the exteriors colours.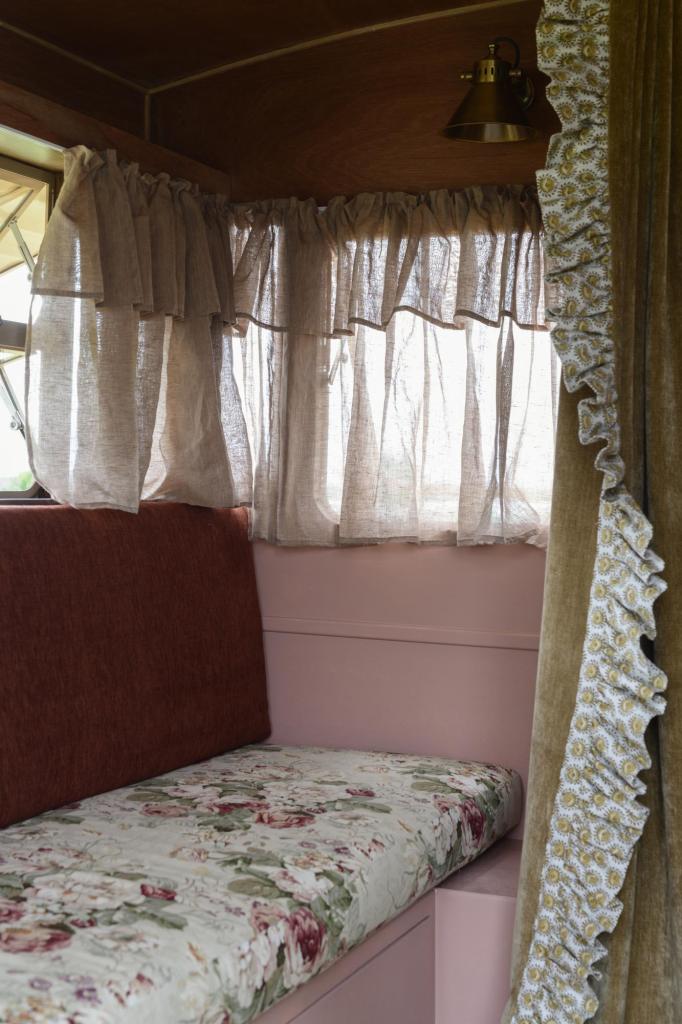 Painting the exterior
Before we could get to the fun part of getting colour on the exterior we needed to prep and paint the chassis. We got rid of any loose rust and painted the steel with White Knight Rust Guard Hammered finish in Charcoal. It's anti-corrosive, super durable and is also ideal for disguising stone chips that comes with van life.
Coming up with the colour scheme for our van exteriors always feels like a big deal. It sets the tone for the entire scheme. I wanted Goldie to feel like you've been transported to the 70's, warm and toastie like a sunset and little bit different from what we've done in the past.  I used the Taubmans Coloursmith app, I came up with two unique, complementing colours that I can only describe as sort of peach and sort of berry. The colours contrast each other but still feel part of the same family and therefore keep it feeling tonal which, I love.
Painting metals
There is always a few metal surfaces to address when it comes to our caravans. As we've done with all our caravan windows, we painted Goldie's windows with White Knight Squirts which is perfect for fine metals like this. And we opted for the colour Mocha which helped the windows blend rather than pull focus.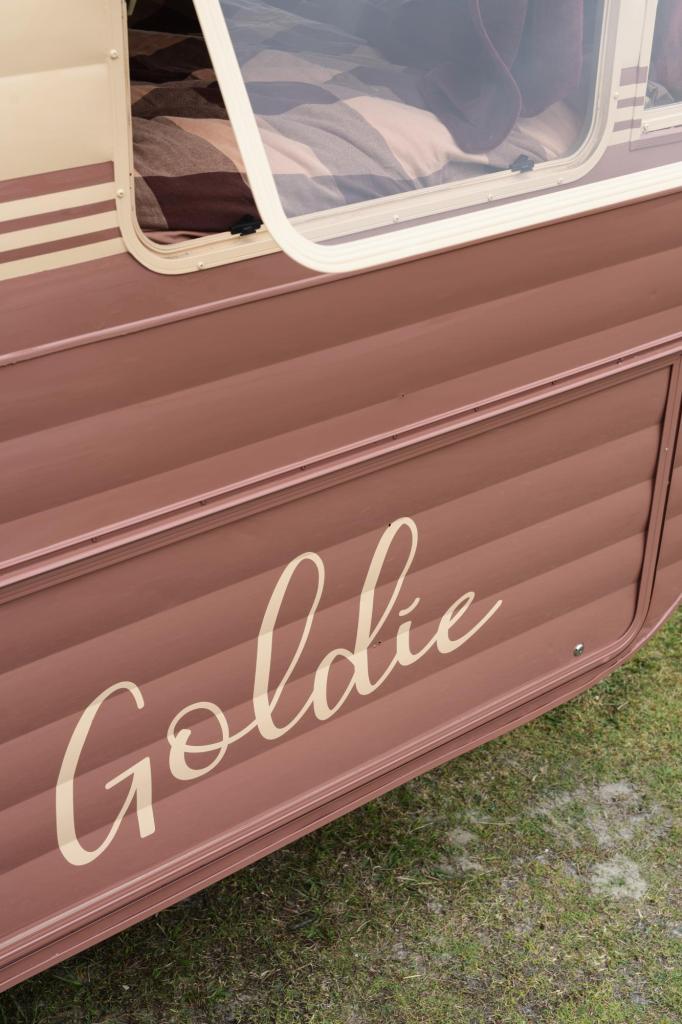 Then there is our fridge. Rather than squeeze our food into a caravan-specific fridge when camping, we use a small domestic fridge which sits under our awning but the black was not going to fly with our new van colours so we painted it with White Knight Rust Guard Epoxy Enamel tinted in a Taubmans Coloursmith colour that complements the van. There is no primer needed for this when used on new or only slightly rusted metal, so it was as simple as wipe and paint.
Another vintage belle ready to hit the road!
Carlene 
This blog was brought to you by White Knight Paints. All words and ideas are my own.
Images by Mindi Cooke.