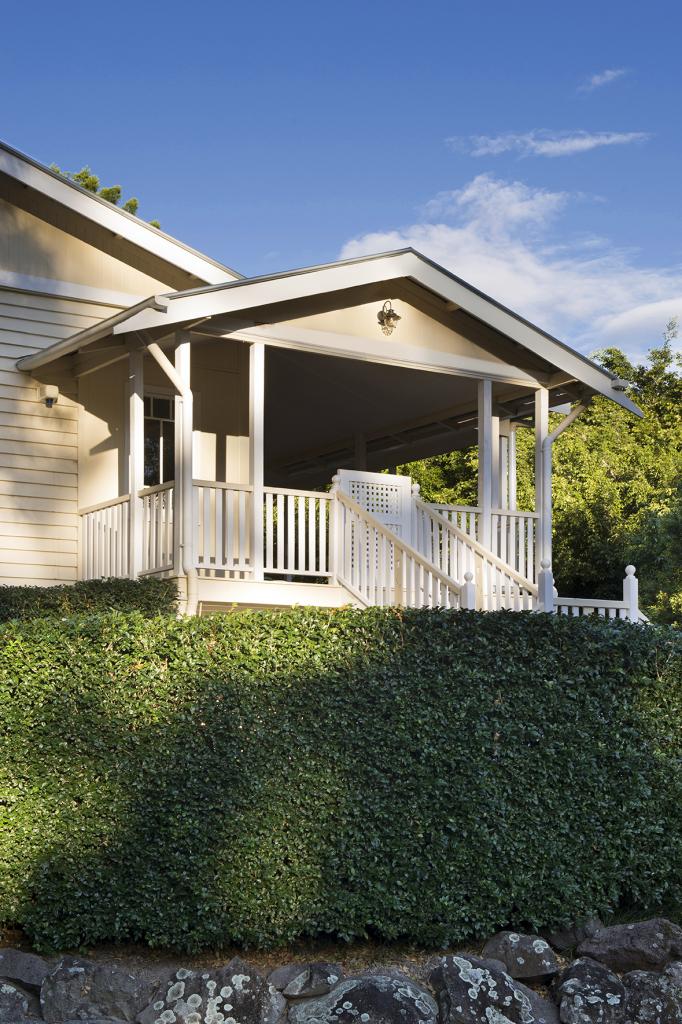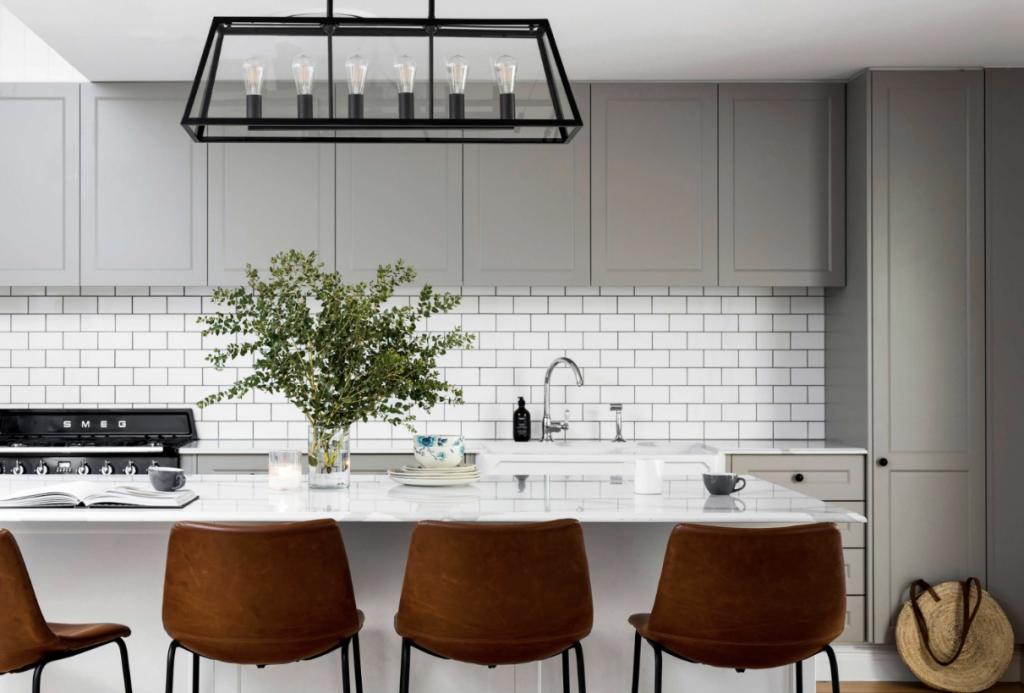 The renovation of this classic 1920's Queenslander home demonstrates how a home can be modified to respond to modern needs of a young family of 4, whilst being sympathetic to the home's origins. We met local businessman Matt and his wife Vali at the airport while grabbing that all neccessary pre-flight coffee. Matt struck up a conversation with us as an employee of his had been one of the electricians on The Black in Melbourne. A few months later, he reached out to us to design their full home renovation of their gorgeous 1927 Queenslander home.
The beauty of the job was its proximity to our own house, located in a semi-rural pocket near Currumbin. The area mostly comprised of acreage properties, with mature trees and grassy paddocks populated by cows and horses, all under 15 minutes to the beach – encapsulating the best of both worlds = heaven!
Matt and Vali had purchased the 1.4-acre (0.56ha) property in 2015 after years of living in a very modern home. It was love at first sight for them and their two young children, mainly because the two-storey Queenslander had the family feel they'd yearned for. They were surprised to learn that the house was originally built in the heritage area of Ipswich and relocated by the previous owners.
We were given the following brief: to renovate the interior in an architecturally sympathetic way. Often the integrity of these old buildings is lost during the update, so we were excited to show how this house could be transformed while celebrating its history.
Find below our resources guide for this classic Queenslander with a few of our favourite pieces that brought this project to life.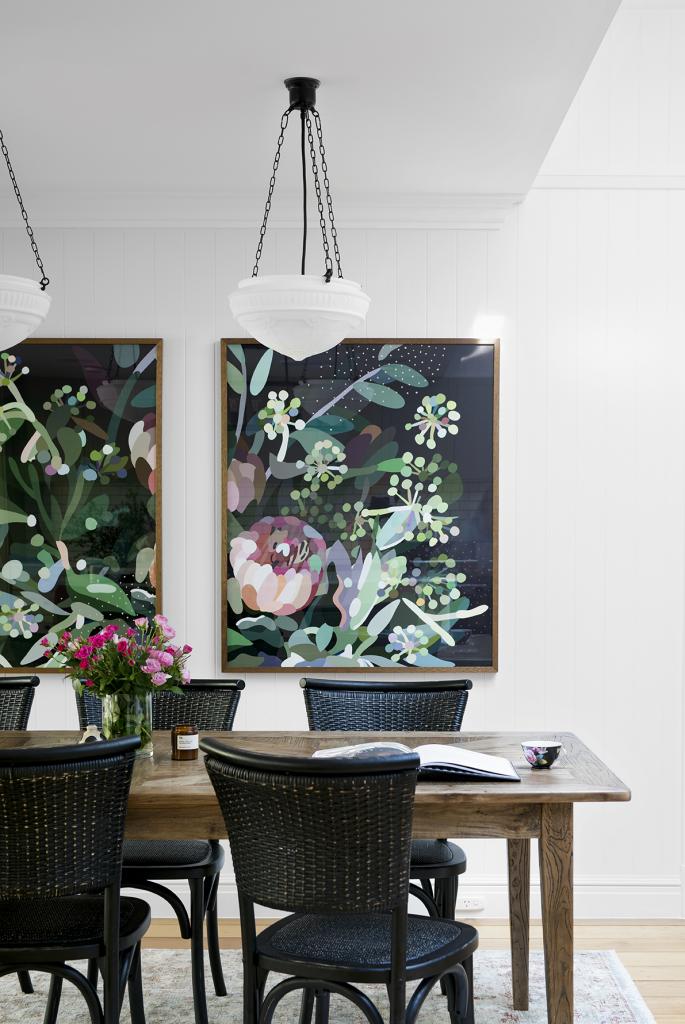 Dining
Natural light wasn't in abundance in this house, so we added skylights to the kitchen and dining area.
Dining Table – 'Parquetry' Elm Dining Table
Dining Chairs – 'Provincial' Chairs from Village Stores
Pendant Lights – Vintage
Artwork – Kimmy Hogan
Floor Rug – Hypnose in Blue from Decorug
Paint colour – Resene Half Wan White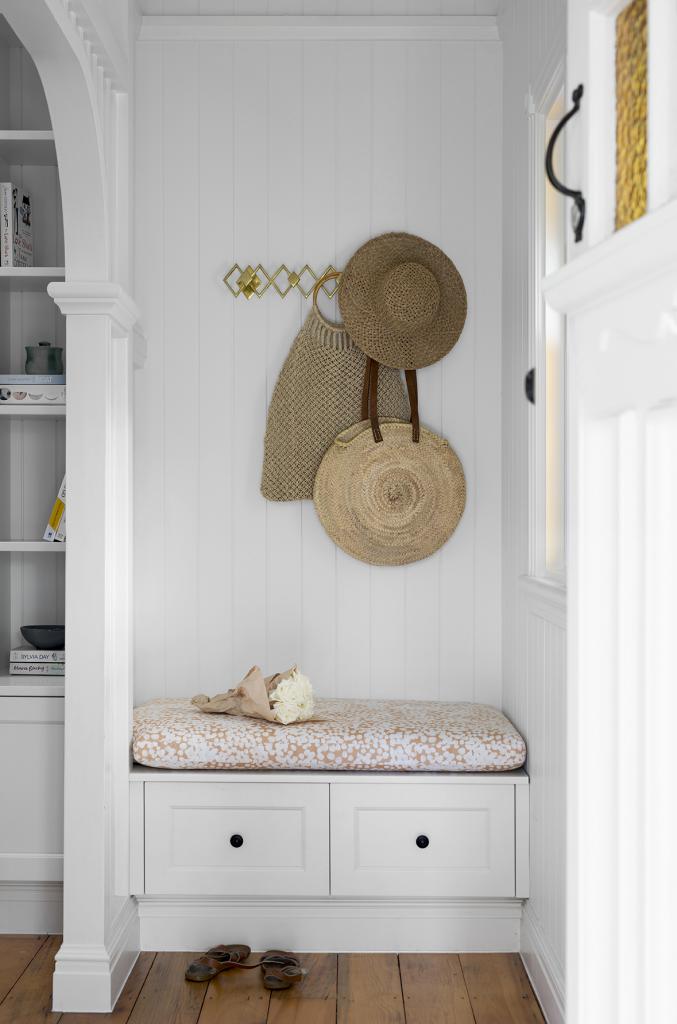 Entrance
Opposite the front door on the first floor is a nook for coat, bag and shoe storage.
Cabinetry – Polytec Ultra White
Cushion Fabric (built-in seat) – Stippled print from These Walls
Multi Hook – 'Geo' with antiqued brass finish from West Elm
Paint colour – Resene Half Wan White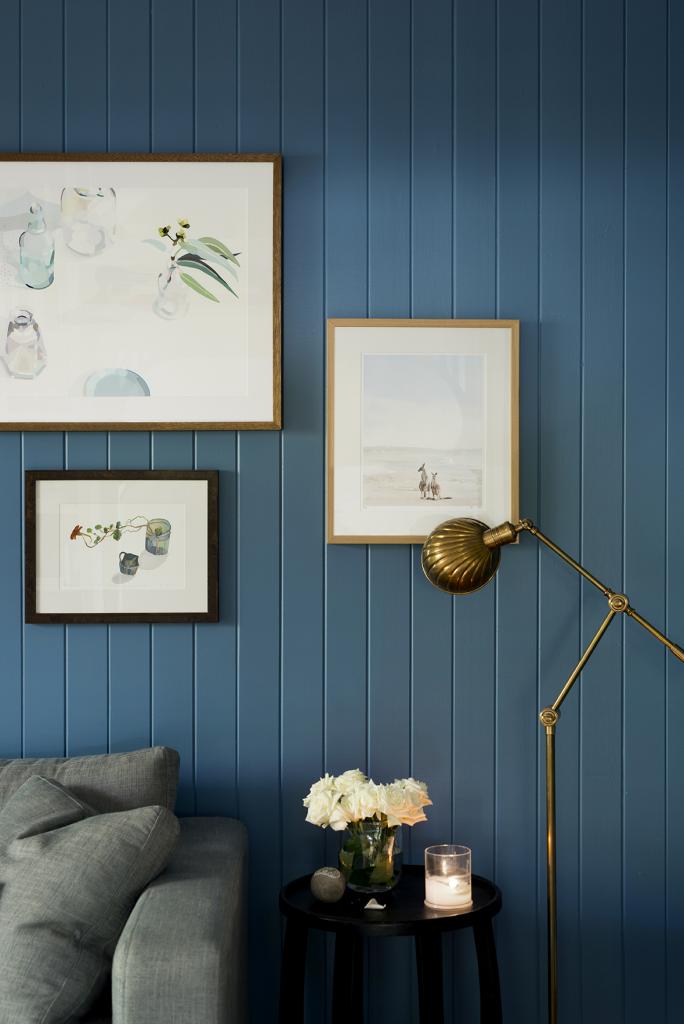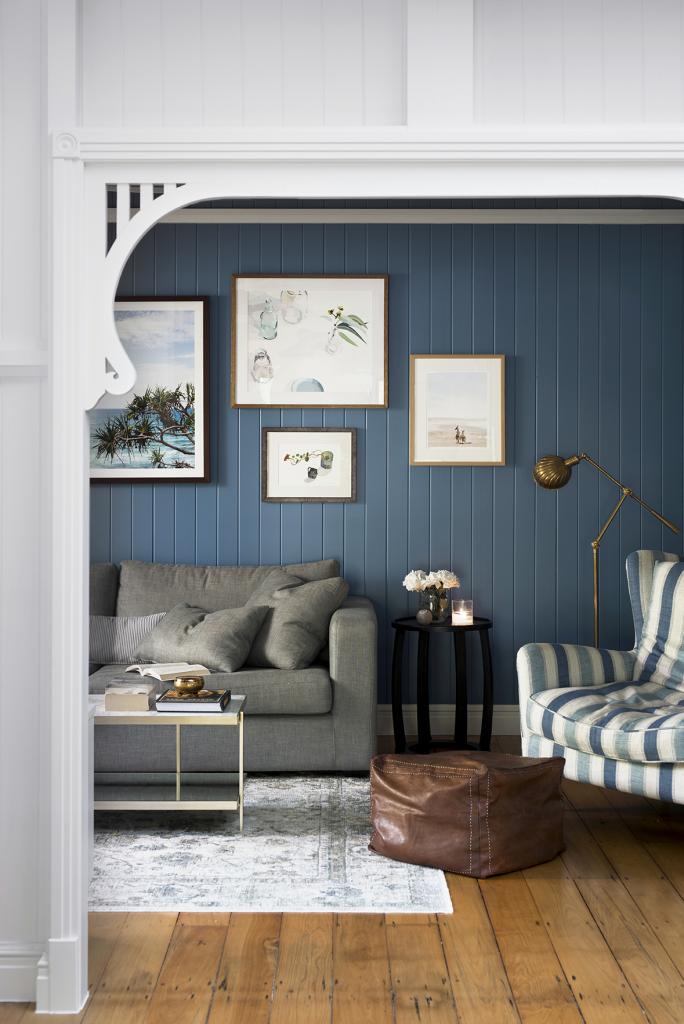 Living
The living room has my heart. We worked with the moodiness of the house by opting for a rick, saturated wall colour that feels like a warm hug and allows the art to pop off the walls. I also love the floor-to-ceiling bookcase. My favourite aspect, though, is one I'm not responsible for – the beautiful stained-glass windows at the entry.
Sofa – Upholstered in Warwick Fabrics 'Husk' fabric in Steel from Molmic
Armchair – Upholstered in Warwick Fabrics 'Axella' Denim from Molmic
Side Table – 'Ink Round' from Early Settler
Floor Lamp –  'Calais' in brass from Emac & Lawton
Artwork (pandanus and kangaroos) – Kara Rosenlund
Artwork (foliage) – Kimmy Hogan
Artwork (jar with nasturtium and jug) – Elizabeth Barnett
Wall Panelling – Easycraft VJ Panelling
Paint colour – Resene Wedgewood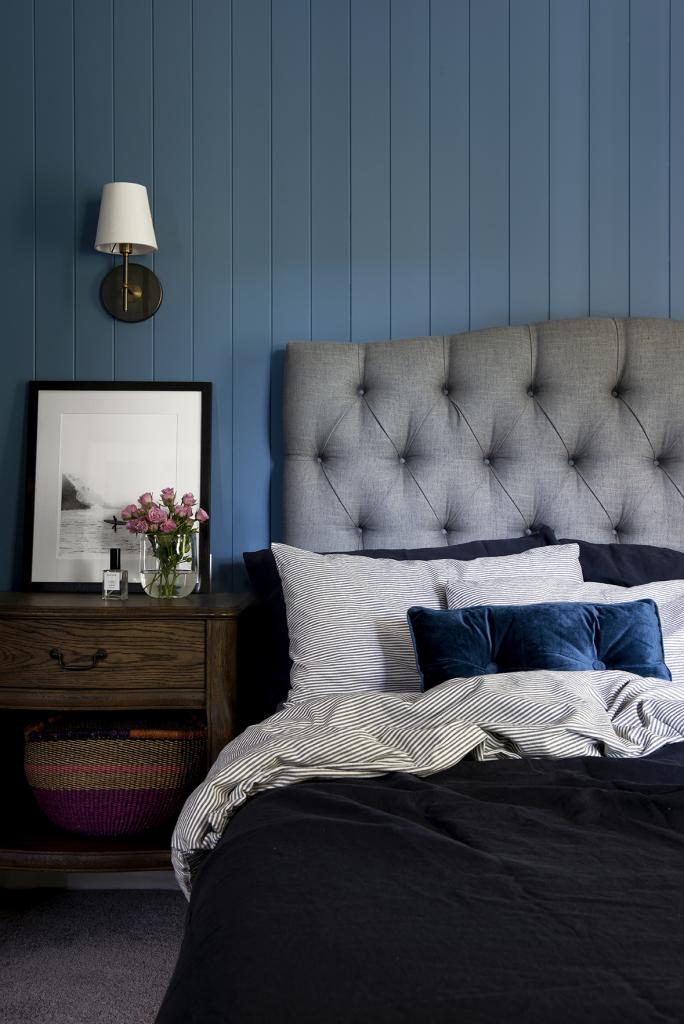 Master Bedroom
Bedhead – Custom made by Heatherly Designs
Paint colour – Resene Wedgewood
Wall light – Pottery Barn
Art – Kara Rosenlund
Bed linen – I Love Linen
Bedside Table – Pottery Barn
Lamps – West Elm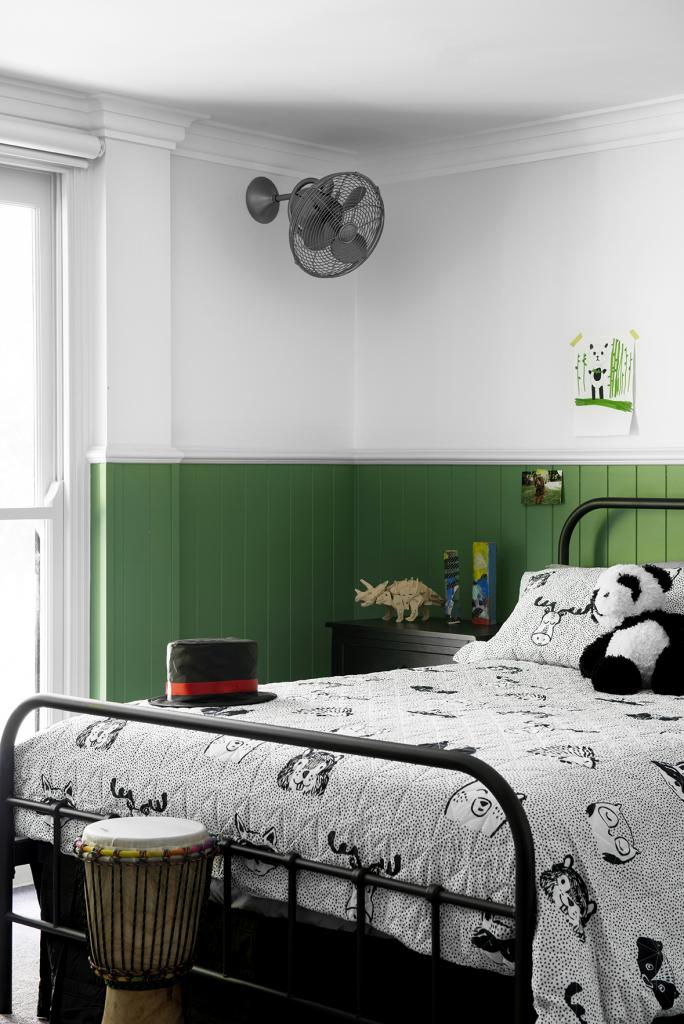 Kids Bedroom 
Bed – 'Willow' from Fantastic Furniture
Quilt Cover – 'Creature Features' from Target
Bedside Table – 'Elise' from Provincial Home Living
Artwork – By the eight-year-old occupant works perfectly in this cool green space
Paint colour – Resene Spring Green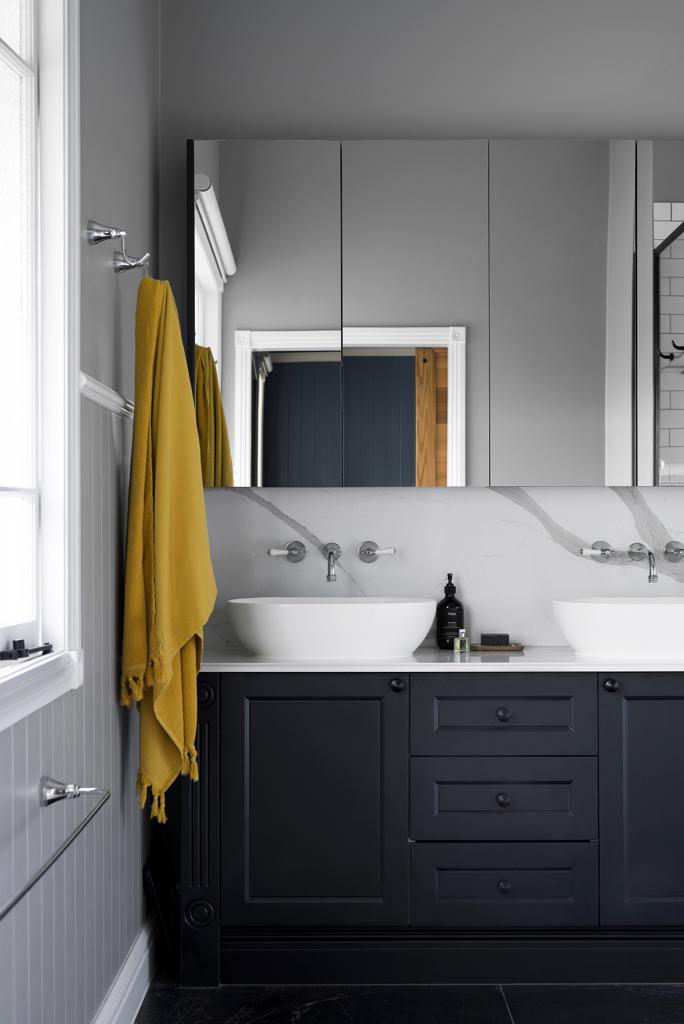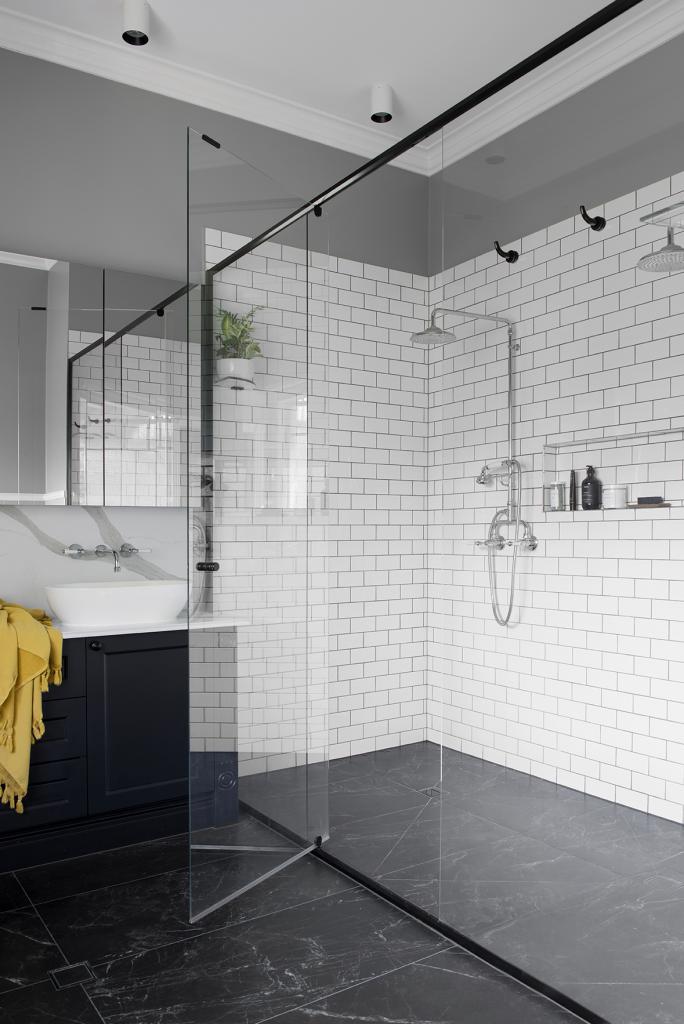 Bathroom
Basins – Abey Australia
Taps – Abey Australia
Floor Tiles – Burleigh Tiles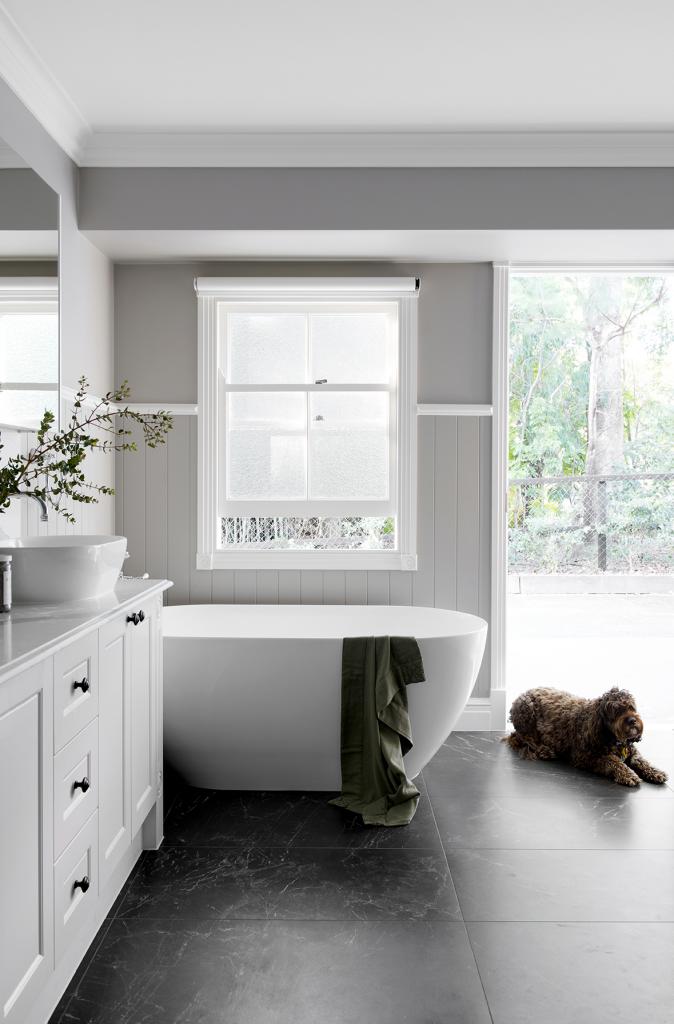 Bathroom
The bathroom is a family-friendly space where Murphy the mini labradoodle is also welcome!
Paint Colour – Resene Half Truffle
Bath – Abey
Basin – Abey
Floor Tiles – Burleigh Tiles
Towel – Nikau Store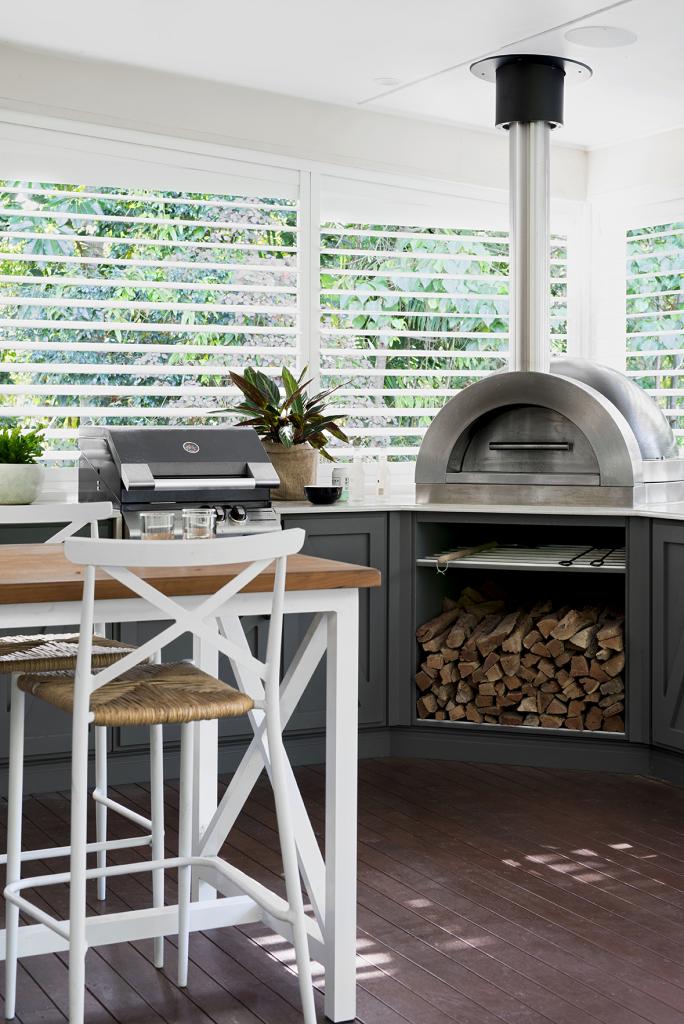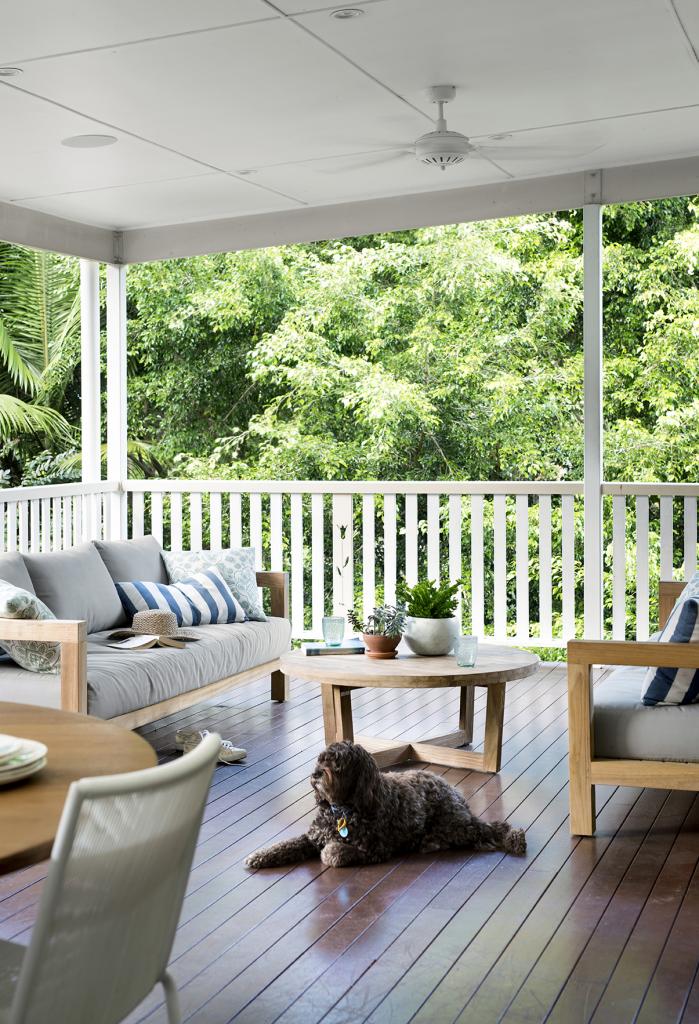 Alfresco
Lush tropical surroundings are the drawcard here, so we utilised this with the openness of the verandah.
Sofas – Sonoma Sofas from GlobeWest
Coffee Table – GlobeWest
Dining Chairs – GlobeWest
Cushion Fabrics – 3Beaches
Pizza Oven – Zesti
Bar Table – Custom made
Bar Stools – Interiors Online
Deign and Styling: Cedar and Suede
Editorial Styling: Sarah Ellison for Australian Homes and Garden
Photographer: Mindi Cooke
Carlene xx