Tina from Coombabah asks, how can I hide a TV so it's not the focal spot of the lounge room? I want to create a space that is practical, with lots of storage but is also stylish.
There are many ways to reduce the impact of your TV in your living room. It might be as simple painting the wall your TV is mounted to in a dark hue so that the big black box appears to disappear. However, what you do here and how you do it is subject to your needs and wants in your particular space and below are five tips that you can tailor to your situation.
1.    Create a gallery wall
What you surround your TV with goes a long way in reducing the impact of your TV on your space. Consider collating your favourite pieces of framed art and/or framed photos and hang them, cluster style, around the TV.
For a uniform, classical look, opt to use the one type of frame or for an eclectic look, go for a variety of frames, both in size and profile. The effect means that the TV becomes apart of the wall treatment rather than being main attraction.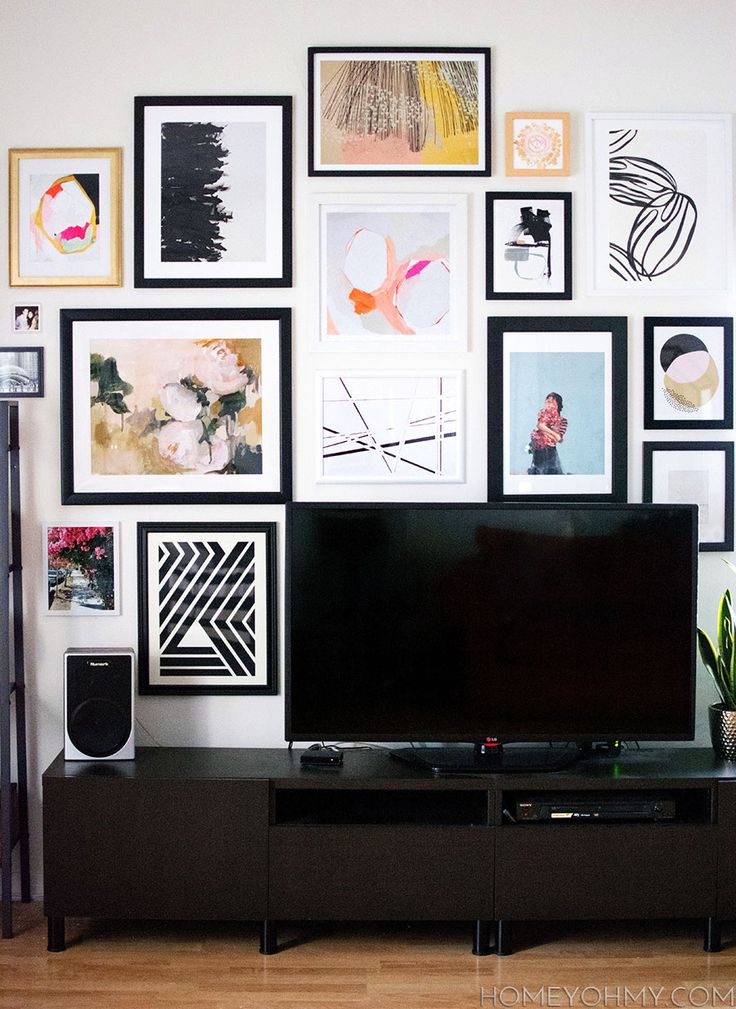 2.    Choose the right wall
The wall you choose in which to house your TV is paramount to the success of your living room. In some cases, you won't have options, as there may only be one wall that could legitimately be the TV wall but if you do have the option, for the sake of discretion, quite simply, hang your TV on wall other than the first wall you see on entering the room.
The image below features Carly and Leighton's living room's from Reno Rumble. Although you can't see it in the picture, the TV has been positioned with its back to the entrance so the beautiful art is the first thing you see on entering the room.
3.    Go dark
The simplest solution for camouflaging your TV is the paint the TV wall a shade of charcoal, dark grey, navy, or black so that the black TV merely blends and the other pieces in your space are allowed the opportunity to shine. A slightly more sophisticated alternative to paint is to install dark wall panelling as your backdrop as indicated by the image below.
4.    Position your furniture strategically
How you create a focal point in your living room comes down to more than what is on your walls. The positioning of your furniture is key to creating your chosen point of focus and to achieving a successful living room. We know that we don't want the TV to be the focal point of our space so what do we want as our focal point? I suggest the coffee table. Style your coffee table so that it worthy of being the centre of attention and then, very simply, position all of your seating so that it is facing the coffee table in a very, very loose circle. Leave your cinema style seating for the media room.
5.    Build a bookcase
A wall-to-wall, floor-to-ceiling bookcase is on my home interiors bucket list. I want one so tall that it gives you vertigo and I want it overflowing with books. I will find any excuse to put a bookcase in a home but they are also the perfect way to camouflage the intrusive TV. You need to provide your cabinetmaker with your exact TV dimensions to leave a void just large enough to fit your TV and with minimal space around the edge of the TV. The shelving, either-side and above the TV, should be a carefully considered curation of your favourite décor items and of course, books. The space below your TV, across the length of the wall, is ideal for storage in the form of drawers or cupboards. You could even go that step further and include a sliding panel to cover the TV when not in use. Tina from Coombabah, this one is for you.
While I've defined these tips in 5 separate points, of course go ahead and combine them to create the effect you want and to find a solution that works for you. These tips will not only help disguise that obnoxious TV but will also go along way in making your space feel more resolved, comfortable and aesthetically pleasing.
Carlene xx