Disclaimer – If you are after some vintage caravan renovation inspo and just want to see some pretty images see here. But we've had a lot of interest from followers wanting to know about the nitty gritty of our renovation of Millie and keen to know details such as, materials used and costs etc. If this is you, read on.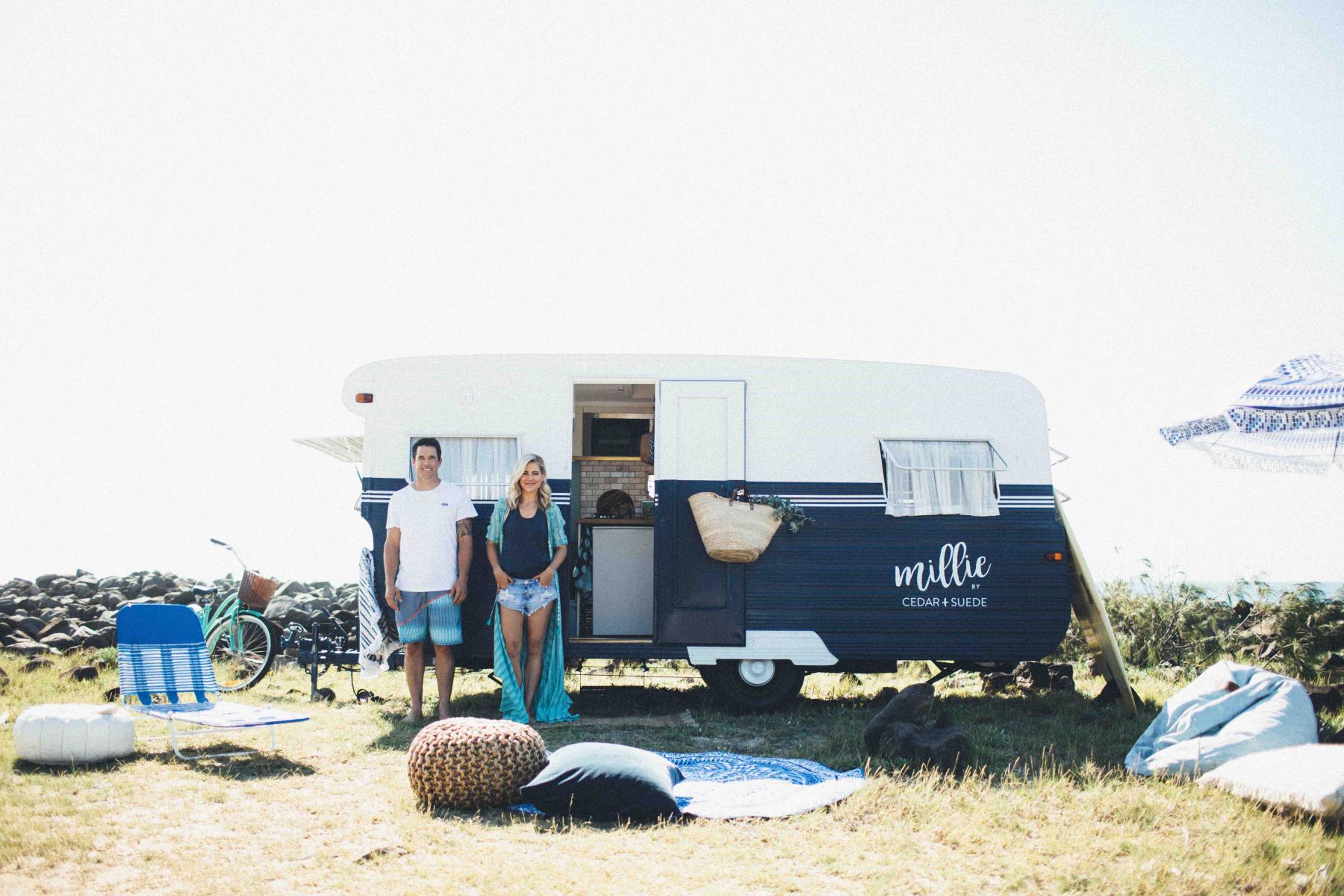 For Michael and I, some of our fondest childhood memories are that of our beachside camping holidays. Naturally, we wanted to create the same memories for our own kids and whilst we've have been taking the kids camping since they were babies, life has continued to pick up speed and we needed to simplify our camping getaways. We needed a way to get up and go without the fanfare that comes with endless packing and unpacking required to set up a campsite. The idea of it alone makes me shudder. A caravan was the answer.
After some searching what we bought was a 1966 Millard Florida that had had one owner and had not been used in 20 years. We called her Millie.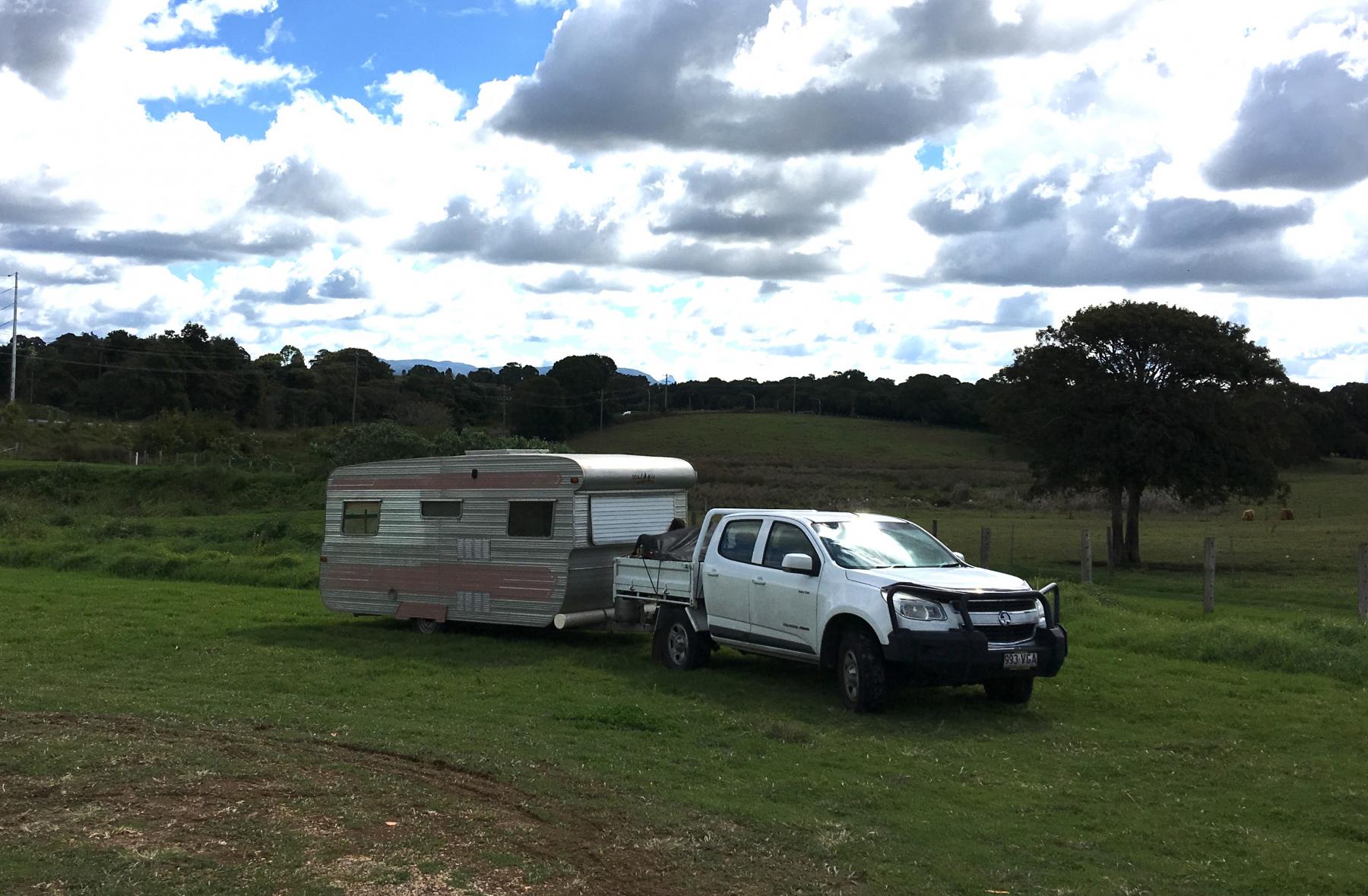 At 50 years old Millie had great bones, no rust, and was without a dint on the exterior but she was tired, both inside and out and needed a thorough overhaul to be up to serving our holiday needs so we got to work creating a mobile holiday home that was inviting, comfortable and one that we could be proud of.
My original plan was to paint the van and add some decals for interest but some friends talked us into polishing up the aluminium for a finish closer to the van's original state. After consulting with multiple panel painters and polishers, we learned that the job was a tedious one and no one was very keen to take it on. The ribbing in the aluminium would just made the work really laborious and it wasn't something we could do ourselves and achieve a professional look. So that was that, I made the decision to paint and I'm so glad I did. The result demonstrates my original vision for the van and I know I would have been disappointed with the polished finish. Just to be clear, we love vintage caravans but we aren't in the vintage caravan enthusiast category. Our goal was to create a van that worked for us. And that's just what we did.
The Exterior
Exterior before
We had the van painted by Lowco Customs on the Gold Coast and they worked with us to get the job done in a much tighter time frame than they would normally work in because we had a holiday planned with said van. Eeeeek! We love a tight deadline! These guys actually specialise in car painting and this was their first caravan job.
Exterior in progress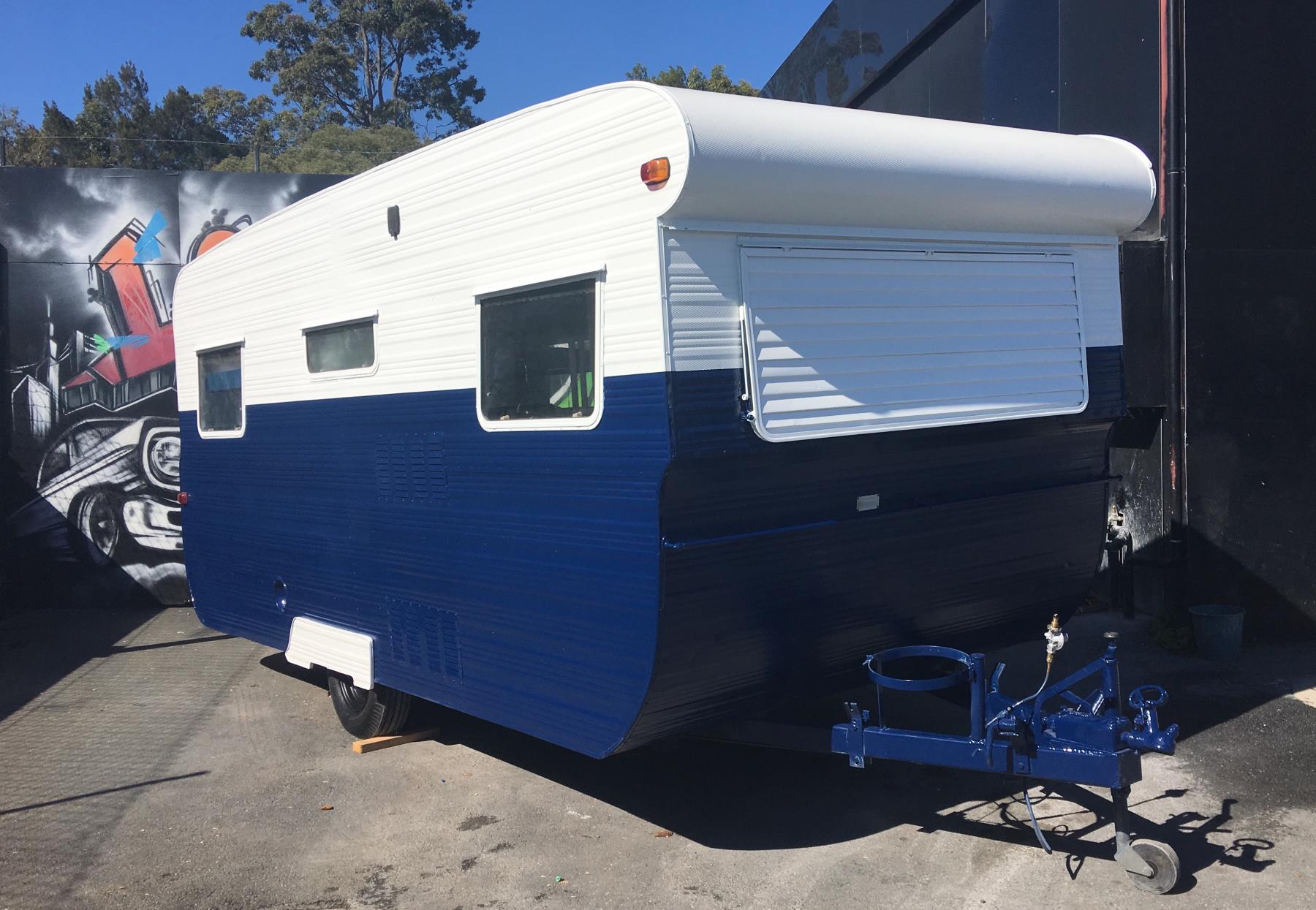 The two tone of the white and blue was bang on but it wasn't finished. She needed stripes and a name decal.
I actually chose my Millie font from dafont.com and had Thrive Web, the same guys who designed our website, work it together with Cedar + Suede. From there, I contacted a local signwriter, Advanced Signworks who were sooooooooooooo easy to deal with. They made the process incredibly streamline and did exactly what they said they would do (this is not a sponsored post, I'm just a happy customer). They used my measurements and drew up the graphic to scale so that I could see what the the stripes and name would look like on the van before committing. This meant I could tweak the size etc to my liking.
Exterior after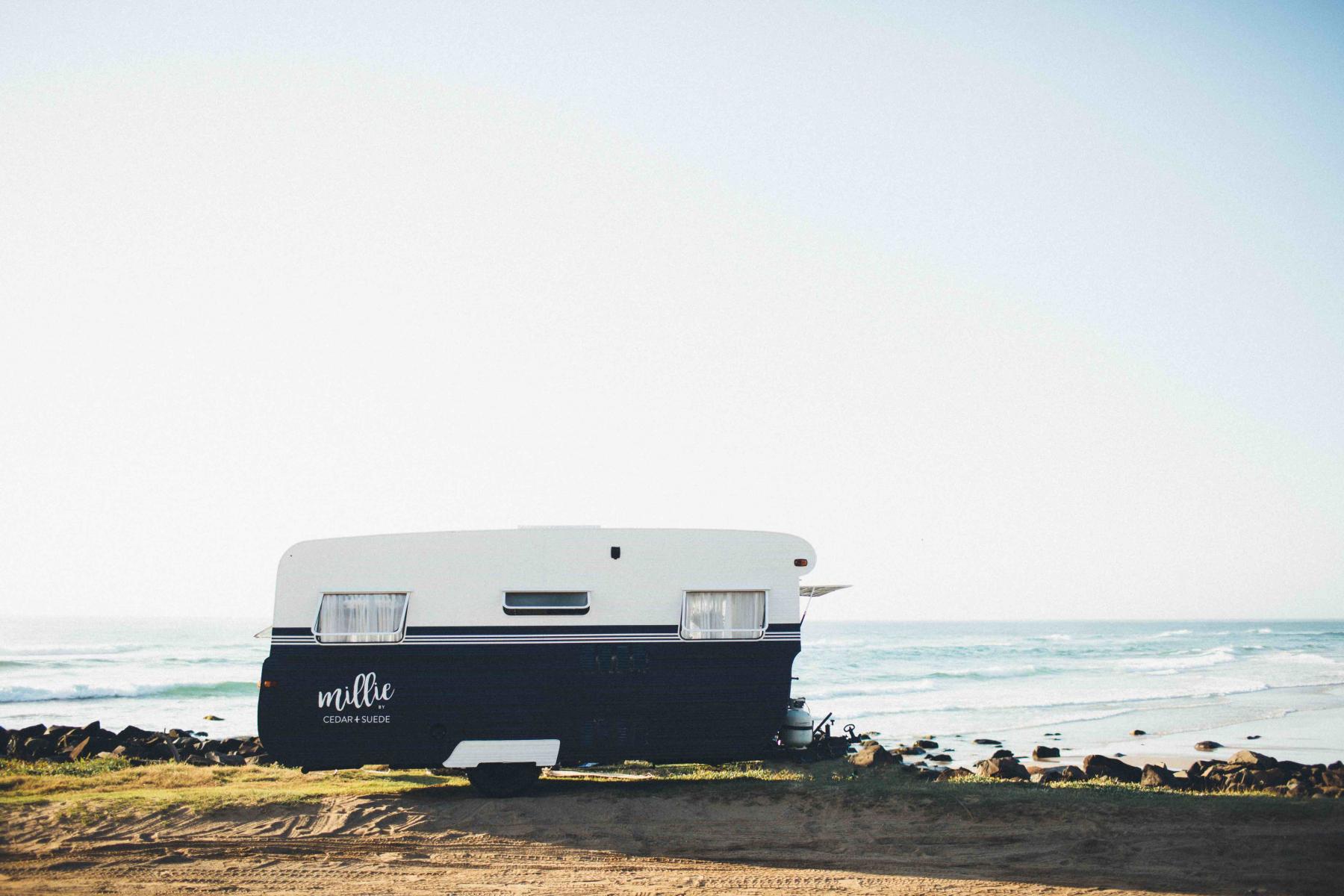 Ta da………. she's so quaint, ain't she?! I love the simplicity of this shot. Life appears so calm in this image. Goals!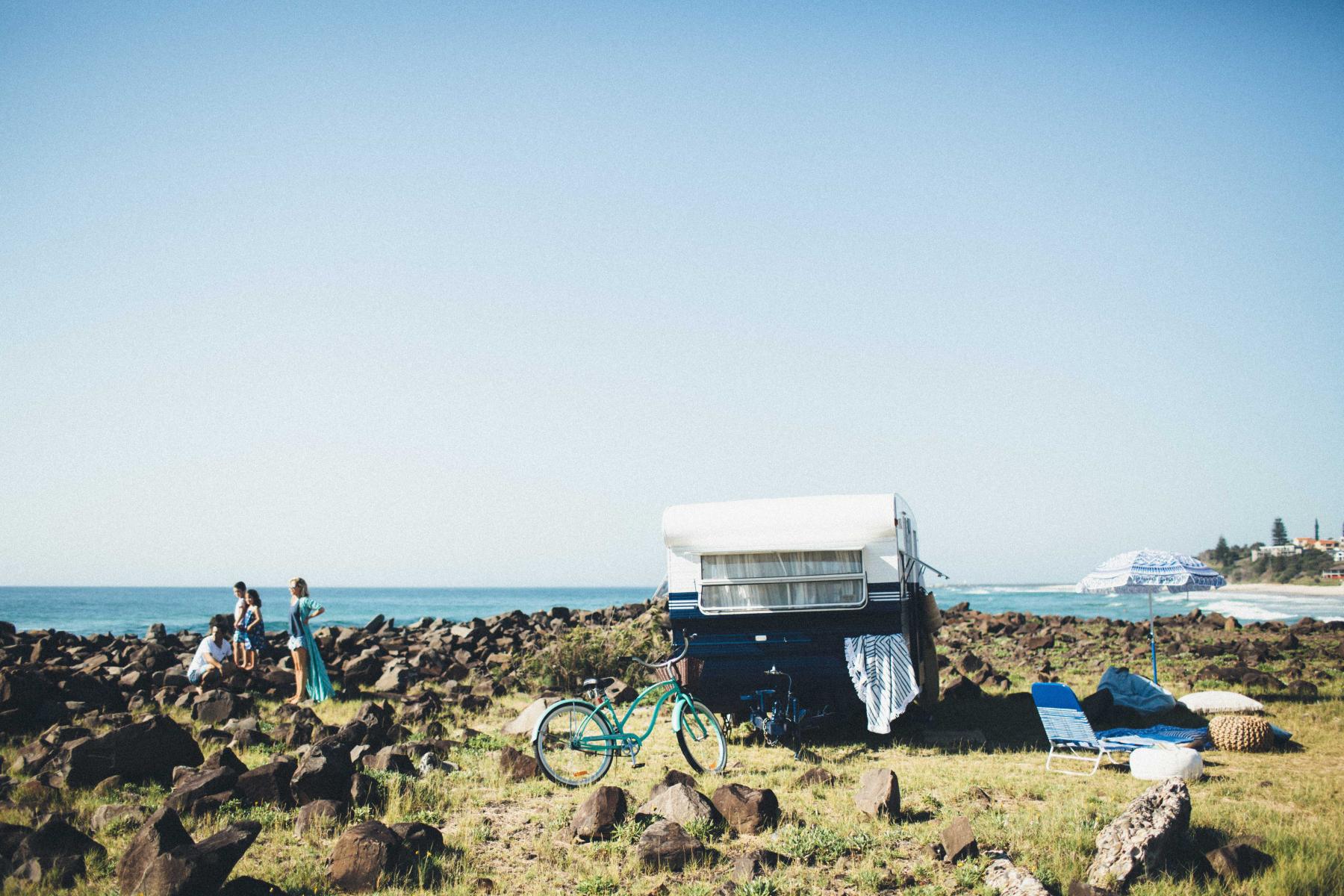 On to the interior. I think the interior is even lovelier than the exterior. There's something so calming and peaceful about walking into this van and I don't think it's just the colour scheme. It has just a really serene, quiet energy which I'm going to put down to the energy of the previous owners because peaceful is not how I'd describe us or our lives.
Kitchen and beds
Kitchen/sleeping area before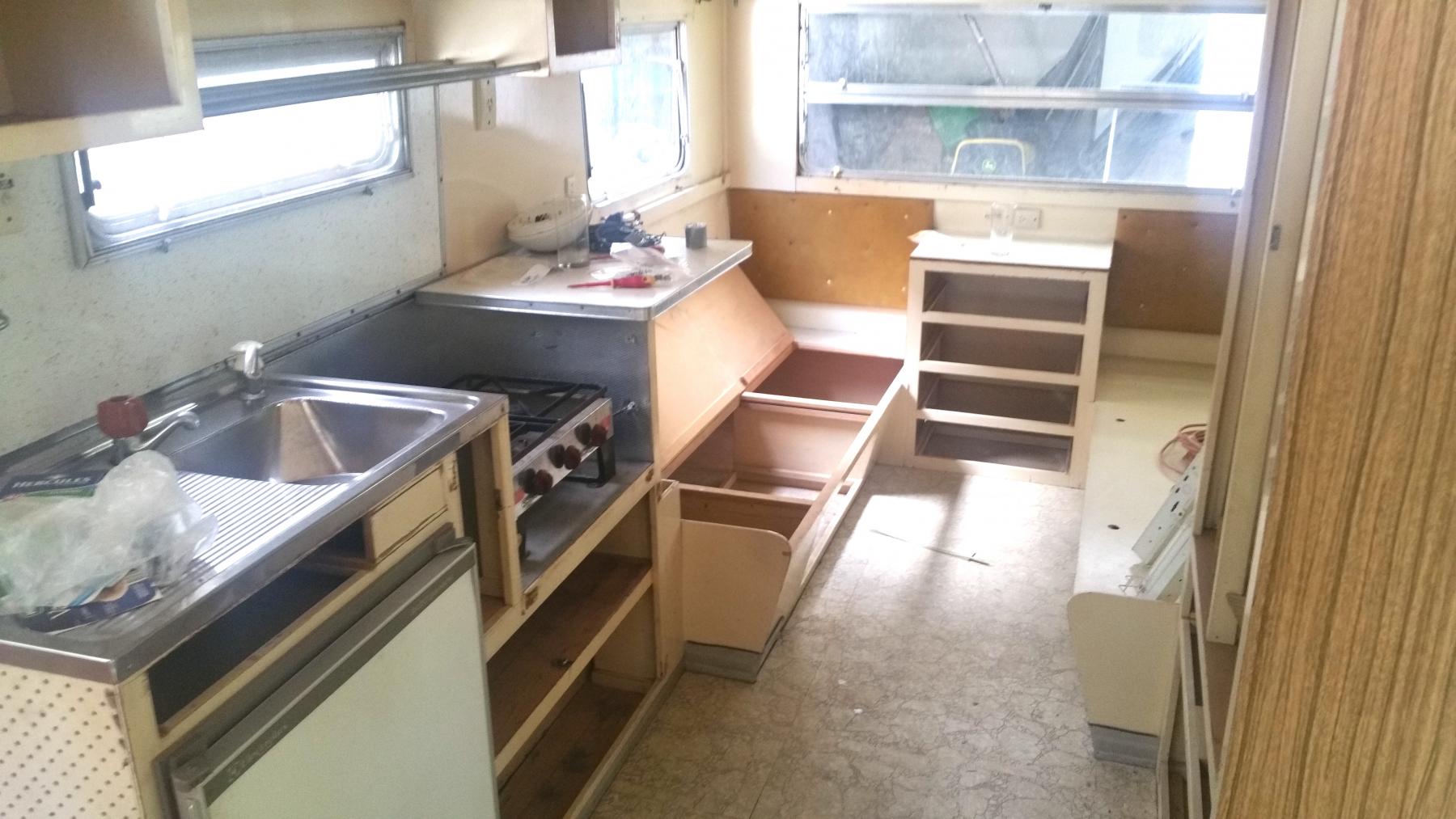 We ripped out most of the interior and replaced the cabinetry with cheap and cheerful Ikea cabinetry.
Kitchen/sleeping area after
My colour scheme was always going to be shades of blue for a cool, coastal vibe. For the walls I went with Resene Botticelli, which is just a really perfect shade of light blue. It's light but not insipid, which I love. The beds, we painted in Resene Prussion Blue, which has very subtle green undertones that you can't see in the photos but which is bold, rich and delicious.
Hot tip: Make sure you use a hard-wearing semi gloss paint for painting furniture such as beds because a low sheen finish will end up grubby and banged up.
I wanted to include some classical pieces in the van, which, we achieved with the decorative tapware, the brass-look shell handles, the VJ panelled cabinetry, all from Ikea. And of course, the marble brick pattern subway tiles, which are actually a mosaic that come in sheets and have a classical-inspired bevelled edge which you can't really see in the photos. They're from National Tiles.
Beds in progress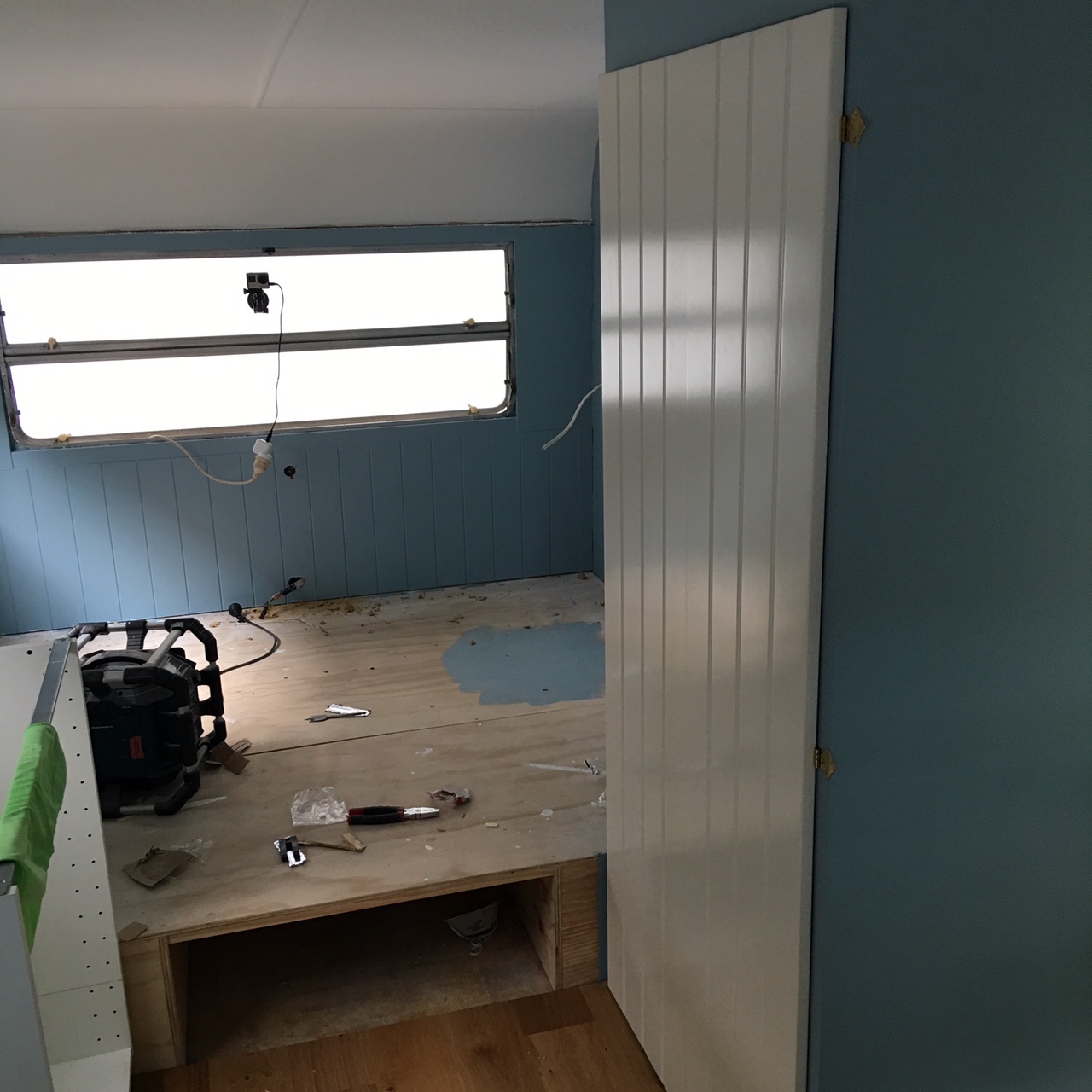 Where there were originally overheads cabinets over the single beds, we installed bunks. These work for the kids given that they're still young but as they get older I can see us banishing them to the annex so that we all have more room.
Beds after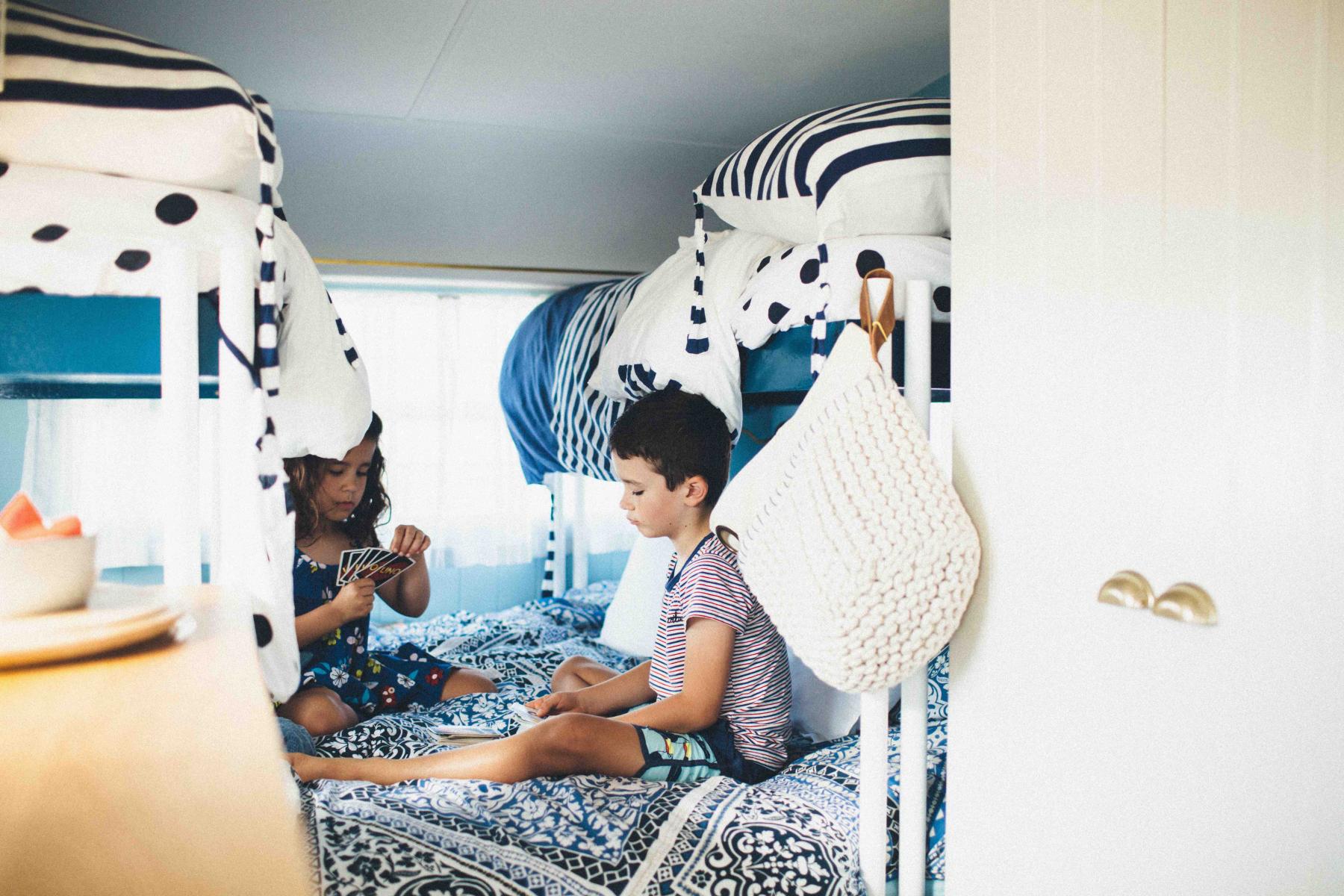 I got a little crazy with the patterns on the bedding, which I could do because the colour palette was so tonal. The kids polka dot fitted bed sheets are from Cotton On Kids and the striped quilt covers and pillow cases were from Linen House. Our bed is made up of a combination of Lorraine Lea quilt cover, a throw blanket from Kira & Kira and Citta Design cushion.
Dining area
Ahh, my favourite part of the van, the dining zone. It's this part of the caravan that remained most intact.
Dining area before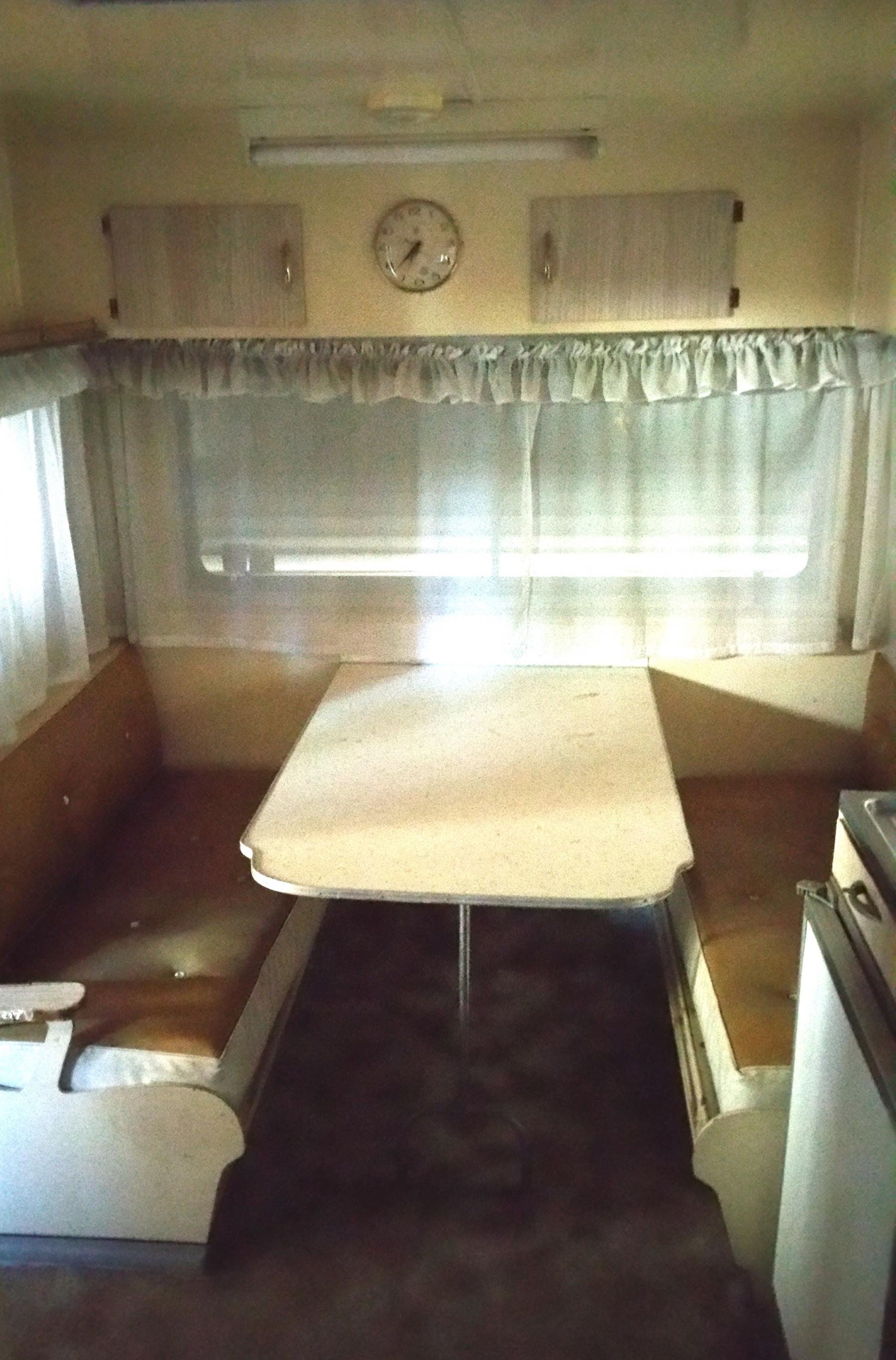 Dining area in progress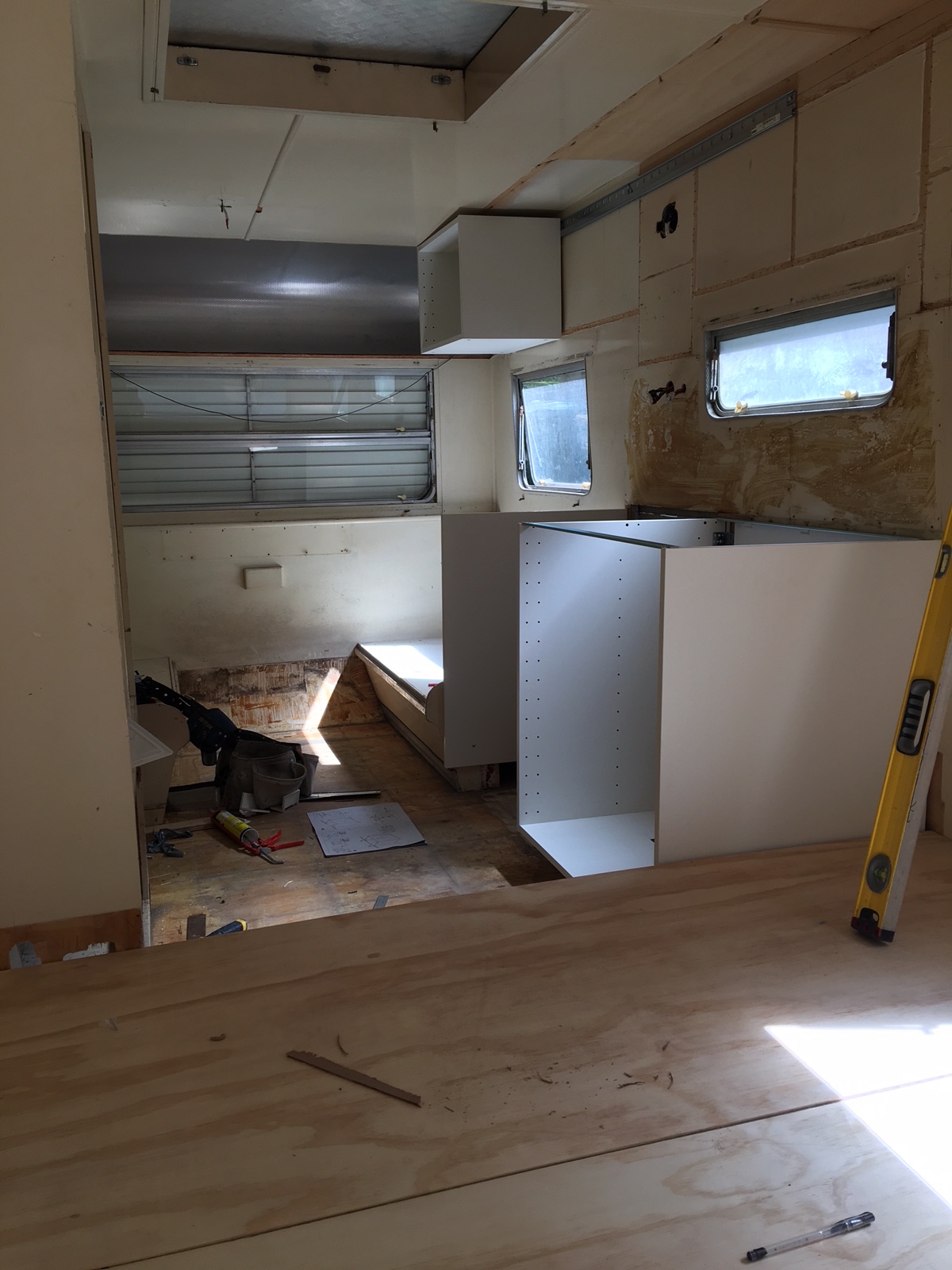 The banquet seats in the dining area were in good shape, which was a bonus, as it saved us the cost and effort of having to rebuild them. It also would have been a real shame to not have been able to retain the sweet curves of the timber detail.
Dining area after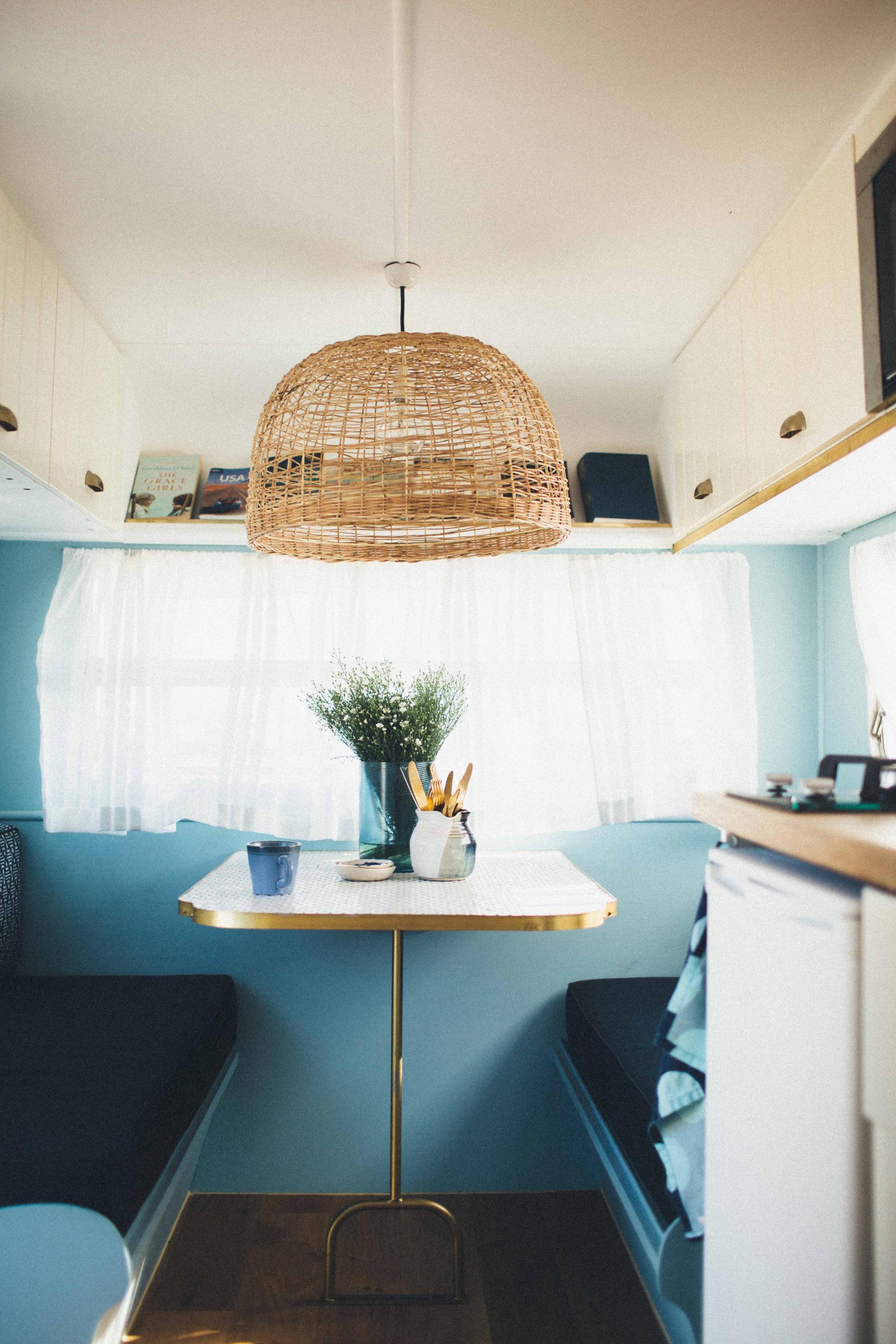 As for the bench cushions, we got rid of the inner spring inserts and purchased new foam. It was a good opportunity to reduce the weight of the van. For the back cushion fabric, initially I had set out in search of a stripe but when I saw this pattern (below) I knew it was the one. The design screamed 60's to me, which paid respect to Millie's origins. Michael was not so impressed with my selection but I was resolute. I've learnt to not let others weigh in on one aspect of a design choice when they aren't across the bigger picture. So I just listened to his concerns, nodded my head in acknowledgement (not agreement) and carried on.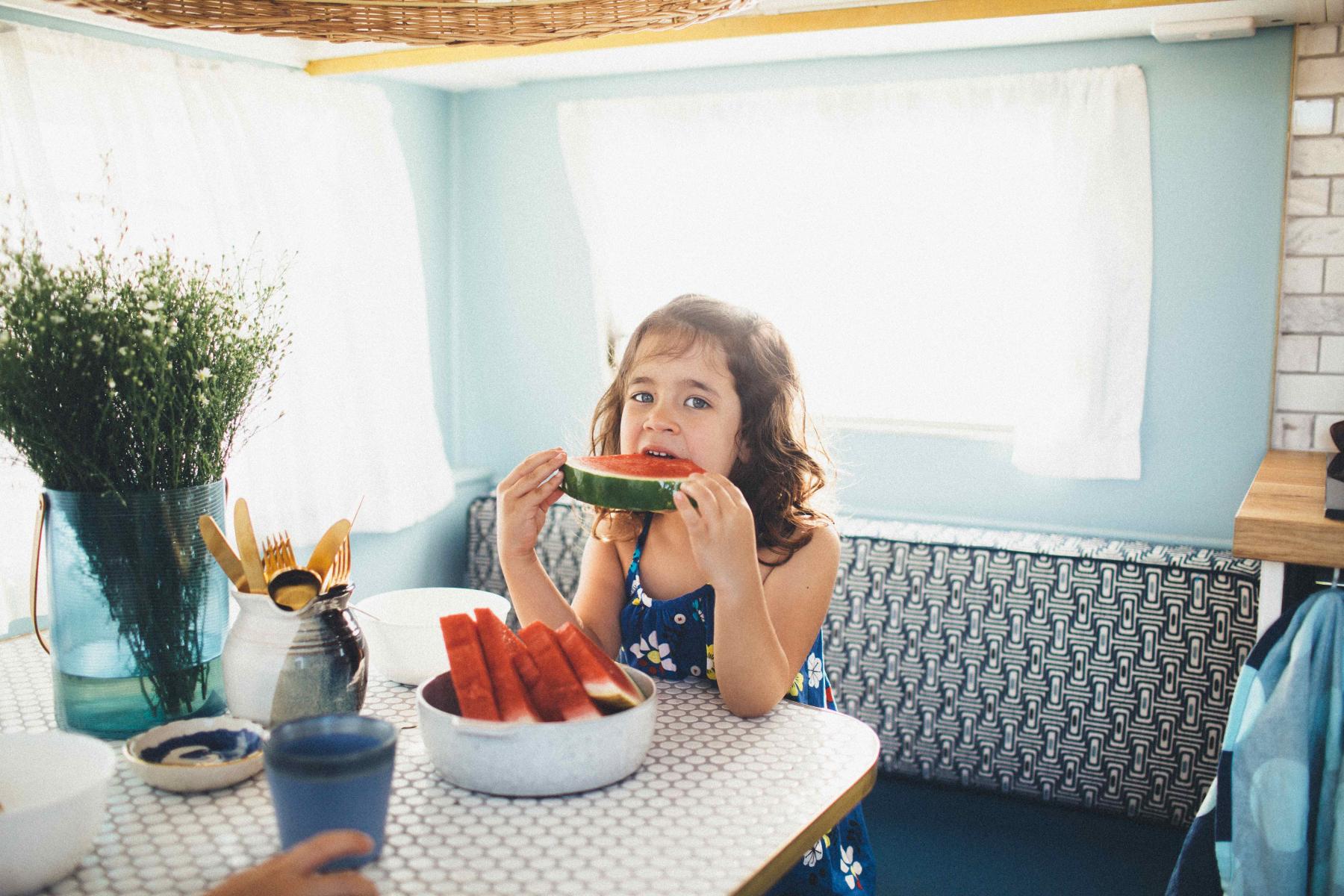 In hindsight, I wish I had opted for a patterned fabric for the base cushions because even though I used a durable outdoor fabric, being a block colour, it shows up dirt quite easily, which isn't ideal when you're beachside caravaning. Aesthetically though, I love it.
Gold Coasters might be interested to know that I get my reupholstery done by Foamworld, Burleigh Heads, for their competitive prices and good work. Anyone who has ever had anything reupholstered knows that you need to shop around for a good price because it can be cost prohibitive.
Michael nearly died when that rattan pendant arrived but I vowed that as long as the cabinet doors opened without hitting the light then it was staying. It was a victory for me. It's hard not to love oversized lights. This one is from Wisteria Design, who are a wholesaler and don't sell direct to public but you could always contact them re their stockists.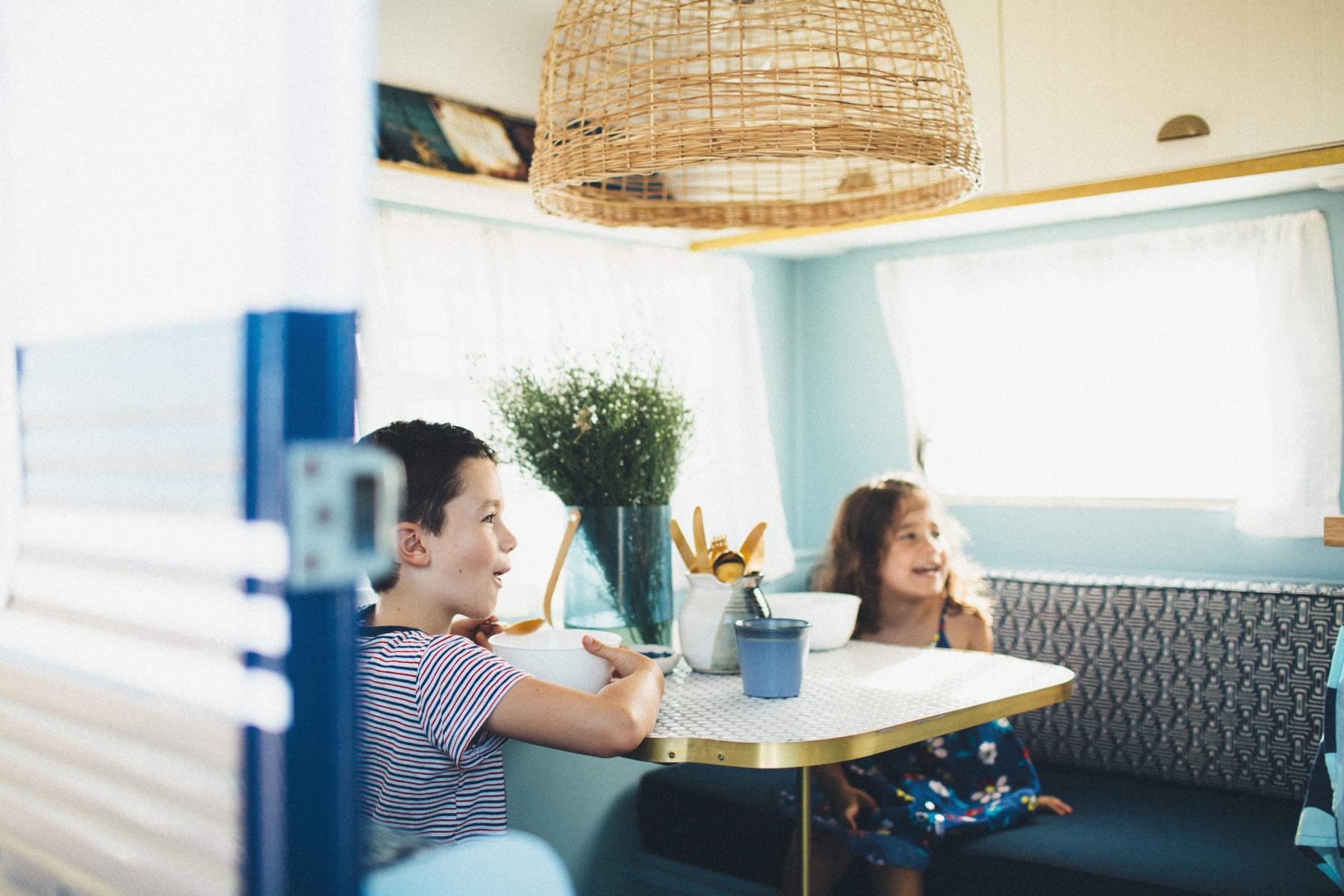 Credit where it's due, it was Michael, who opted to use brass trims throughout and we all know that blues and golds are just the ultimate combination. He used it on the walls and under the overhead cabinetry to disguise LED strip lighting and around the dining table to finish off the table edge. He sprayed the original table legs gold to replicate brass.
Now, let's talk about this dining table, my favourite feature of the whole van. This is, in fact, the original table that we shortened in length slightly and recovered in white gloss penny round mosaics and medium grey grout from National Tiles. I've wanted to try this for a while and the caravan provided the ideal opportunity. The pattern is just so so good. I love that it contrasts with the pattern of the banquet back cushion and unlike hexagonals, penny rounds won't date. The gloss finish on the tile also makes for easy cleaning. I don't think a matte tile would withstand heavy use.
Ha you'd think that with all that pattern and texture that I'd stop at the curtains. Nope, I went with a polyester linen look with a subtle stripe, which I LOVE LOVE LOVE! I sourced the fabric from Warwick Fabric, who are also wholesalers and don't sell retail so you would need to have your sewer order your fabric. I purchased the curtain cord and hooks from ebay, and had the curtains sewed by a local sewer. As a sheer, they don't do much more than filter the light coming in but they do provide enough privacy and sure do look pretty.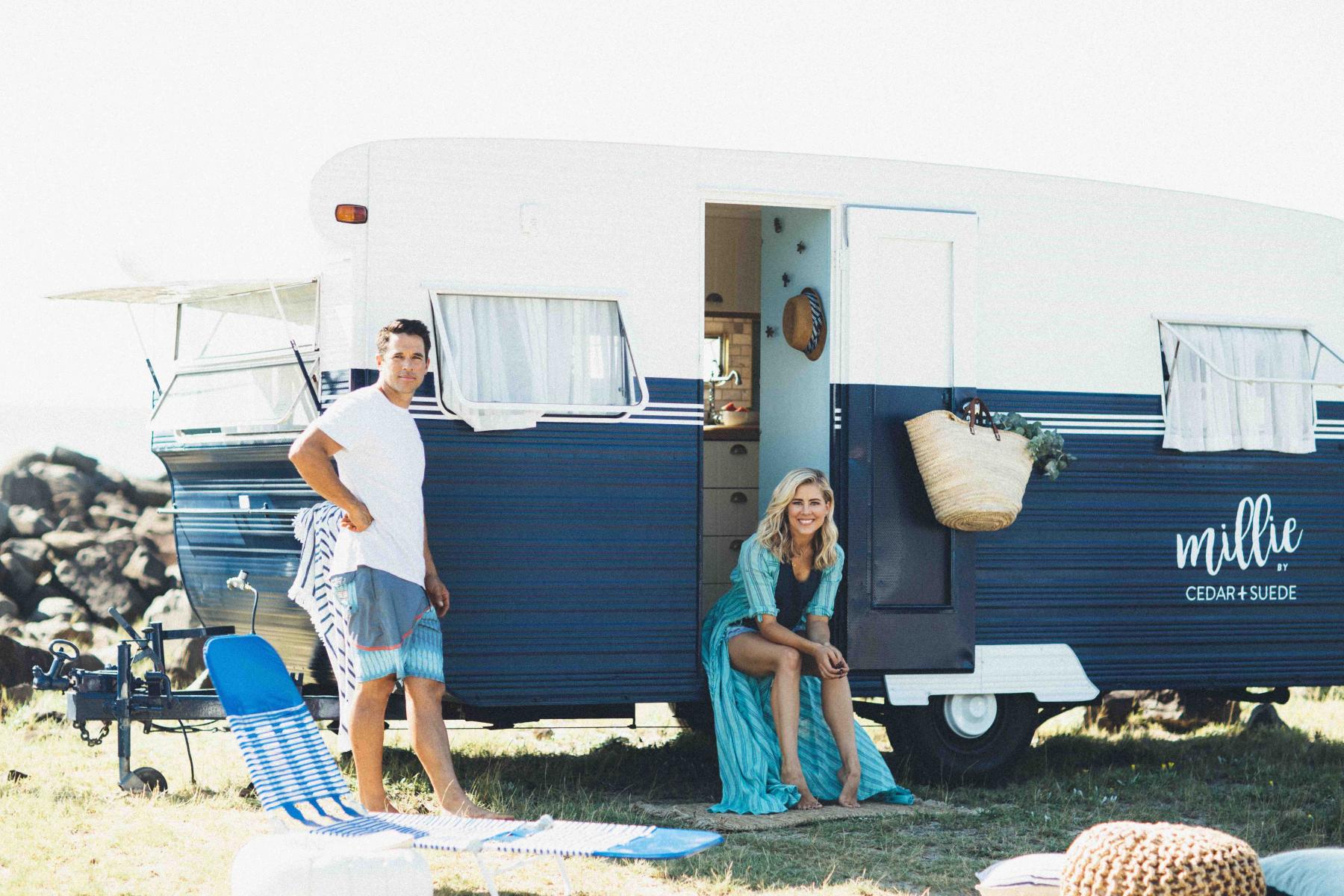 Some approximate costs
The caravan – $3.3k (a steal from Gumtree)
Panel painting – $3.2k (this process isn't cheap but it was worth it, as it's not something we could do ourselves)
Decals – under $500
Bench seat reupholstery – $750-$1000 (for labour only – I sourced the material myself)
Ikea cabinetry, benchtop, wall lights, tapware – $2k (very roughly)
Curtains – $250 including material
Trades/Services required
You can see more images of the final product here and watch the video below to see the renovation unfold.
That's about it but if I haven't addressed something that you may be curious about, feel free to comment below.
Carlene xx
Images by Carly Brown Photography.