The entry to your home is usually one of two things; a welcoming, visually-impactful first-impression or a dumping ground for all things shoes, bags, and everything you don't want on display. Together with Lend Lease, I've put together my tips for creating both, a welcoming and functional home entry, one that works for our increasingly busy lives as well as fulfils our desire to create a home of which we're proud. Watch the clip below to see it all come together.
Utilise both, large and small storage
Whether or not you have a separate mud room for school bags, shoes etc., it's a good idea to include both large and small storage in your entry to encourage an organised home and reduce visual chaos. A cabinet or dresser provides adequate storage to hide shoes and handbags but it's also wise to include smaller storage pieces on and in your large storage, such as trays, bowls, and baskets to house the smaller items you need for coming and going such as keys, wallets and mobile phones.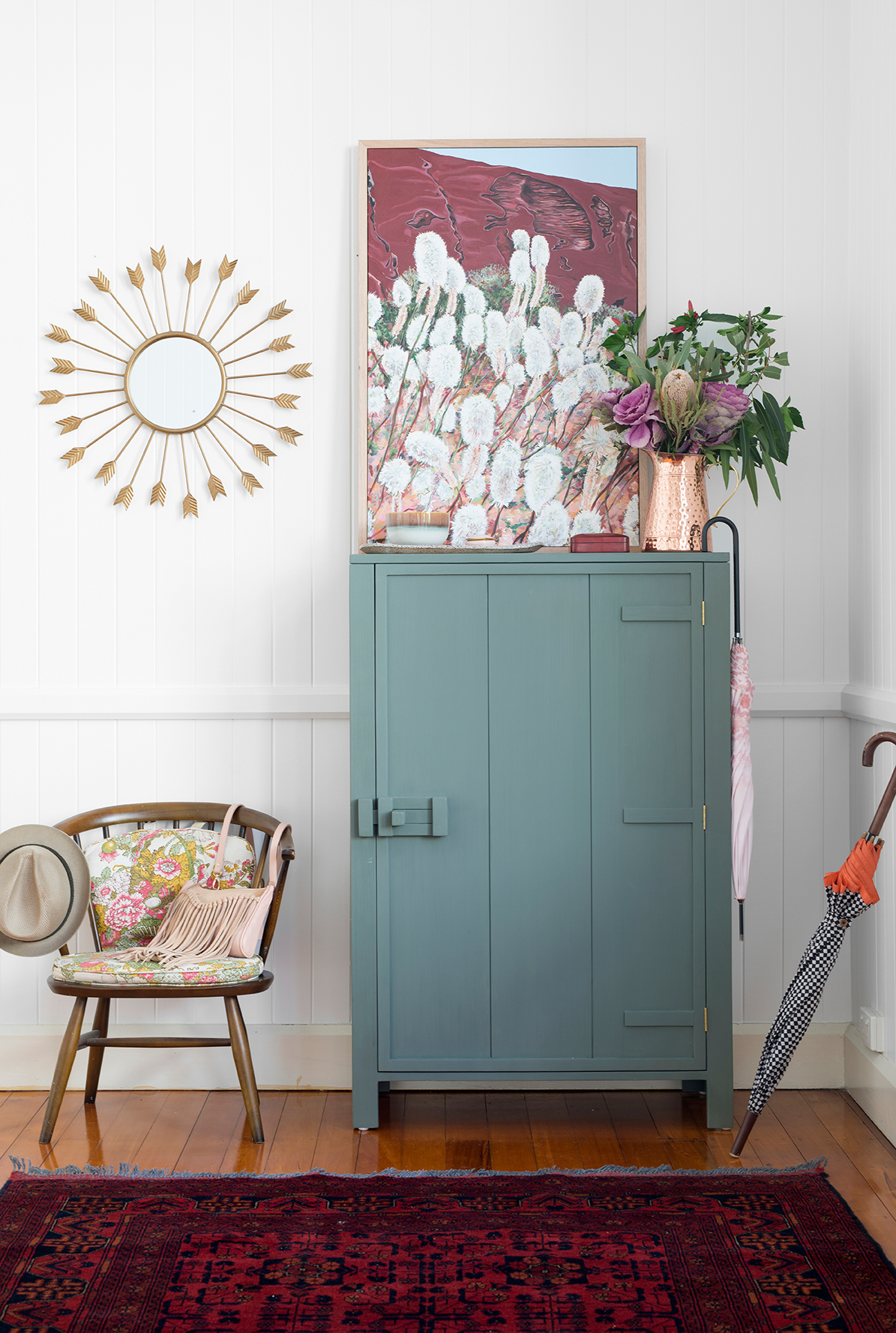 Brief the family – everything has a "home"
Once you've allocated a spot for everything in your entry make sure the family receive a thorough orientation about what goes where. Having your family members adhere to this may sound like a pipe dream but when everything has a home and keys, wallets and sunglasses can always be found in their 'spot,' you'd be surprised how quickly this acts as motivation to return items to their rightful place. Soon enough it becomes a habit and not an obligation.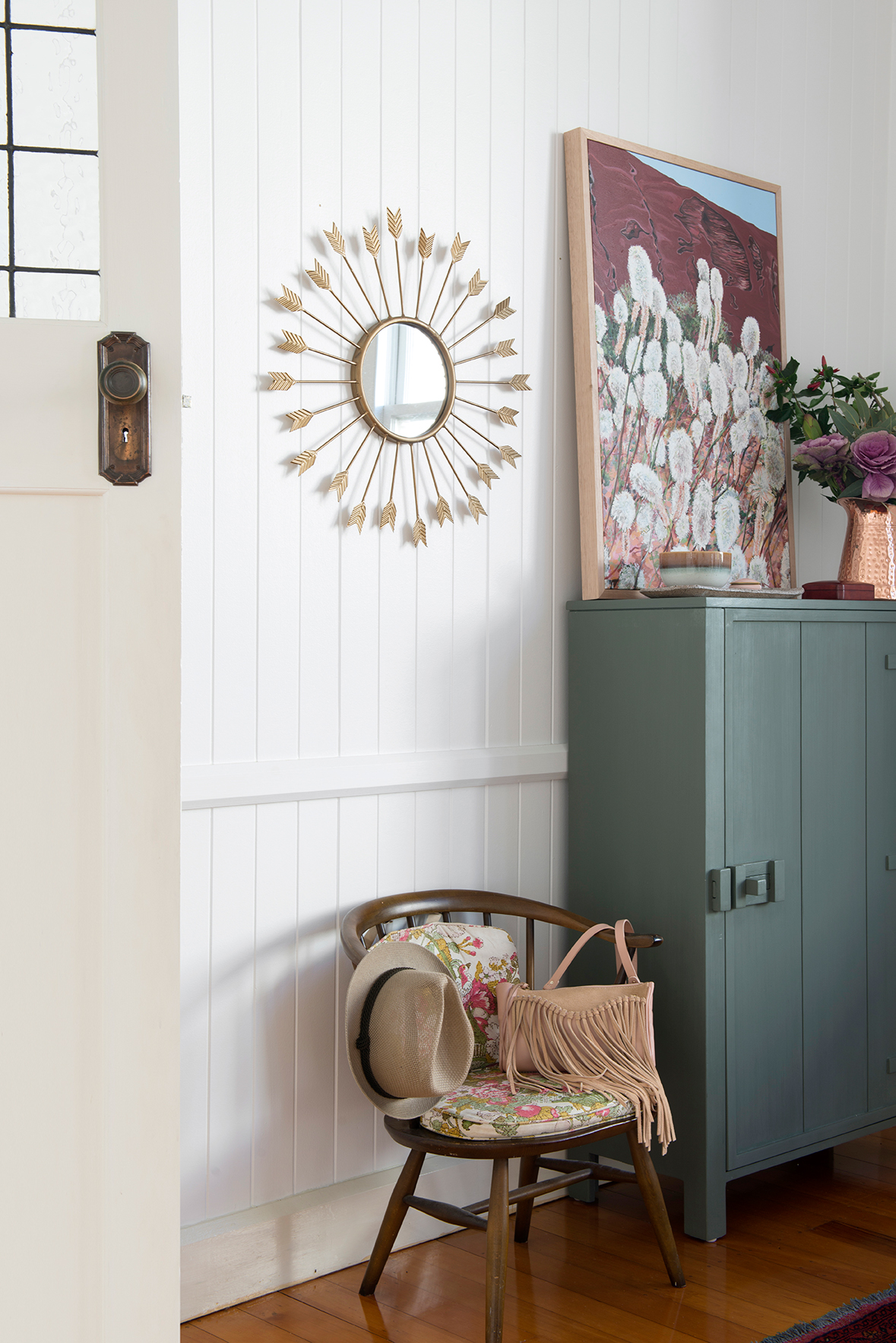 Dress the wall
Whether it's a mirror, a piece of art or both, whatever you feature on your wall will likely be the first thing you and guests see on entering so make it something worth looking at. Simply choose art that you love and let it set the tone for the home. If your entry is low on natural light, a statement mirror is ideal for bouncing light around and creating the illusion of more space. On a more functional level, a mirror allows you to check that you applied eyeshadow on both eyes before you hurry out the door in the morning. You may also like to include some decorative hooks to hold coats, handbags etc. but do this with caution, as it you don't want too much happening on the wall that you it becomes busy.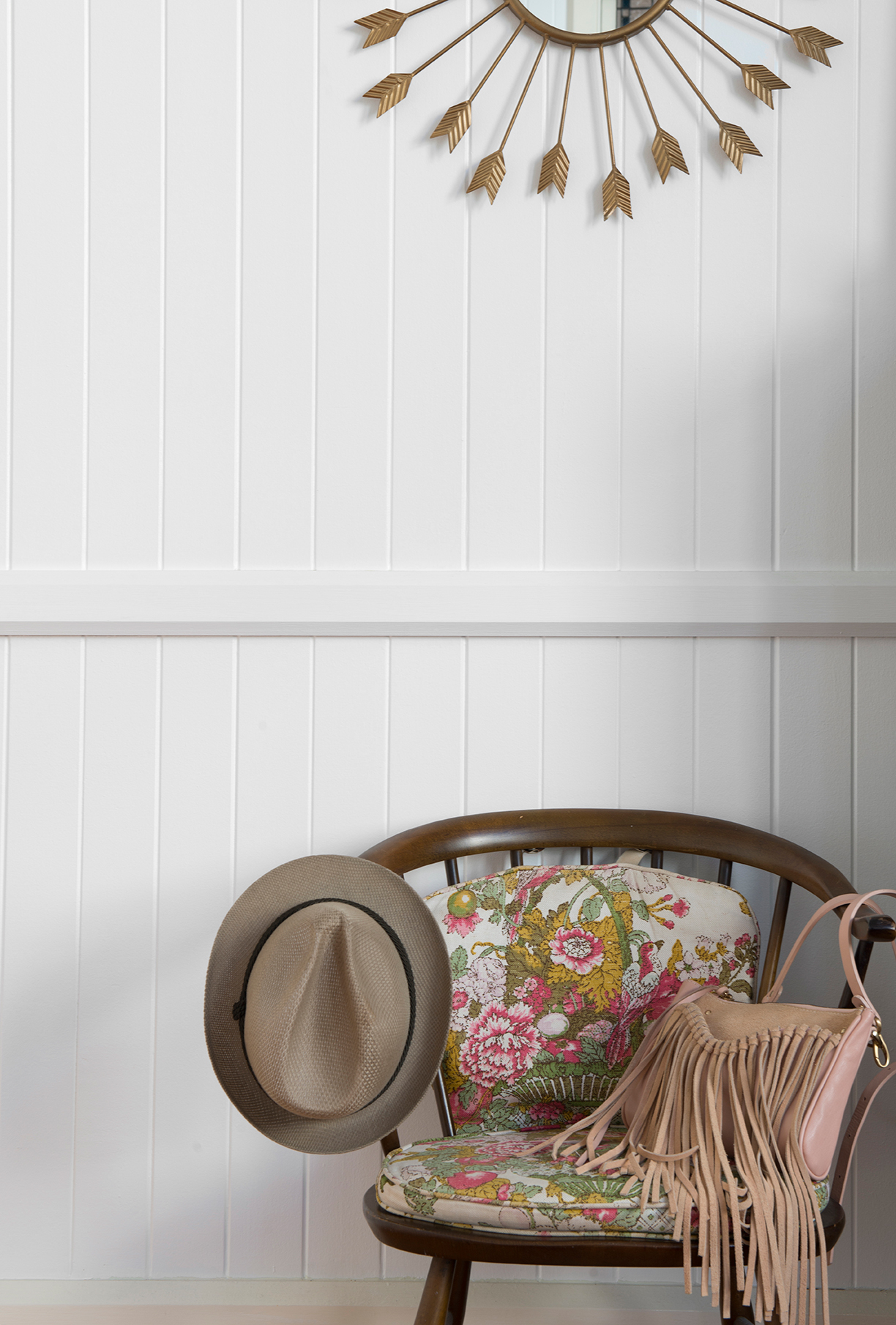 Warmth says "welcome"
I'm a firm believer that a home should feel like home and there a few key items that play a key role in all areas of the home to create that feeling of warmth and softness. A rug or runner (if your space is narrow) is one such item. As the entry is generally a thoroughfare, ensure your rug is hardwearing and easy to clean.  Opt for a low pile rug as opposed to shaggy or high pile. You don't want the rug to be a trip hazard. Cow hides are ideal in entry ways (and thoroughfares, in general), as they are indestructible and their asymmetrical shape helps softens angular looking spaces.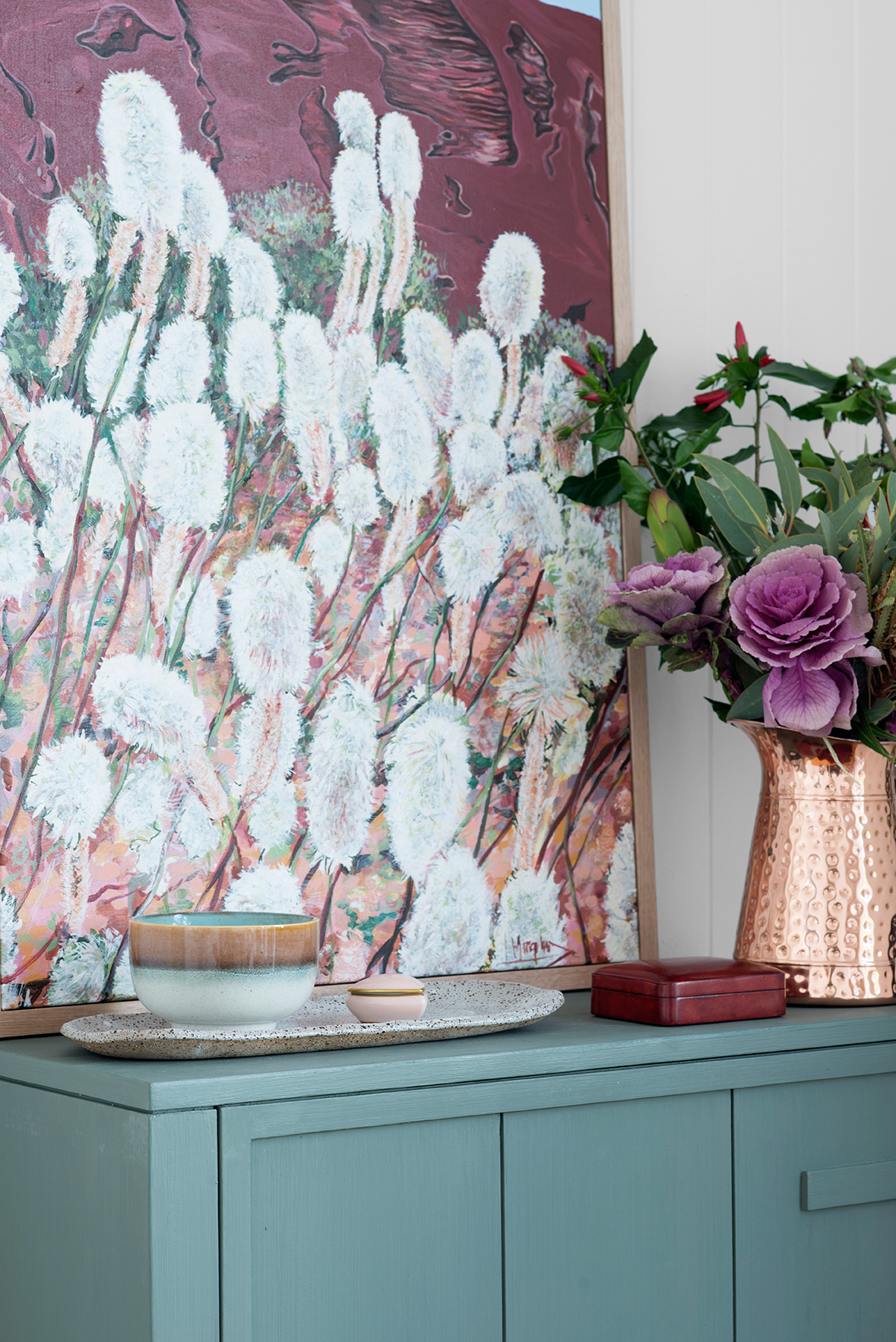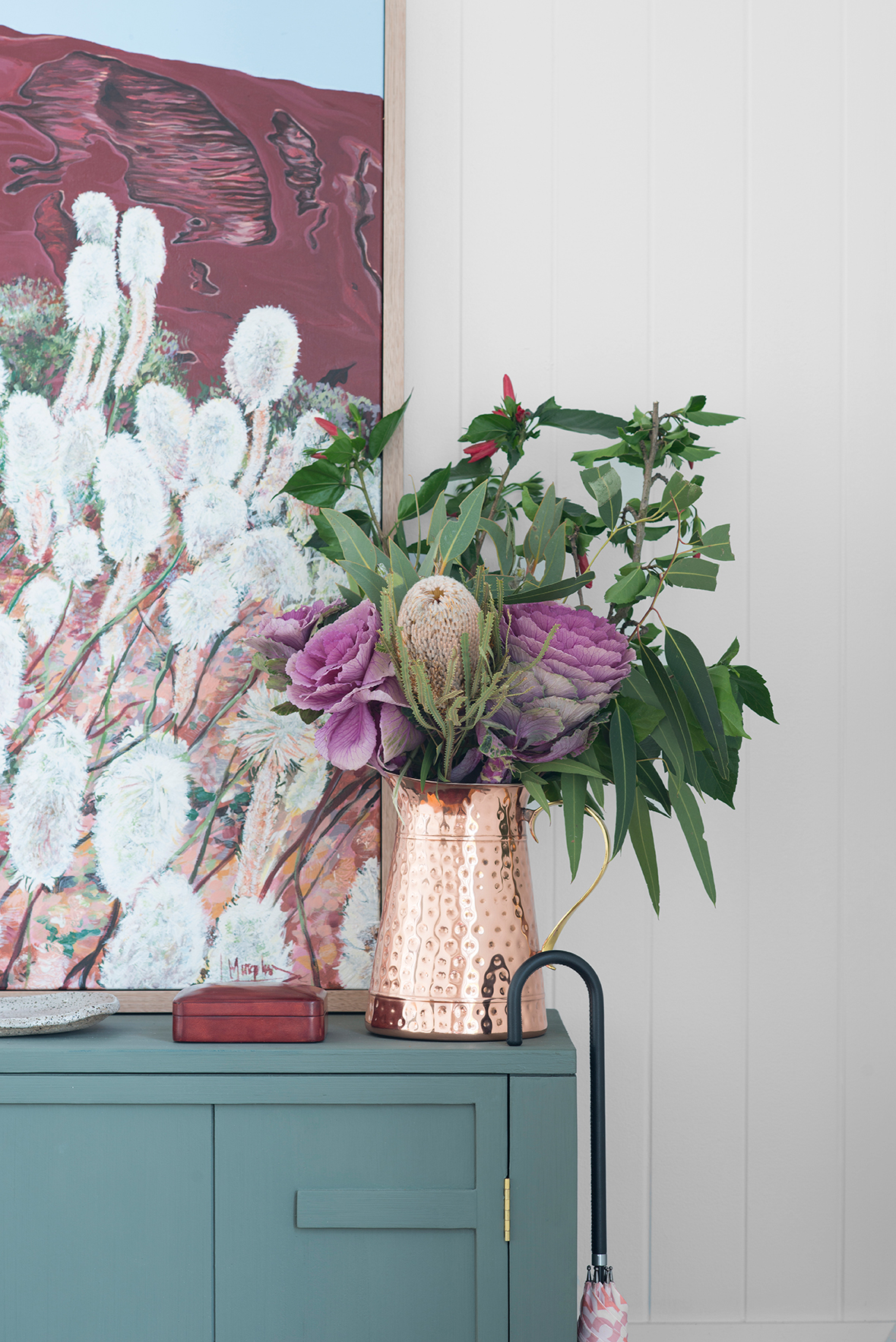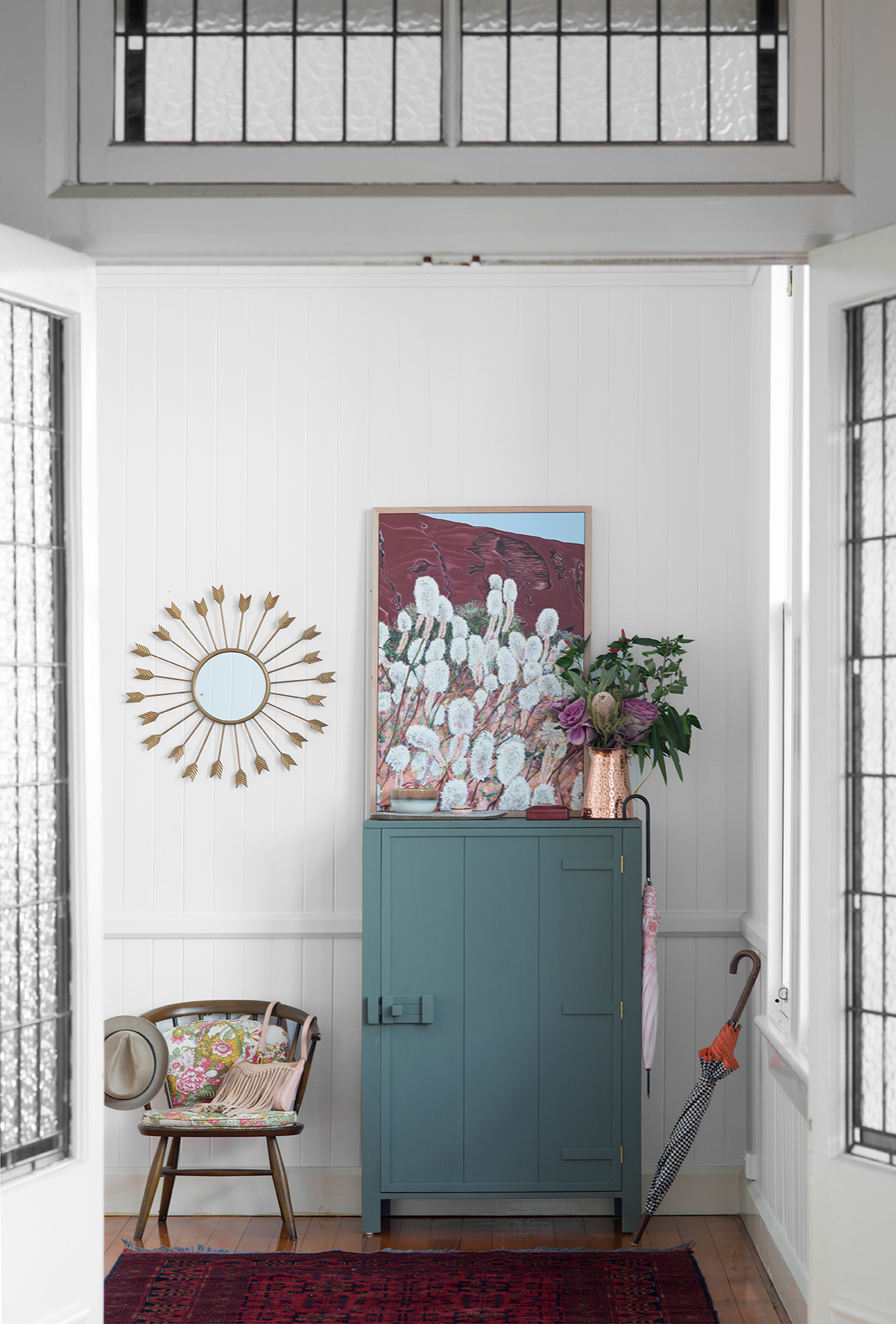 Product details:  1. Kazak rug 144×99 $825, DecoRug; 2. HK Living vintage green cabinet $999, House of Orange; 3. Ulluru in Spring, Lee Murphy Design $1000, Kira and Kira; 4. Kira and Kira Wire basket (inside cabinet) $29.95, Kira and Kira; 5. HK Living Ceramic 70's bowl $27.95, Kira and Kira; 6. Married To The Sea grey platter $75, Kira and Kira; 7. Sunburst mirror $190.00, Trader Trove; 8. Antique floral chair, Umbrellas, Tassel handbag, Hammered copper vase/vessel, Maroon case, Pink heart jewellery holder, Copper tray (inside cabinet), my own.
Images by Mindi Cooke.
Carlene xx