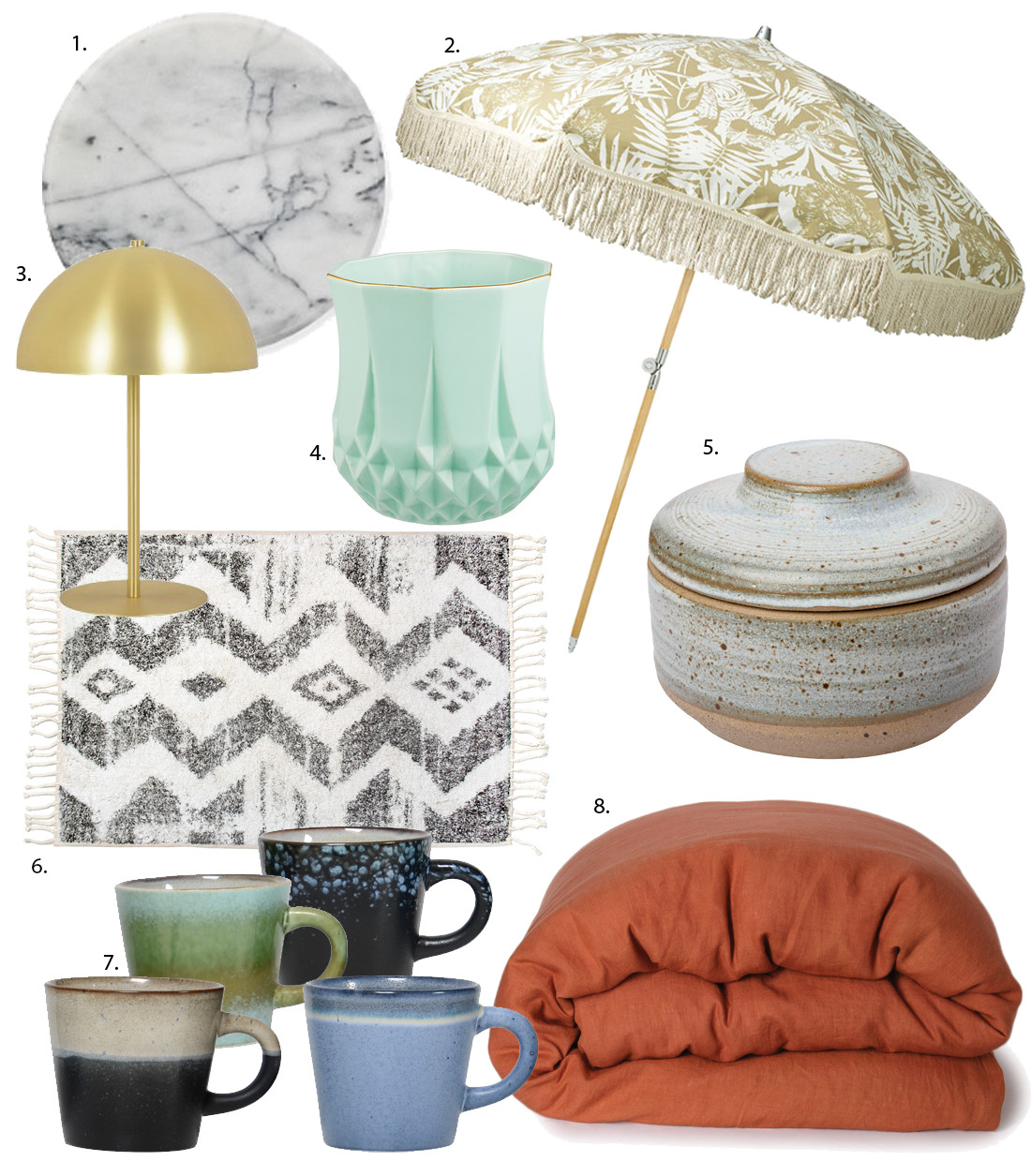 I've left my run late given mothers day is this Sunday but I've got my money on the fact that most of you haven't purchased your dearest old Mum a Mother's Day gift yet (I haven't) and I couldn't let the opportunity slip by without a gift round up so here it is, my Mother's Day gift guide for the home.
1. Round Marble serving board, Country Road
This marble serving board is that no brainer gift that there is no way Mum won't love. I have way too many serving boards which I can justify because we entertain a lot. We also rock large open shelving in our kitchen so we can store them in style. You can only imagine how pretty Mum's cheese selection would look on this marble board but not only that, when not in use Mum can use as the ultimate styling accessory.
2. Jungle canopy umbrella, Village Stores 
With Winter looming, this gift may not be useful for a few months but a good looking umbrella doesn't get old. I actually really love the muted colours of this palm printed umbrella and the boho style fringing is quirky and fun. It would almost be shame to only bring this umbrella out for the beach. I can imagine it looking very cool on Mum's deck or patio.
3. Romy brass table lamp, Beacon
This modernist brass lamp is part of Beacon's Josh and Jenna range who happen to also be my very clever friends and whose design sense I trust implicitly. The clean lines of this 60's inspired table lamp in brass screams sophisticated, no nonsense style. Mum could put this anywhere in her home to provide a bit sass.
4. Lisa T planter vase in sage, Target
It's a combination of the colour and pattern that got me with this ceramic Lisa T vase from Target. Its super feminine in that minty green colour (I know they are calling it sage but it is definitely more mint) and the diamond cut detail makes it look like it should cost more than it does.
5. Speckle container, Zakkia homewares 
You might have noticed earthy, 70's inspired stoneware making a comeback recently and this is good news people. Grouped together or scattered throughout the home it does wonders for adding warmth to a space. Beyond that, they are super useful for holding jewellery and using as serving ware.
I had exhausted my google search for Moroccan inspired bath mats when I walked into Kira & Kira on the Gold Coast and spotted exactly what I wanted in the form of this bath mat by HK Living. It provides warmth and softness that bathrooms need with all their hard surfaces and "Moroccan" anything can do no wrong right now.
7. Ceramic 70's Cappuccino mugs, HK Living
Yep, more 70's inspired tableware but this time in the form of these damn good ceramic mugs. I think I'm going to have to drop some hints at home because I want these mugs in a bad bad way. Do you know what I love most about these? You won't be able to see the tea stains.
8. Clay linen quilt cover, Kip & Co.
If you've been told that the colour, terracotta, is making a comeback but didn't believe it, here is the evidence. You can call it "rust" or "clay" if you want, either way expect to see more of creeping into stores. I would call this a challenge present for Mum because many think of terracotta as a colour that died in the 80's and shouldn't be revived. Prove her wrong. BTW, Terracotta and olive/khaki are a match made in heaven.
Happy shopping.
Carlene xx