The cutoff for online deliveries pre Christmas is looming. If this thought sends shivers down your spine know I stand with you in solidarity. I'm far, far from finished my shopping and whilst I can't tell you what I think others might want for Christmas maybe my own Christmas wish list (and some of my purchases this year) helps you either in making your own wish list or in for buying for another.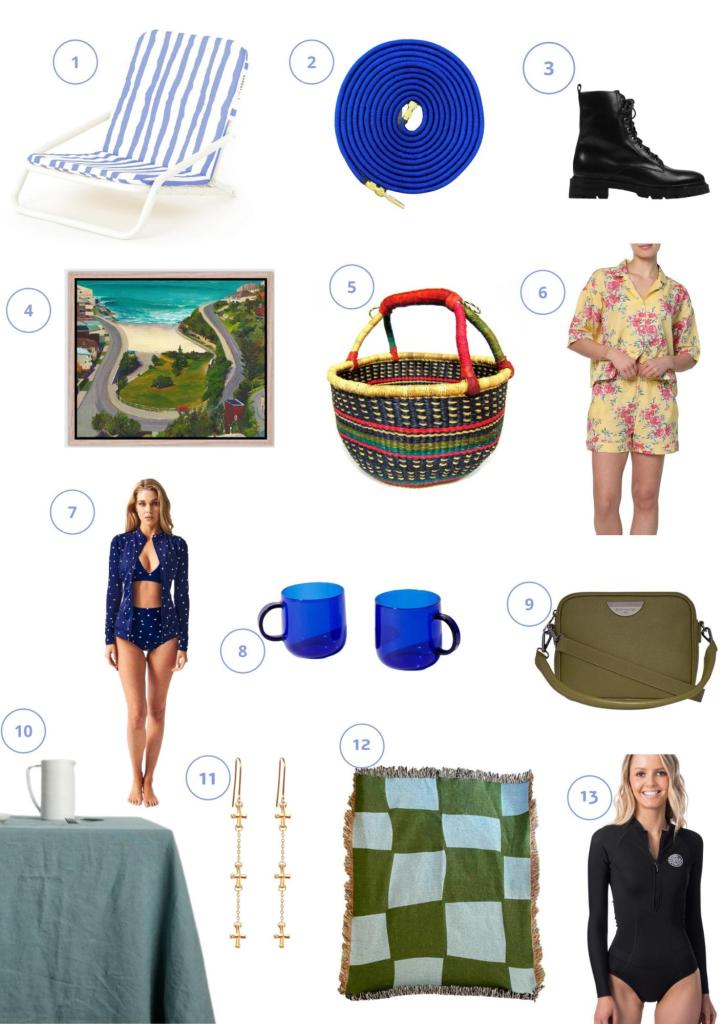 1. Sunday Supply Co Beach Chair – $149
Don't be the person who doesn't bring a chair to the beach and sits in everyone else's chair. Buy the chair. Keep it in your boot. No one likes sitting on the ground. Always be the person with the chair. Also, it's cute!
2. The Gardenista Garden Hose – $85
OK this may seem like an odd gift but if I received this I'd be thrilled! Is this not the most beautiful garden hose? I'd be happy to see this casually hanging from the side of my house. It's a far cry from the green rubber alternative sprawling across my grass right now.
3. Jo Mercer Ziggy Ankle Boots – $269.95
I have these but you should get them too because if you're ever kitted out in an outfit and feel like you want to edge it up (you know, like when you're feeling a bit conservative, a bit meh), these boots are your answer. There are trillions of its kind on the market but these have the most perfect subtle heel that give height without appearing to have a heel.
4. "Feels Like Home" art series – $395
This year I partnered with Left Bank Art Group to create a series of limited-edition art prints aimed to inspire the idea of hanging something meaningful on your walls. The Feels like Home collection was painted by local Queensland artist, Dylan Cooper to represent scenes that feel like home. My fave is the Boat House. That sky is just so magical. They come in x3 different sizes and with x3 colour frame options and I can tell you that the broad base frame makes them ideal for open  shelf styling.
I bought a zillion of these last year. I gave some out as gifts and I kept x8 for myself. I keep one by the front door as a catcher for all the random things I take to and fro. They're also perfect for transferring things like food because of their hard, flat base.
6. Papinelle Sunshine Pjs – $109.95
The colour and print of this PJ set are soooooo good and the light-weight factor is very appealing in a Queensland Summer. The sheerness is a problem though which is why I haven't hit the buy button. I don't want to have to wear a something underneath it and what if I want to stay in my PJ's all day one day?!
7. Une Piece Sexie Rashie Top Polka Positano – $179
I'm cautious about sounding like a skin cancer ad but there's nothing sexy about skin damage. I'm born and bred in Queensland, the skin cancer capital of the world and I've had 2 x stage 1 melanomas removed post-partum but I do know melanoma doesn't discriminate.  We live an outdoors lifestyle so I don't muck around with bikinis but aside from the sun safe factor, Une Piece Original Sexy Rashies are absurdly comfortable and flattering and I don't have to worry about a checking I'm still tucked away when I re-emerge from the onslaught of a rogue wave.
8. Aeyre Coro Glass Cups – $69
I'm like a bowerbird right now. I'm developing a fast love affair with cobalt blue and these mugs just feel retro cool in all the right ways. I've got some on their way to me to give as a gift.
9. Bon Maxie Sidekick Leather Cross Body Bag – $249
This bag is smart. And pretty. Smart and pretty! The olive colour is perfect and I love the studs on the base, which will help protect the leather. I also really value a well thought out bag interior and I feel like this one would keep more organised. My current bag is the Bermuda Triangle (not pretty).
10. Cultiver Linen Tablecloth – $145
These linen tablecloths come in the most beautiful colours. Whilst white always looks clean and crisp there's no way we'd be able to keep it clean. This is personal but I'm inclined to get sick of pattern before I get sick of a colour which is why I think these are worth the investment. You'll have them forever.
11. Temple of the Sun Cross Earrings – $129
I have a pair very similar to these and I wear them every day in some capacity. I really embraced the 90's revival and now have x 7 piercings between both ears and I'm really getting a kick out of mixing up my earring combinations. I actually really love the look of 2 of these in the one ear. They're incredibly light-weight and easy to wear. They're 14ct plated (not solid). Some people wear their plated jewellery in the water and whilst exercising but I don't run the risk. I want them to last. Temple offer a re-plating service which I haven't had to use yet but I like the idea of it.
12. CLR Check Yourself Blanket – $139
I LOVE these blankets. If you feel like your space needs a bit of spunk, a bit of lift, a bit of playfulness this is a very simple solution without having to do much of anything else.
13. Rip Curl G Bomb Springsuit – $200
If you want to be the person who gets in the water with their kids, I strongly encourage you own a wetsuit of some capacity. I lived in mine this Winter/ Autumn. I've built a high tolerance for cold water over the past couple of years but if you're a cold frog I promise this will help you brave the temperatures.
Good luck on your final leg of the shopping race and if you're done and your presents are wrapped and under the tree I'm green with envy.
Carlene xx