Listen up fellas. Valentine's Day is just around the bend and despite your better half telling you Valentine's Day is a farce; another American institution being unwillingly shoved down the throats of us much cooler, laid back Aussies; just another excuse for Hallmark to get richer with their $8.95 gift cards, deep down she really does want a gesture, a token red rose at the very least. Let's go one step further. Here are my Valentine's Day gift ideas to get her heart a flutter. Thank me later.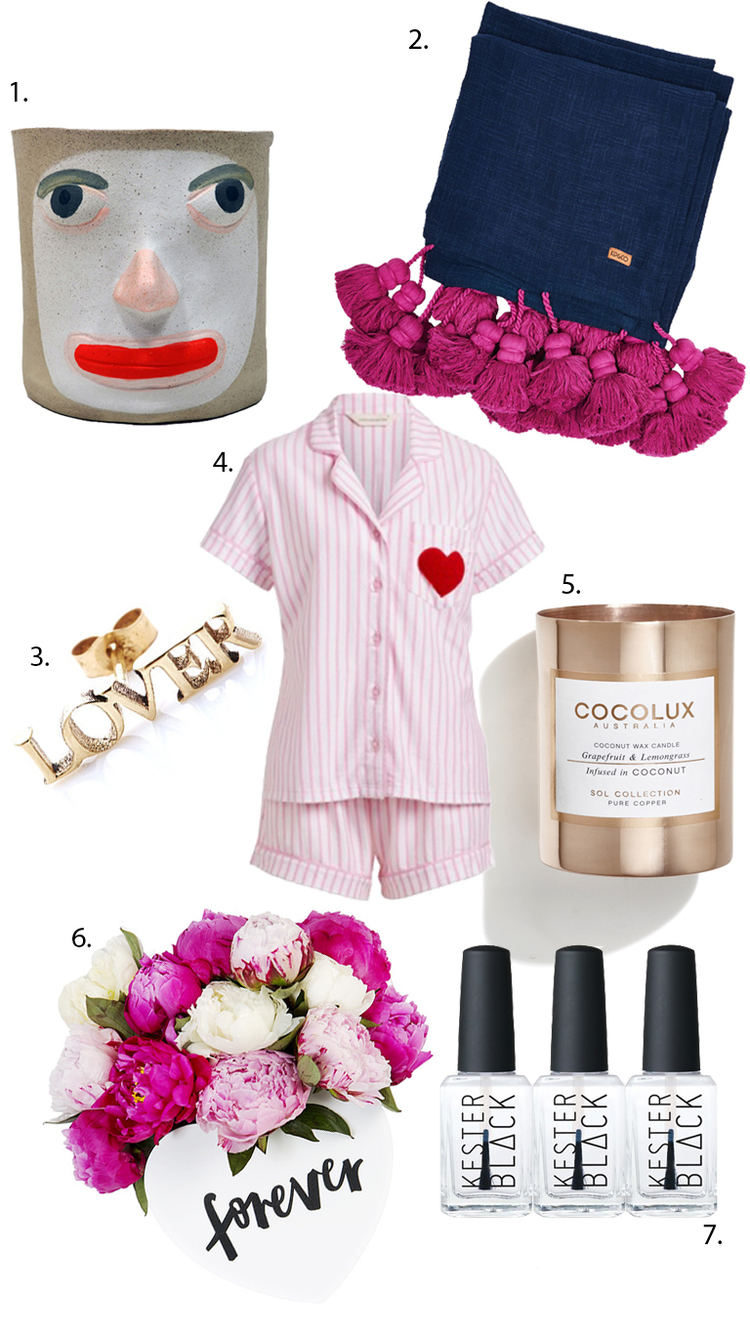 I cannot get enough of this Melbourne based art and homewares store and design studio. Their product totally speaks to my quirky side and always either makes me chuckle or my heart sing. This Adam Pot X by Isaac Nichols does both. You'll get points for uniqueness.
It's all about pom poms right now and the bigger the better. Kip and Co do fun, bold, colourful and oh so cool bedding and this 100% cotton Indigo and pink throw is no exception. If you love some colour Indigo and hot pink together is pretty bang on.
It is difficult to find pure 14k gold jewellery that is refined and on point. I know because i've been on the hunt and what I've discovered is that most is only gold plated, and no matter how good their plating process and quality of the gold, it will eventually tarnish. I have purchased a couple Sarah and Sebastian pieces lately, including their teeny tiny gold Letter earrings and their very sweet and delicate Four Circlet necklace so I can vouch for the fact that their jewellery is both stylish, superb quality and yes, solid gold (not plated). Their pieces also come in the sweetest timber boxes, which takes all the hard work out of your gift presentation.
I find it really difficult to find Pyjamas that are both comfortable and cute. I own two sets of Peter Alexander shortie PJ's and they have become my Summer PJ uniform.  I might have to have this new addition to the range or just get Michael to read this post… hint hint, nudge nudge (PS, Michael, I am size Small).
Coconut is my all time favourite flavour scent, both, to eat and smell. The scent reminds me of holidays in Queensland as a child and what other greater memory is there than being a child, on holidays, in Queensland. Cocolux make it even better by mixing the coconut wax with other complementing scents such as pomegranate and acai or grapefruit and lemongrass. Yum!  I am also loving the copper canister for an alternative to glass and the simple black and white labels make these candles super versatile to style.
I love me some Lovestar.  Lovestar's Frida sits proudly in my entry at home and their Super size Queen of Hearts looks pretty spunky in Stella's bedroom. The Forever limited edition vase is a collaboration between Lovestar and Brisbane-based letterer and graphic designer, Jasmine Dowling, which I think is a pretty perfect outcome.
I go a la naturale when I can, whether it's food, skin care, hair care, cleaning products…. so I was super excited when I came across a nail polish that was kinder on the body then the average. Kester Black polishes are Five Free: free from Toluene, DBP, Camphor, Formaldehyde, and Formaldehyde resin. Their Valentine's Day gift set allows you to choose three colours and comes with a bonus Earth Luvju chocolate bar and free wrapping. You don't have to gift wrap boys!!!
Happy Valentine's Day shopping and good luck!
Carlene xx