The onset of Summer has me hankering for our upcoming Christmas break in Noosa, on the Sunshine Coast, and daydreaming of all things Aussie Christmas, and summer beach holidays – the smell of sunscreen, the deep blue of the ocean, ice cream, salty skin, windswept hair, unbearably hot sand under my feet…..
Noosa was also our childhood holiday destination so maybe I'm feeling a little nostalgic. Maybe I just need a break. Whatever it is, I've been inspired to bring you a roundup of some of my fav. Aussie-made products for the home, all which arouse some sort of sweet, childhood, holiday memory.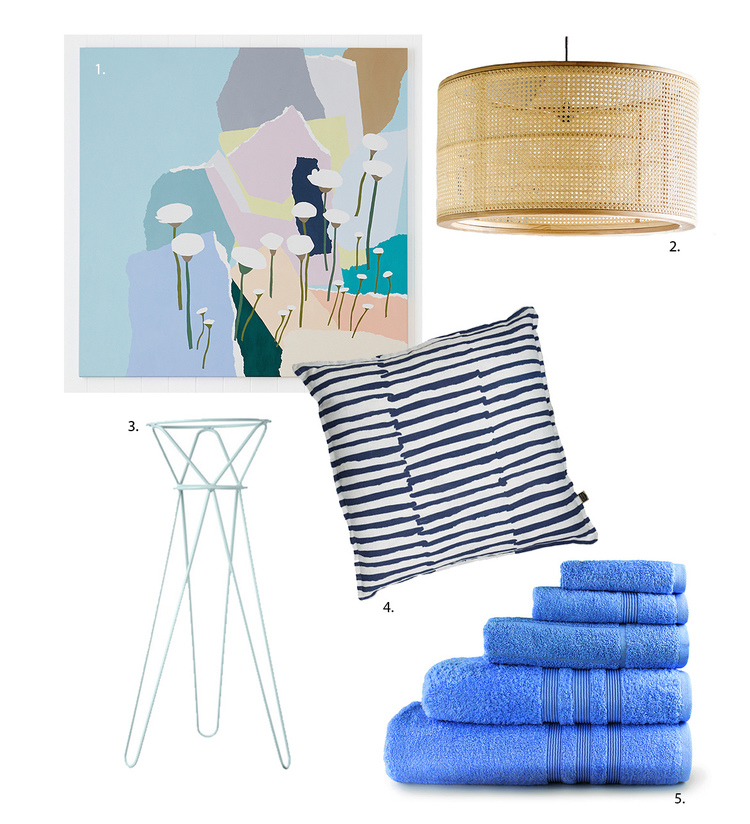 1.     Sea Daisies by Leah Bartholomew, Greenhouse Interiors, $2800
Australian artist, Leah Bartholomew's works are an abstract representation of her life growing up in Northern coastal NSW and the Gold Coast. The colours in this Sea Daisies canvas painting indicates the subtle tones of an idyllic, seaside landscape.
2.     Iconic pendant by Kira & Kira, starting at $695
Made in my hometown, the Gold Coast, the rattan and pine in these handcrafted 'Iconic' pendants by Kira and Kira are a modern, sophisticated take on retro, relaxed, beach shack-style furniture.
3.     Feline plant stand in soft blue by Ivy Muse $170
Designed and made from start to finish in Melbourne, plant stands, in general, take me back to exploring my Grandma's garden as a child. Never has a lady had more plant stands, more ceiling-hung plants, more wall-hung plants….She had plants hanging from plants.  The powder blue colour of the Feline stand adds a modern twist to a retro design.
4.     Stripes Anon cushion by These Walls, $119
Designed, printed, and hand made in Australia, this striped, linen cushion by These Walls (yes, another Gold Coast local business, because have a lot of talent!), represents a modern, quirky take on a classic, nautical pattern.
5.     Australian towel collection in Cobalt by Dri.Glo, starting at $14.95
Owned, designed and made in Australia with high quality, Australian grown cotton, the colour of these cobalt blue, Dri.Glo towels evoke memories of holidays on the Great Barrier Reef and the vivid brilliant blue of the Pacific Ocean.
Happy holidays!
Carlene xx