It's probably as good a time as any time to introduce you to our big, bold, bothersome home on the southern end of sunny Gold Coast. She's a doozy and I'm referring to her as 'she' because she's a bit like our third child in the form of a teenage daughter; high maintenance, costly to upkeep but shows potential and when not causing us grief, is thoroughly enjoyable.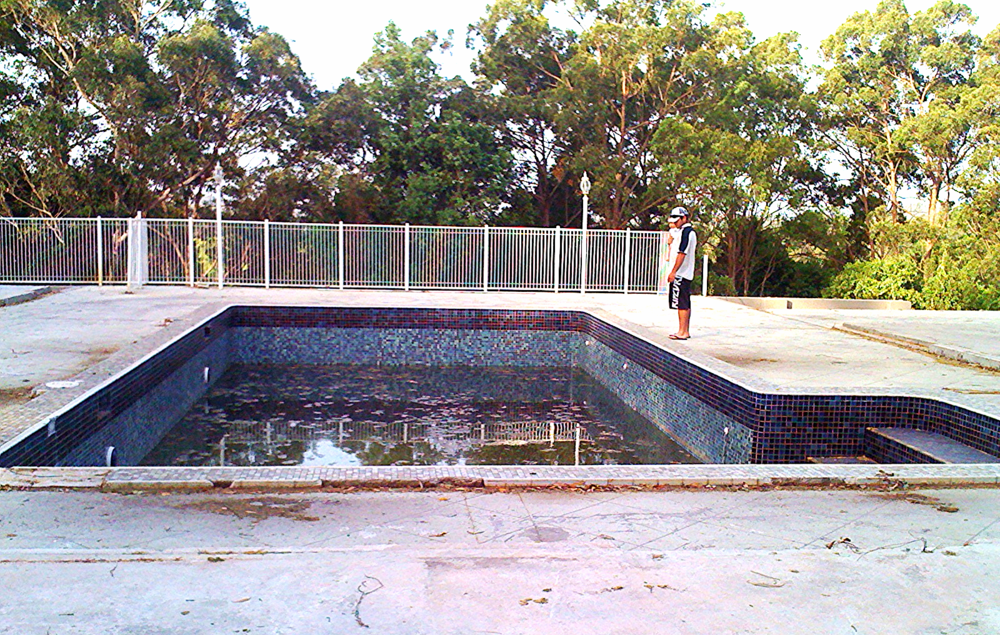 Very little logic came into play when we purchased this property, it was all heart and lust and what it would eventually be in the very distant future. It was a lifestyle choice. We knew then, as we know now, that as long as we're patient and content to chip away at it ourselves over 10 years, it will be a hell of place to bring up kids and eventually worth much more in monetary value than what we will invest in it. We were optimistic which is totally okay because if someone wasn't, this beast would still be on the market. This place needed a vision.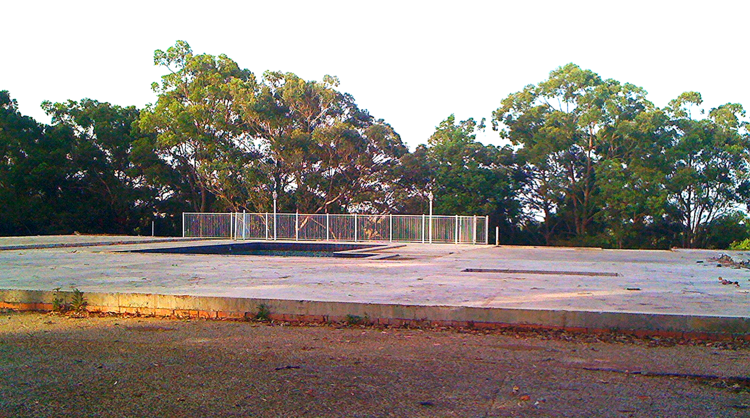 We purchased the big lady about five years ago. What we bought was one-and-a-half acres of land with a three level structure built into a sloped block that wrapped in a U-shape around an Olympic sized swimming pool (almost) that is as deep as it is long (almost).
It's difficult to know whether to refer to the property as a house or not because the entire top level, which is what is visible from the street, was wiped out due to fire and what was left was a massive concrete slab.  The bottom two levels were such a mess (and what you see in the image above) that they devalued the property to really just land value. It was a nightmare of mould-ridden walls and what looked like a slaughtering of single beds (the owners had converted the bottom levels into student dormitories that housed international students…mmmm).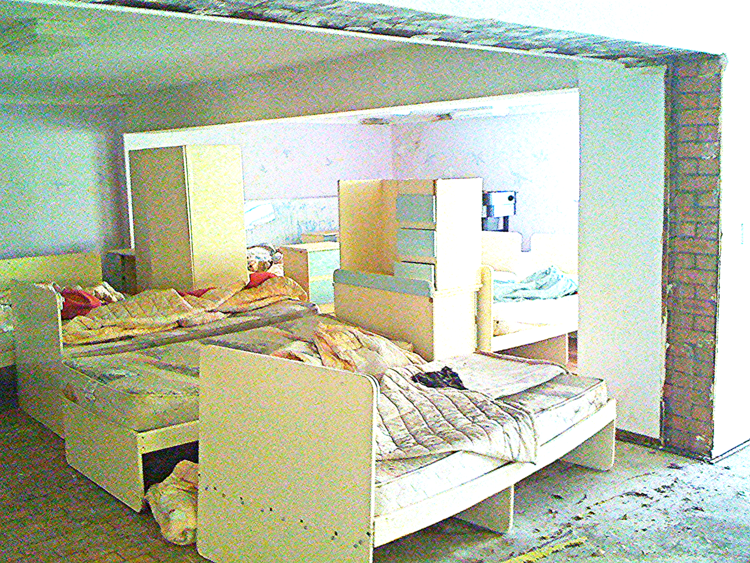 We went in with an offer $100k under the asking price and it was accepted because nobody else was stupid enough to want it. I mean, it was hardly left preened and primed for sale. Still though, the property wasn't ours, as the contract was subject to the sale of our then home. These are less than ideal contract terms but our little home at the time, we had recently renovated and was very saleable. It sold within two weeks of going on the market. There was no turning back.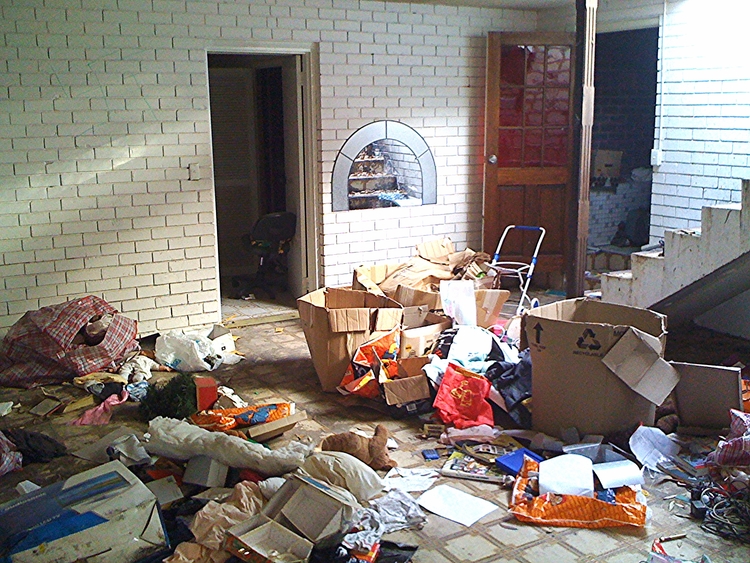 From there, it was a good hard slog. We moved into my sister's house with one-year-old Paddy and for a year Michael would go to work, go to site, get home, eat dinner, go to bed, repeat. Meanwhile, I felt like a single mother  to a toddler, pregnant with Stella and very ill with all day morning sickness. It wasn't the best year of our lives to put it mildly.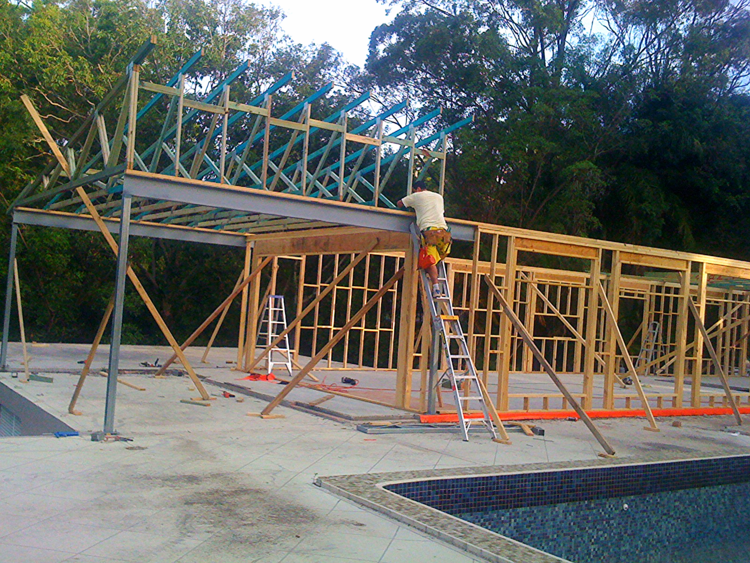 We got the house to a point where we could live in it…..just. Our bedrooms were still raw concrete floors and our kitchen bench top was chipboard (not in a cool way). We didn't have kitchen drawer fronts for at least a year.  The list goes on. I want to say we've come along way in the four years we've been living here but I would be lying. It's very liveable but even just one completed room in the house would be very welcome.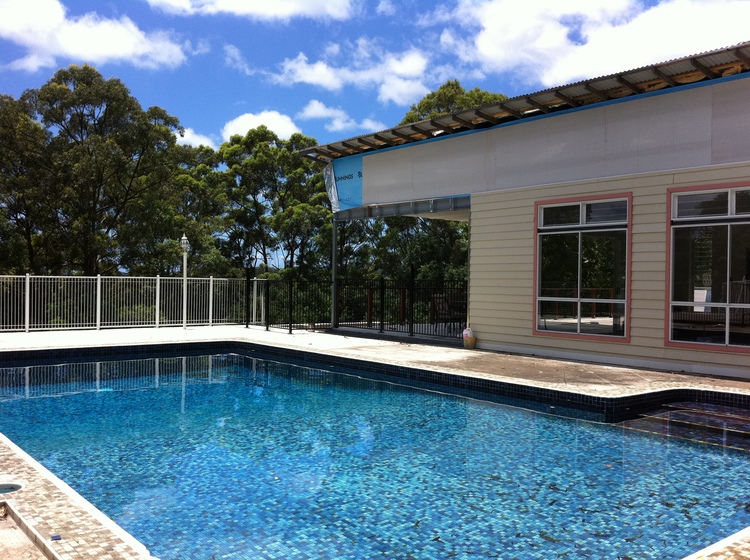 We have a love hate relationship with our house, it changes day to day, but when it comes right down to it there is nowhere else in the world we would rather be. We are positioned up high and get a very welcome afternoon breeze. We are completely cocooned by huge, mature gum trees and wake up to a symphony of bird sounds, we are visited by Kookaburras, Galahs, rabbits, possums and have ducks bath in ur pool (thank goodness for pool chemicals). We pass cows and horses on our way out here and we are still only twelve minutes to the beach.
On the flip side, our beloved gum trees are responsible for a mountain of work in clean up and the leaves are a permanent feature in our pool. And while the gigantor pool brings much summertime fun, it's costly to run and requires endless maintenance.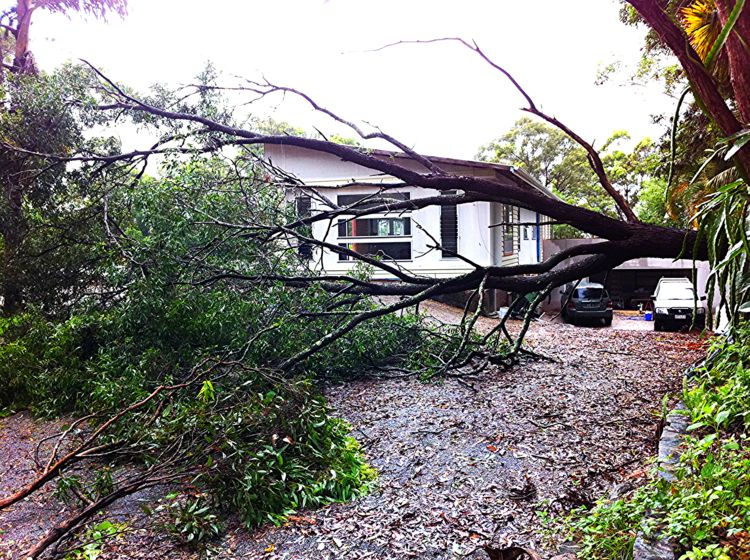 Anyone who ventures up the driveway (the courier, pool pump repairman, grey water serviceman) always pauses, looks around and asks the same question, "what is this place?" At which point I take a big breath and ramble off what I know of its sordid, winding, forty-year old history, none of which is based on fact but it seems everyone has a story about this place.
I've been told, the house was built by owner of BMG records in the 1970's and some point used as a gentlemen's club complete with a window into the swimming pool from the lower floor. You can use your imagination as to what happened in there but the brickwork indicates where that window has been covered up so I'm running with the story. Apparently, before our block stood alone as its own block, our house was the clubhouse to a health retreat that stretched the length of the street.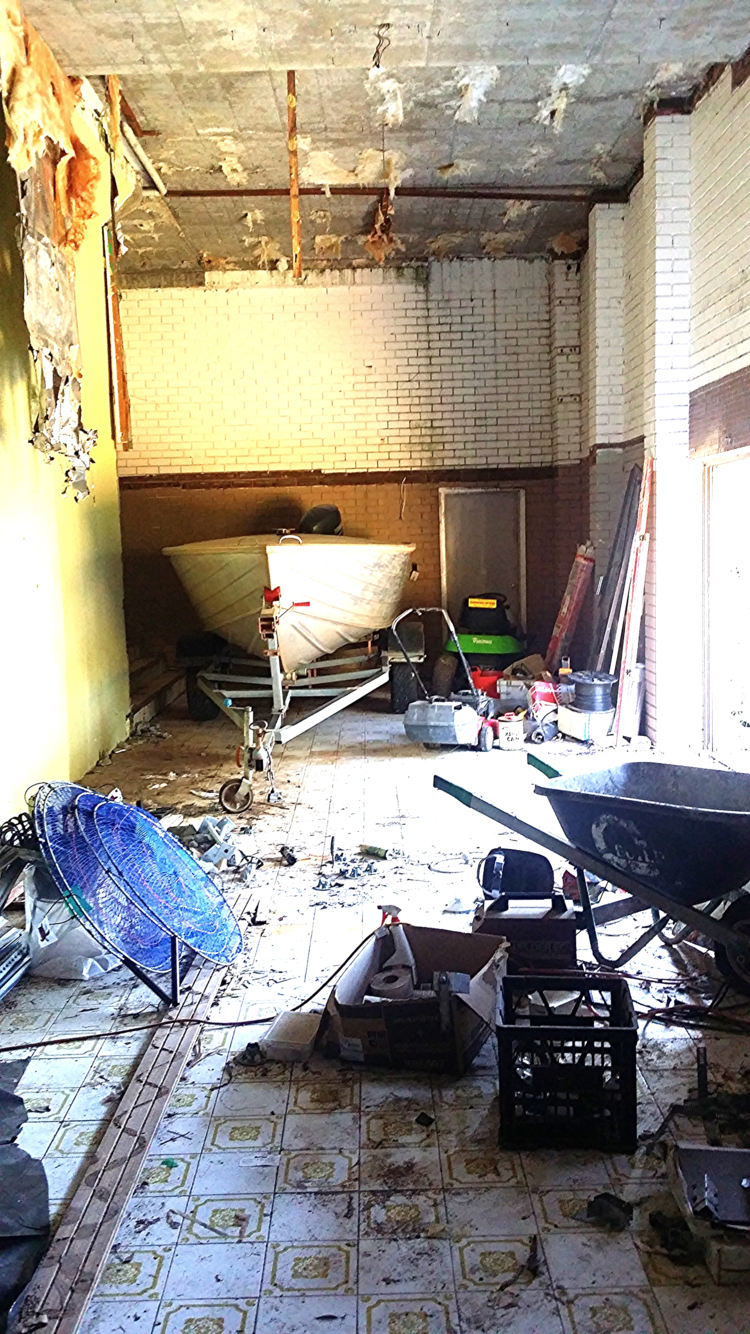 Finally, it's our turn to reap the benefits of the huge scale of the monster we live in. In the next six weeks we will be embarking on our office/studio transformation, which will encompass the entire bottom level. It actually brings me great comfort to know we can utilise the excess space in the home for commercial purposes because seriously, there are only four of us, what would we otherwise do with three levels of home? And the best part about making over this particular space is that it couldn't get worse.
Stay tuned.
Carlene xx