The first chill of the year is in the air and I am loving it, not only because our Aussie summers are so insufferably hot and not just because I so much prefer my winter wardrobe but because we have the perfect excuse to cosy up our home interiors. And when I say cosy up, I mean layer up, warm up and soften up with these 3 simple tips.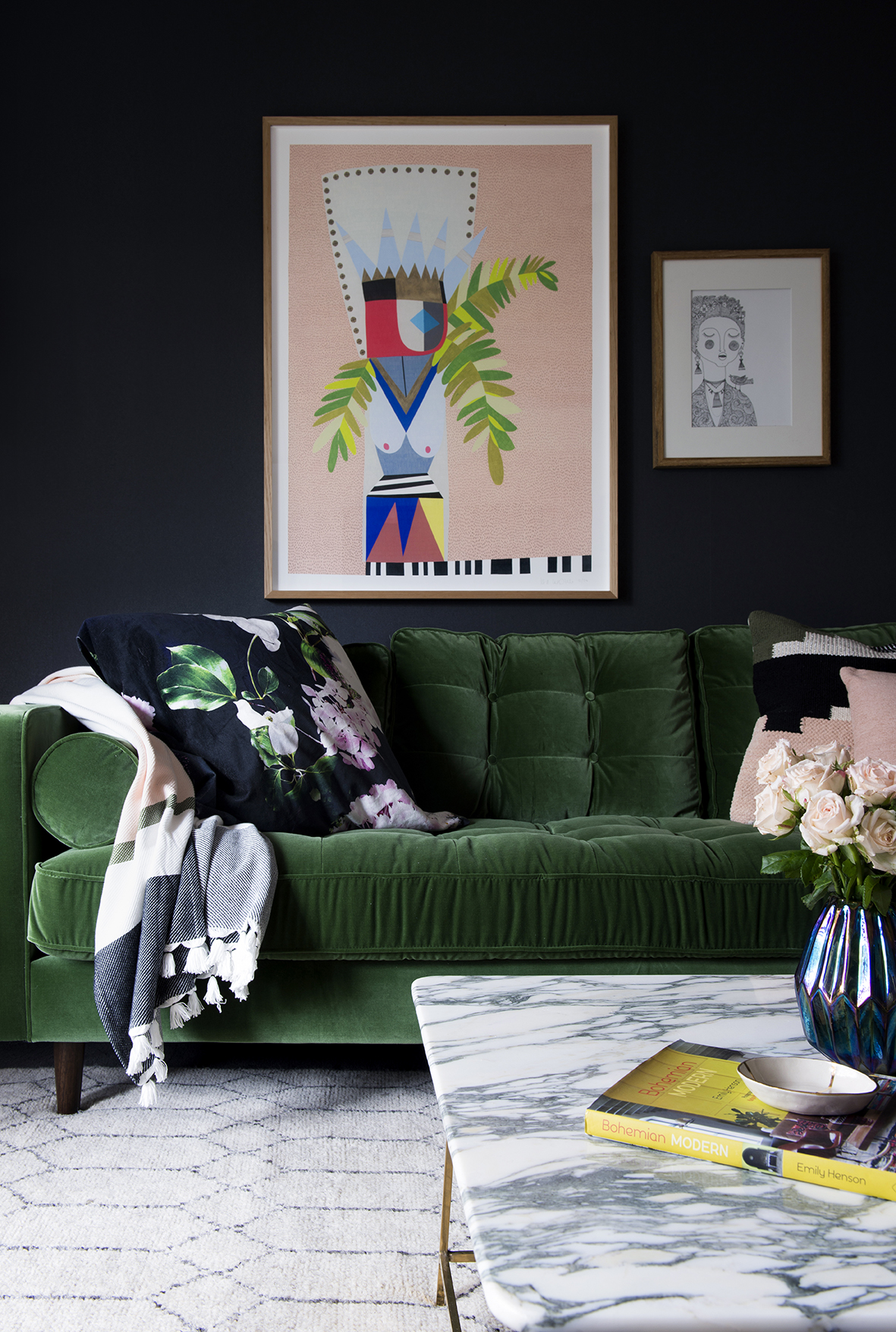 Go to the dark side with your colour scheme
With the change of season, be brave and work with a darker and moodier colour palette than you would normally dare. I'm partial to rich, regal tones, such as sapphire blue and ruby red but this year, in particular, is all about green. I find rich emerald green irresistible but if you lean to an earthier colour palette, opt for shades of olive or moss green, which pairs beautifully with complementing earthy hues, such as mustard and terracotta.
Watch the video where we've partnered with Belong Communities to show you how to put together a warm, layered and welcoming living room, full of personality and with a nod to the 2017 trends.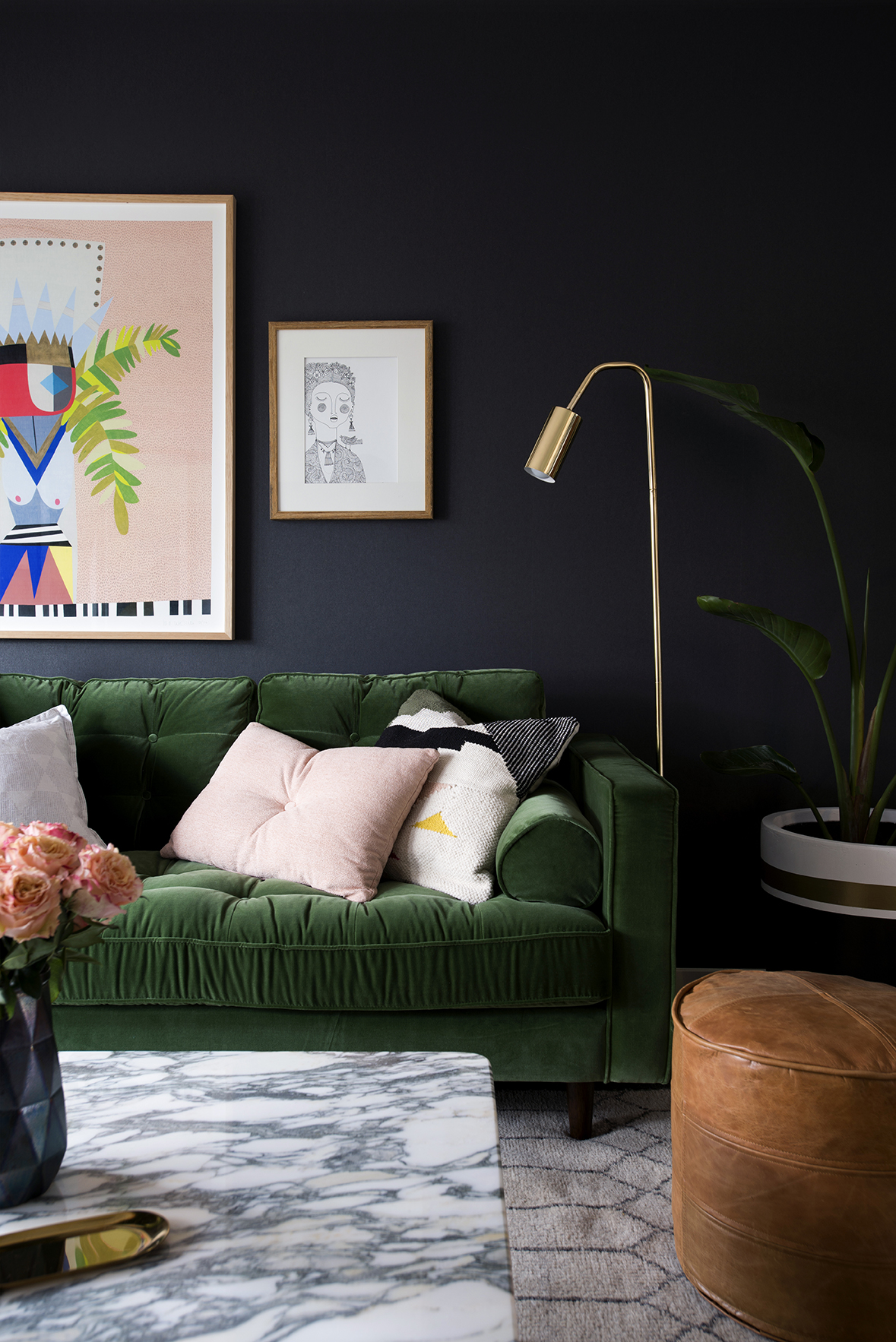 Work natural materials into your space
Too many synthetic materials in an interior can be soulless and cold, which is why in winter, in particular, it's important to work natural materials into your scheme. Materials such as timber and marble provide interest and personality with their unique texture and pattern, and with large and small upholstery fabrics, work with a combination of wool, cotton and linen to achieve a diverse, relaxed, and inviting look. Velvet, in particular, is having a moment in interiors and in this case, whether it's a natural fibre velvet or synthetic kind, the smooth, soft touch of the weave adds a sense of regal sophistication to a home.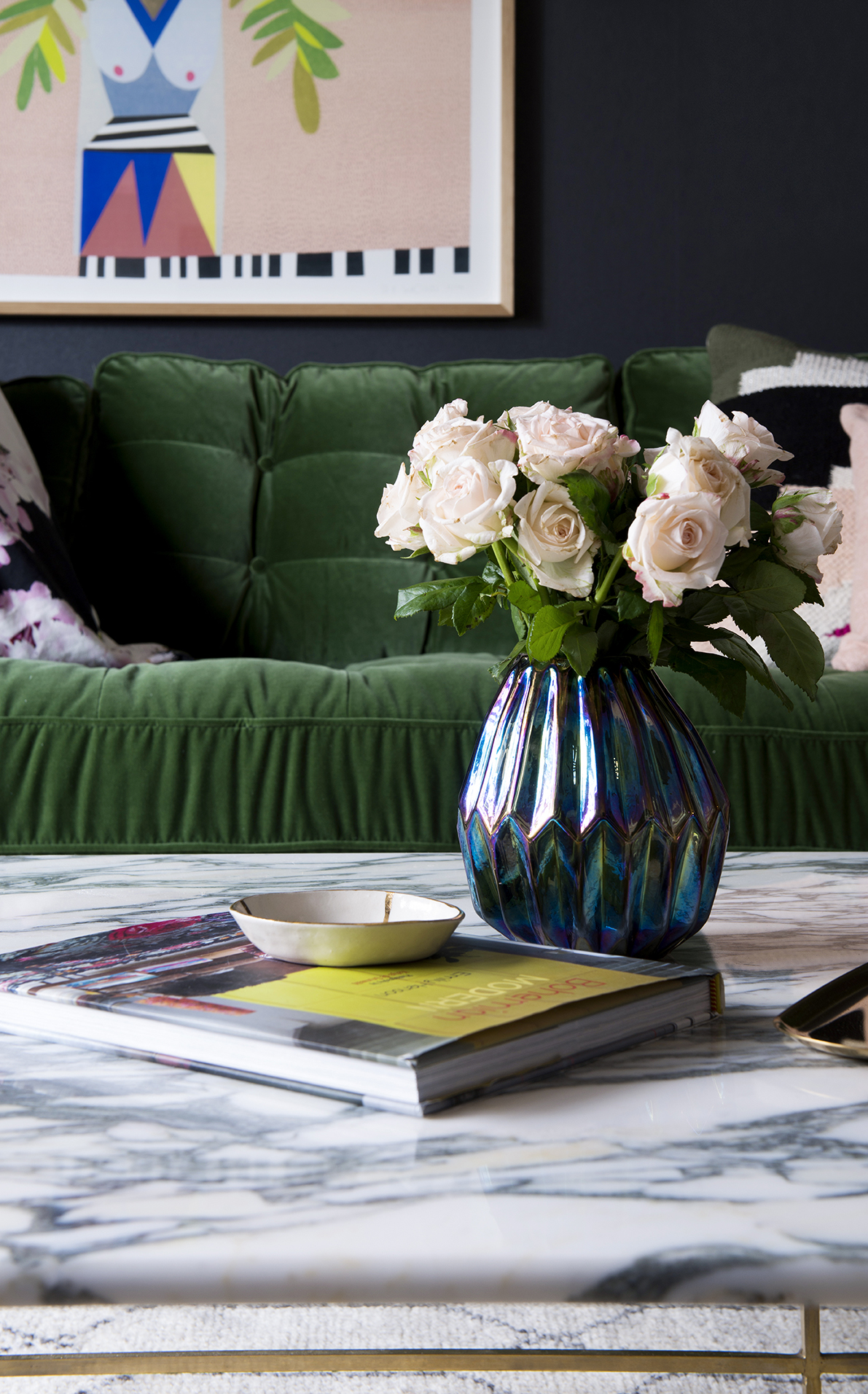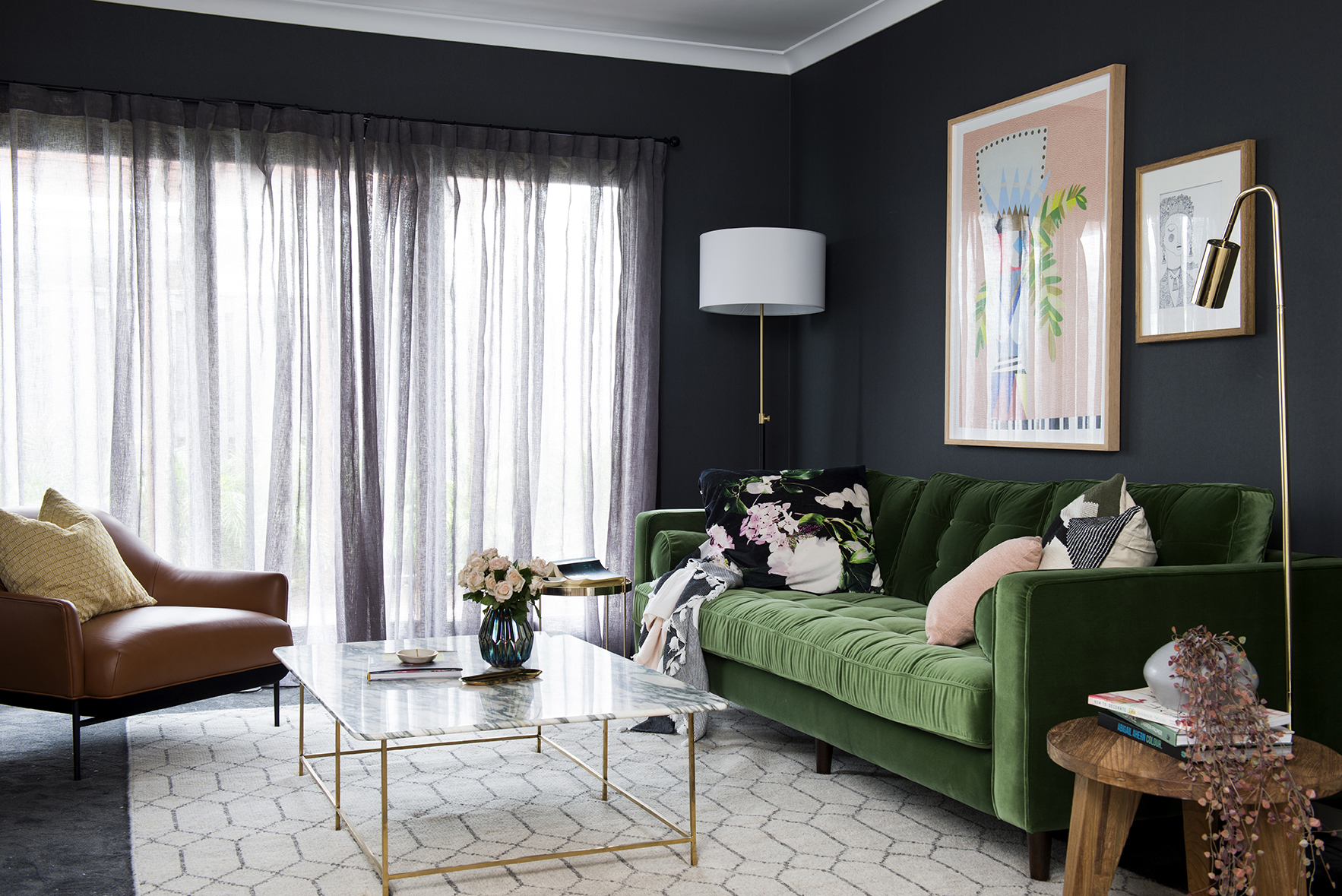 More is more in soft furnishings
Rugs in your interior are key, not only for zoning a space, but for adding another layer of softness and warmth so necessary in the cooler months. Think big. As a general rule, we tend to purchase our rugs too small but the most inviting and luxurious spaces include rugs large enough that the furniture can sit atop it, either completely or partially. In the bedroom, the rug should also be large enough that you have a generous amount of rug exposed on either side and at the foot of the bed. You might even consider a runner in the hallway or kitchen and a round rug or cowhide in thoroughfares. Curtains too play a key role in winter, not only in keeping out the weather and diffusing harsh light, but aesthetically, the soft and fluid fabric adds a sense of luxury and cosiness, so welcome in the winter time.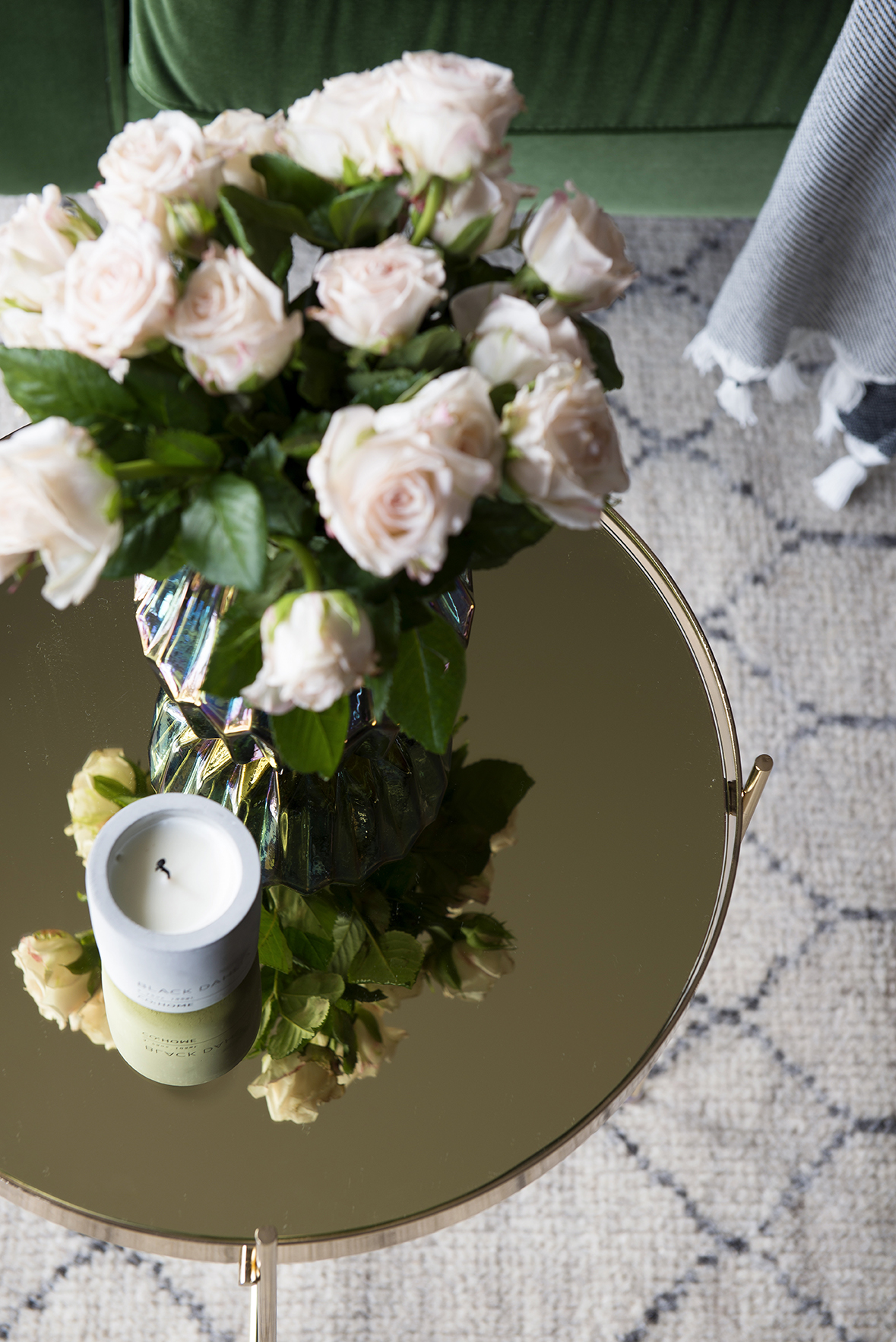 Photography by Mindi Cooke http://mindicooke.com/
Thank you to Coral Homes for the use of the space and to our product suppliers, Kira & Kira, Cotton on Home, Clickon Furniture, and Matt Blatt. See below for a full list of products details.
Albus 1 floor lamp, Beacon, $249; Lexington 3 seater velvet sofa in seagrass, Matt Blatt RRP$2495; Lucy vase, Matt Blatt $60; Ashley glass vase, Matt Blatt $75; Draper vase, Matt Blatt $68; Tube Floor lamp, Clickon Furniture $470.00; Chilli low back armchair, Clickon Furniture $2,280.00 (Brown Leather); The Coralie side table in brass, Clickon Furniture $140.00; Belynda Henry Wattle print, Clickon Furniture $1,700.00 (Framed and Large); Lisa LaPOinte limited edition Witch Doctor print, Clickon Furniture $1,195.00 (Framed and Large); The Dublin Coffee table with brass legs, Clickon Furniture $1,330.00; Liquorice Moon small ceramic bowls, Kira & Kira $35.00; Pleated lamp in ambre, Kira & Kira $299; HK Living Teak coffee table, Kira & Kira, Lg 599 Med $499 Small $399; Hay brass tray, Kira & Kira $43; Studio Twocan pot, Kira & Kira from $55; Timber HK Living side table, Kira & Kira; MJG Leather Easy Ottoman in tan, Kira & Kira $449; Armidillo & Co, Tangier rug, Kira & Kira $1715; Bonnie and Neil Dogwood velvet cushion, Kira & Kira $195; Design Twins hand painted large pot plant, Kira & Kira Small 139 Med $189 Lg $249; Astrid candle, $12.95–$29.95 CO:HOME; Marlon vase (blue), $12 CO:HOME; Bennett cushion (yellow), $68 CO:HOME ; Sadie cushion (pink), $24.95 CO:HOME; Nell throw, $49.95 CO:HOME;  Cera mini bowl, $6.95 CO:HOME; Nell Throw, $49.95 CO:HOME; Tilly Waffle Blanket, $99 CO:HOME; Leather Morrocan pouffe, my own, Ebay; Justina Blakney print (on black wall), my own; Large green antique floral vase; Rhino print from The Minimalist; Lucky Fisherman print by Sandra Eterovic from Etsy; Lady and Flowers print by Sandra Eterovic from Etsy; Glass dome, my own; Coffee table books, David Jones and my own.