It feels a little bit wrong to reveal our newly renovated living room for the first time completely decked out for the holidays but I love Christmas and I love our decorated living room SO much that I couldn't wait!
In the new year I'm going to do a really thorough breakdown of our living room makeover and everything in it but for now I'm going to take you through all of the Christmas-y stuff whilst there's still time to get out there and get festive. Although I wouldn't blame you for not wanting to go anywhere near the shops right now. It's scary out there, you guys.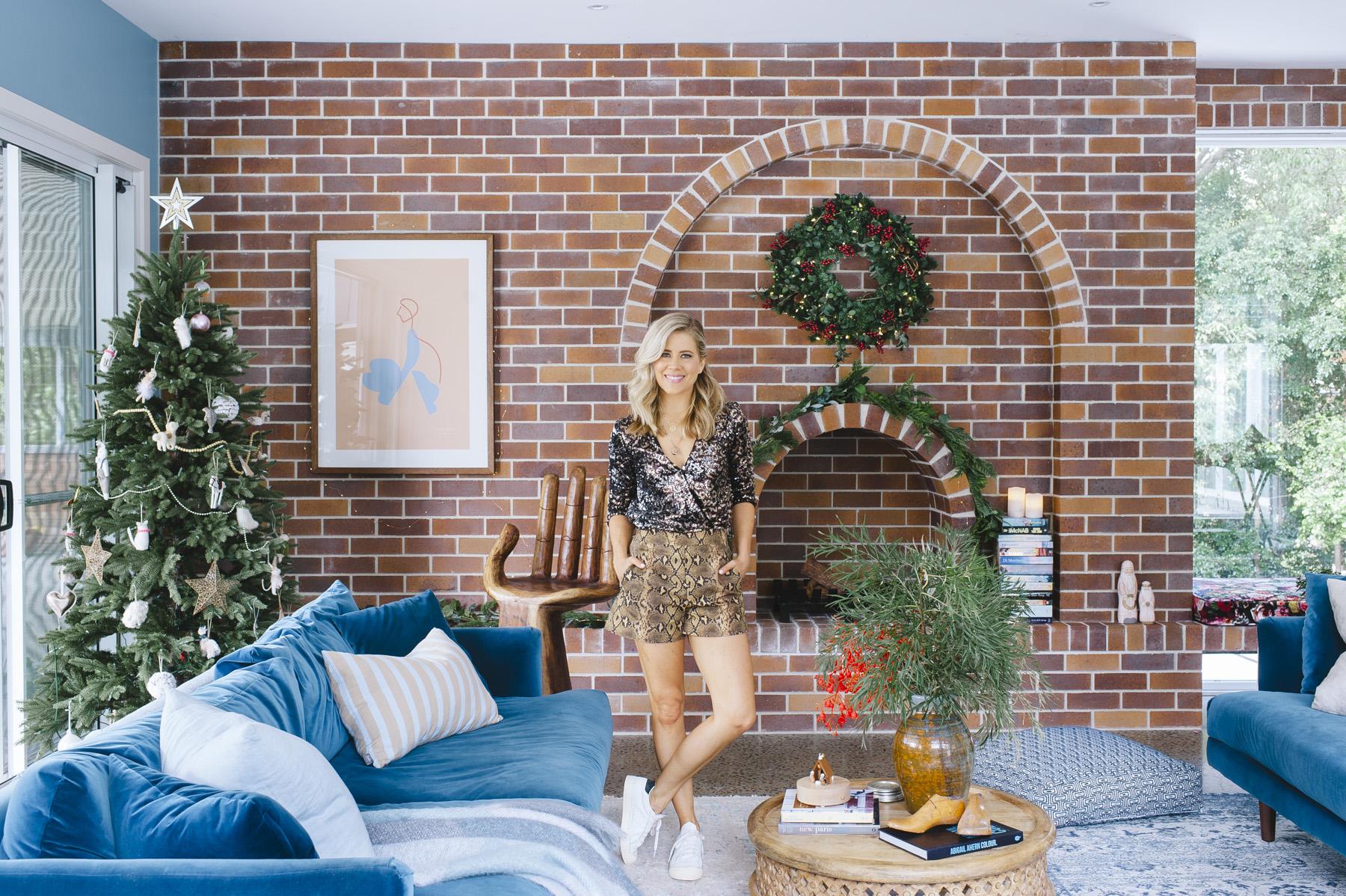 Let's start with the tree shall we? This one was gifted to me by Balsam Hills. It's the 210cm Silverado Slim and the thing I love most about it is the fact that the LED lights are built in. No lights to untangle!  It also looks very fluffy which I love. The ornaments are combination of West Elm, Bed Bath n Table and Adairs collected over the years, as well as some old ones of which I have no recollection buying.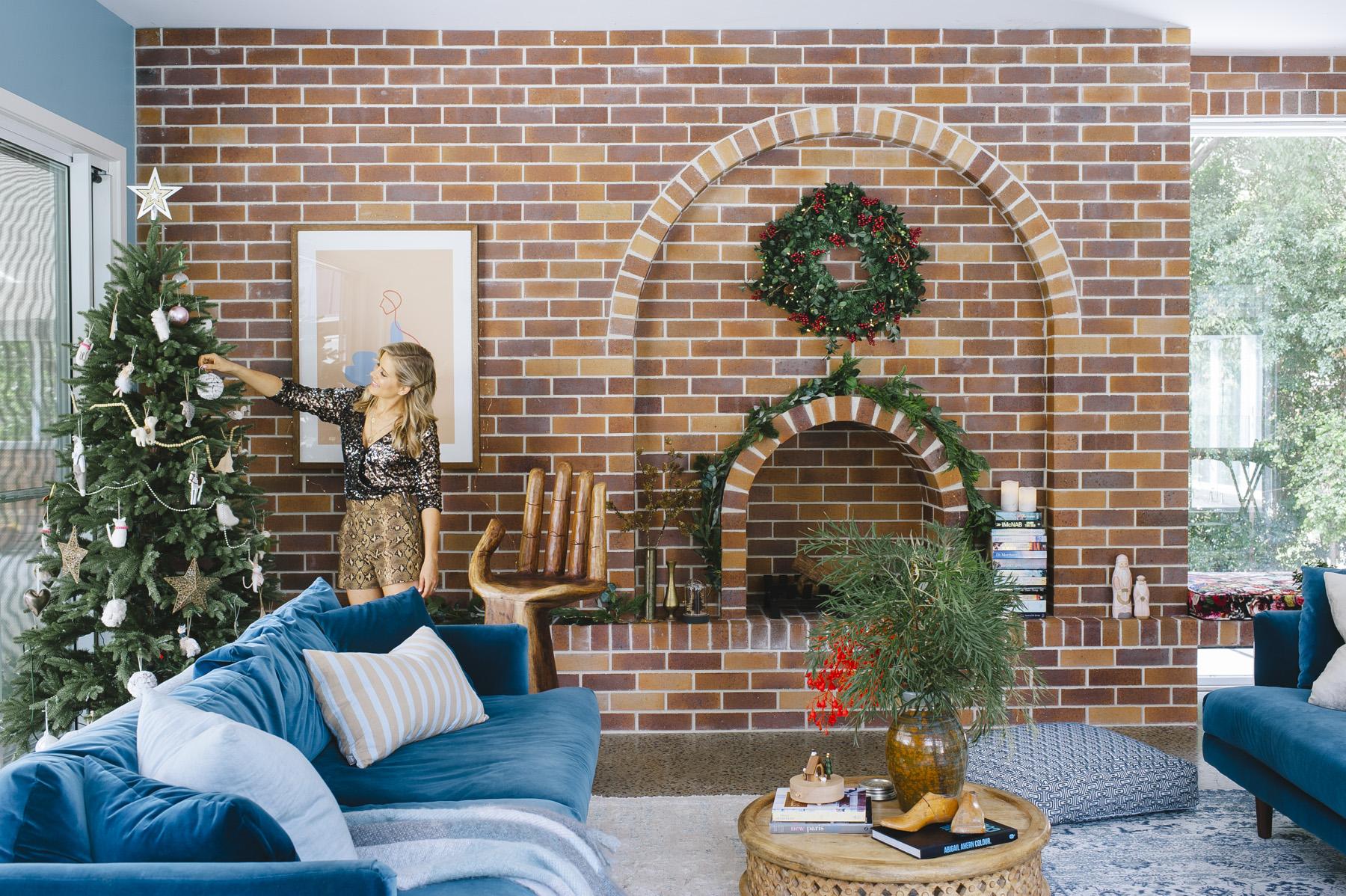 That amazing wreath over the fireplace is also from Balsam Hill and again, it's LED battery operated and looks so pretty at night. The green leaf garlands are from Adairs. I'm going to invest in more of these next year because I love how versatile they are. You can twist them around a staircase, lay them on a console or open shelf and below I'll show you how I used them to create a Christmas tablescape.
The pink ornaments sitting pretty on the brick ledge are the Wise Kings from Adairs. It's little Christmas items such as these that you can scatter around the house for little, subtle pops of Christmas at every turn without being overwhelmed by tinsel and the more sparkly approach to Christmas decorating.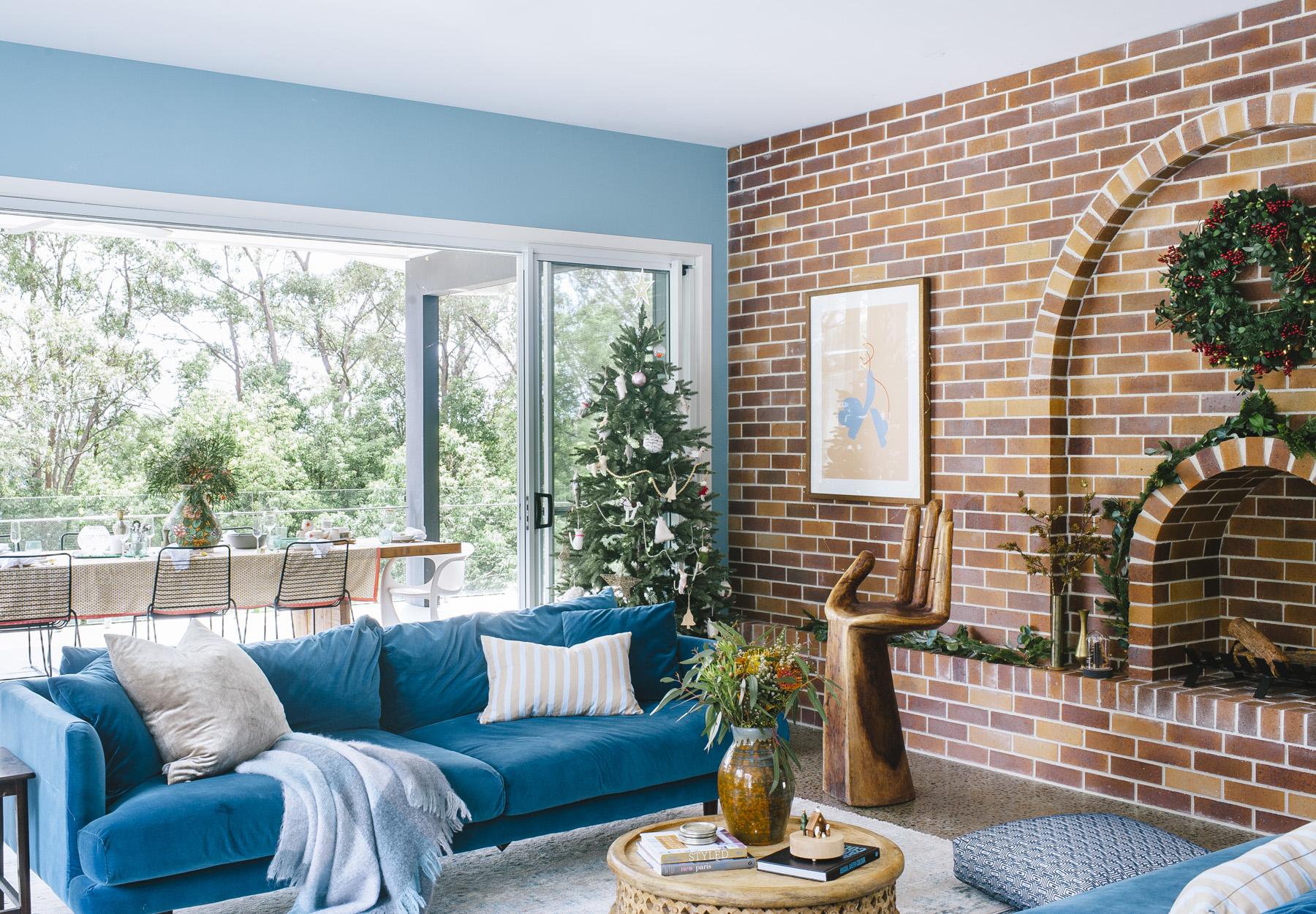 On to the Christmas tablescape. I really wanted to pull this table together using only items that I already own because if you're like me, you get to a point during the silly season that you get sick of spending monrey. I was successful apart from the fact that I had to borrow my sister's plates and bowls. I opened my plate drawer to realise that I only use Corelle dinnerware, which whilst I love to use day to day (so light and don't chip) aren't exactly photogenic. I also decided that if you're hosting a large Christmas gathering then it's perfectly acceptable that you'd have to borrow some dinnerware (unless you go disposable for which I won't judge you (although, I urge you to buy the eco variety). These of my sister's are a really classic Royal Doulton set, white with platinum rim. I'd probably suggest using something more dishwasher friendly though at Christmas.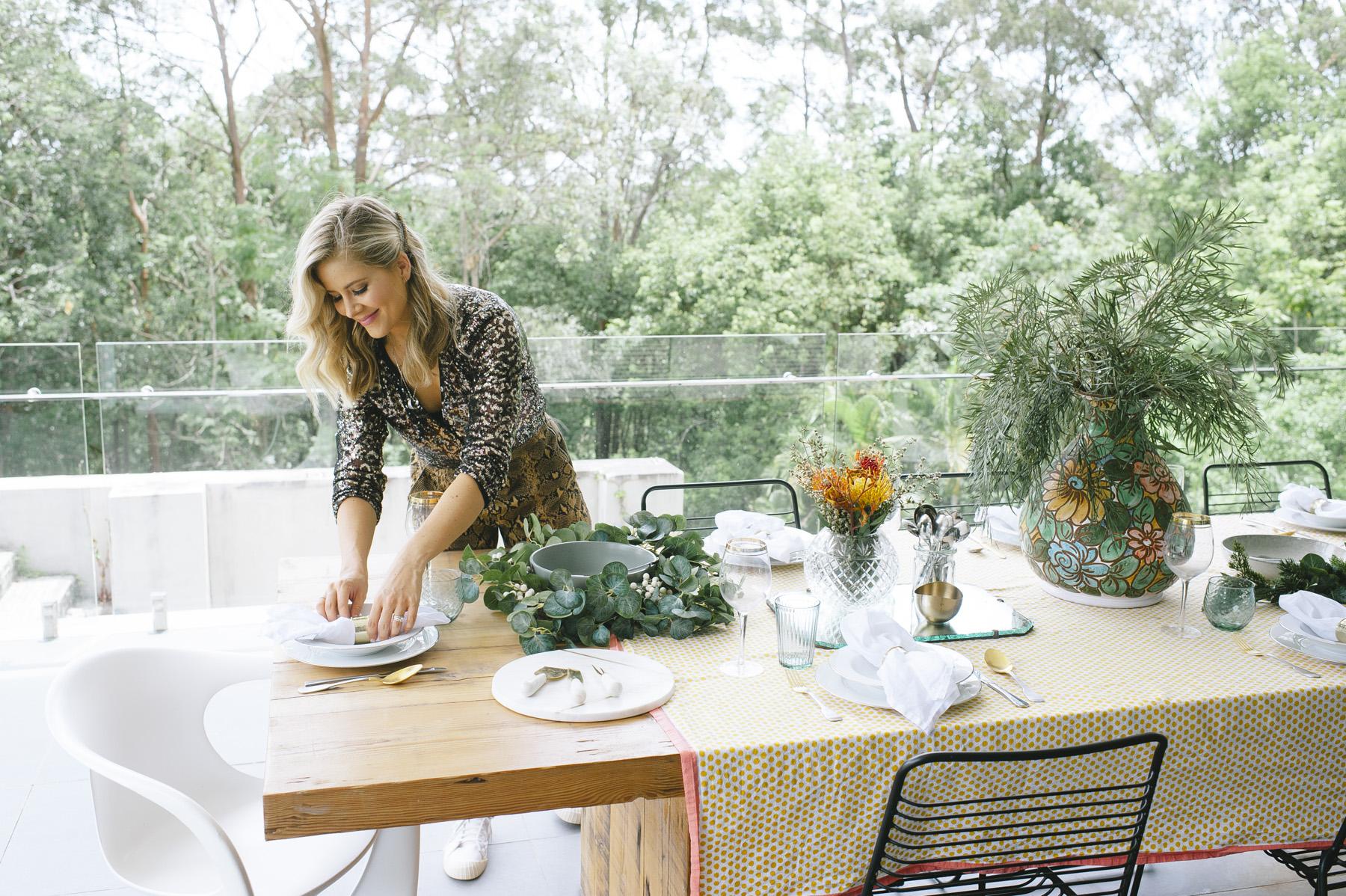 The tablecloth I purchased from Ruby Star Traders a few years ago. I have two of them but for the purpose of the shoot I figured I'd reveal some of the timber dining table for the sake of warmth.
The silver cutlery I've had for years and the gold cutlery I purchased from Zara Home last year. I feel perfectly comfortable mixing metals in general and because when you're setting a table drawing only from your collection you have to be prepared to mix things up. The linen napkins and gold napkin rings are also from Zara Home who have a very festive range of Christmas decoration and homewares, in general. I would describe their aesthetic as a little bit classic, a little bit whimsy.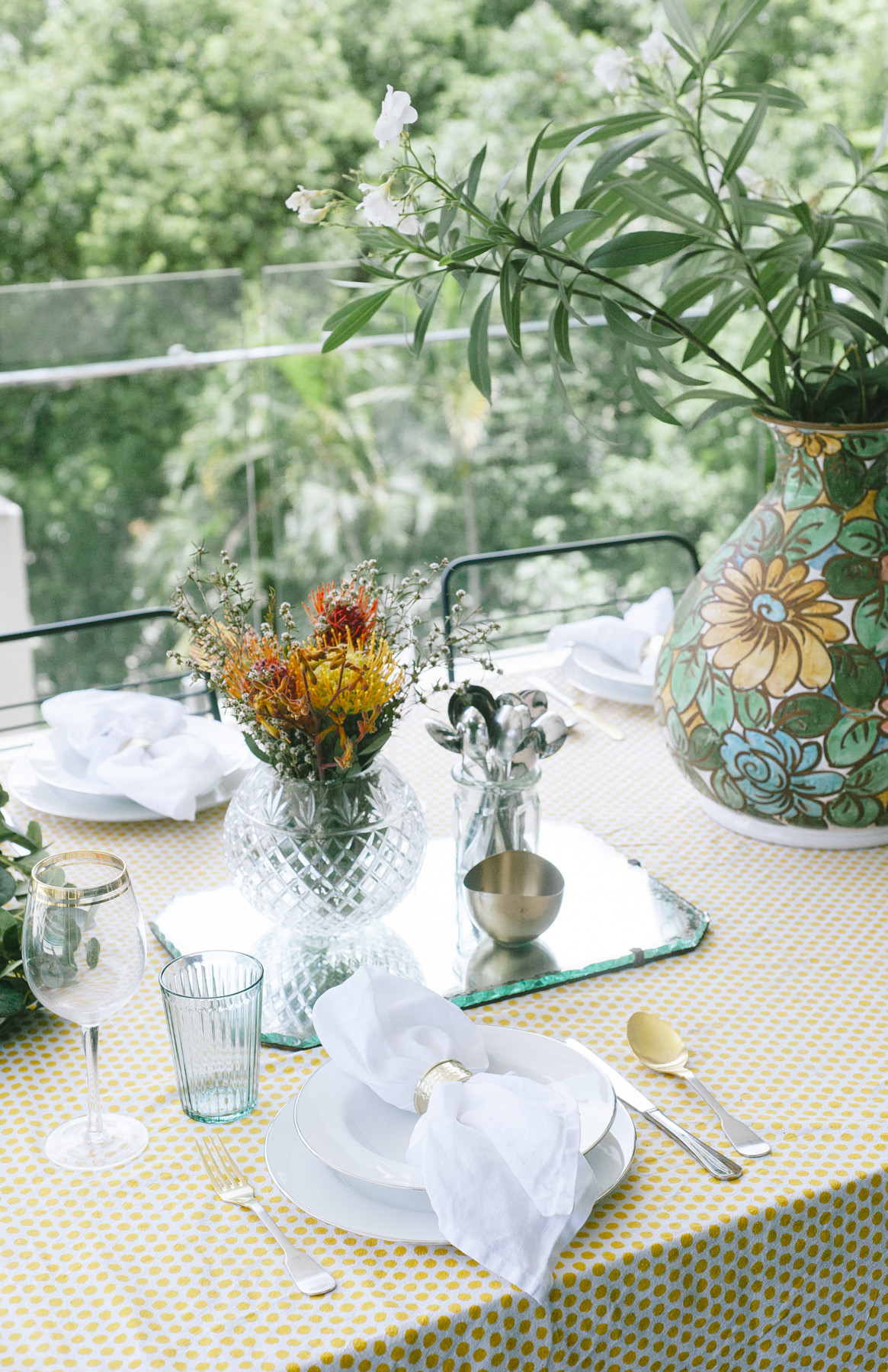 This large floral vase is pretty special. I picked it up from local vintage and antique store a couple of years ago and miraculously it works perfectly with my accidental colour scheme. My mirrored tray is not a tray at all but an art deco mirror that I bought from another local second hand store about 5 years ago (seriously guys, op shops and antique stores offer uniqueness you just can't buy from the big box retailers). Trays are ideal ways to group items on a table and create a sense of neatness. It could be anything from wine glasses to condiments to tea and coffee items.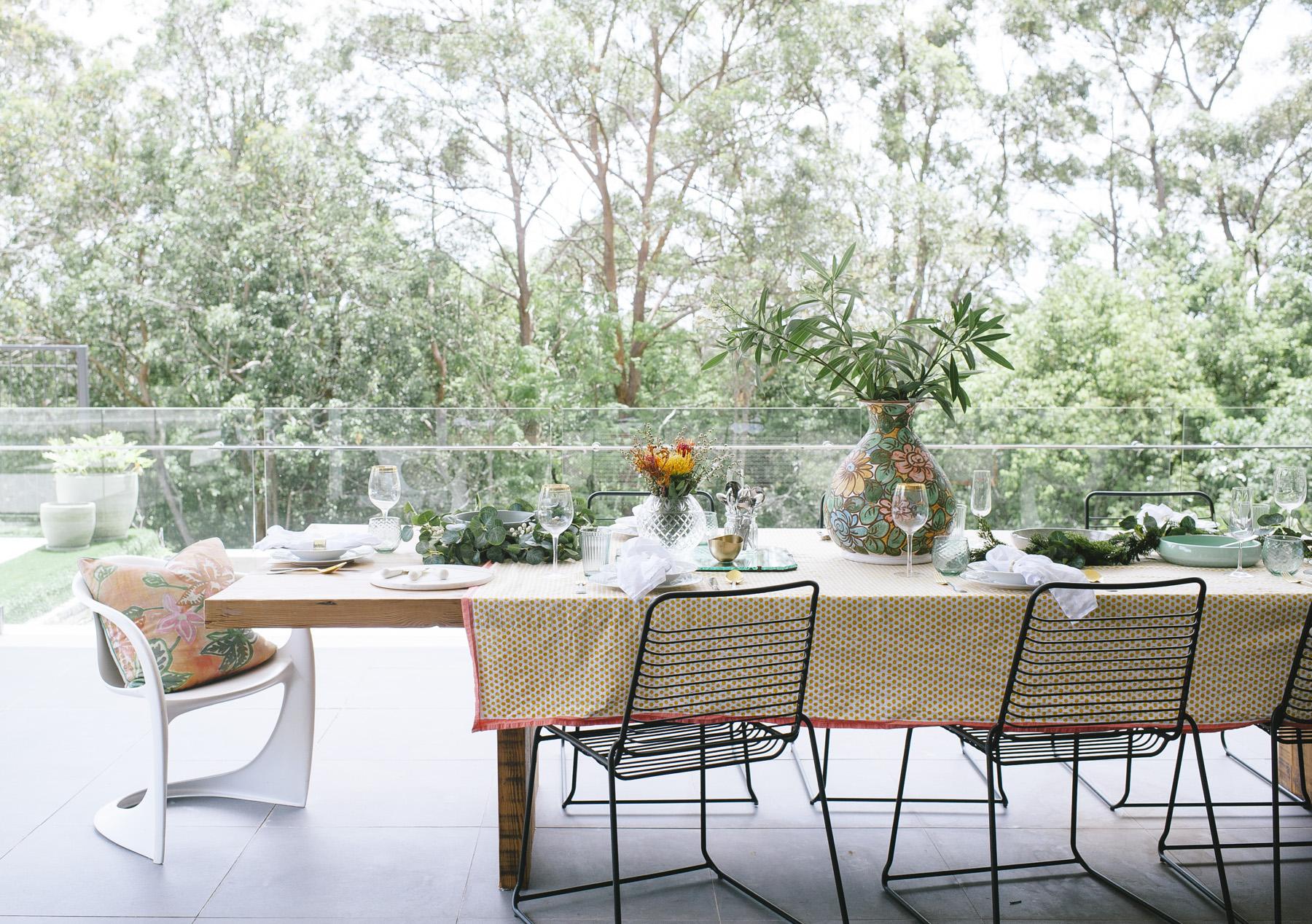 These steel chairs wouldn't be my first choice but with my brief to only pull from what I had, well, these are what I had. I really need to invest in some chair pads for comfort but on the positive, these chairs are indestructible and never show dirt which suits me given we live in the bush and get plenty of weather. The Casala chairs, I sourced from Gumtree about 7 years ago. They just needed a fresh coat of paint and they've always served me well. They're super hardy and always take a good photo.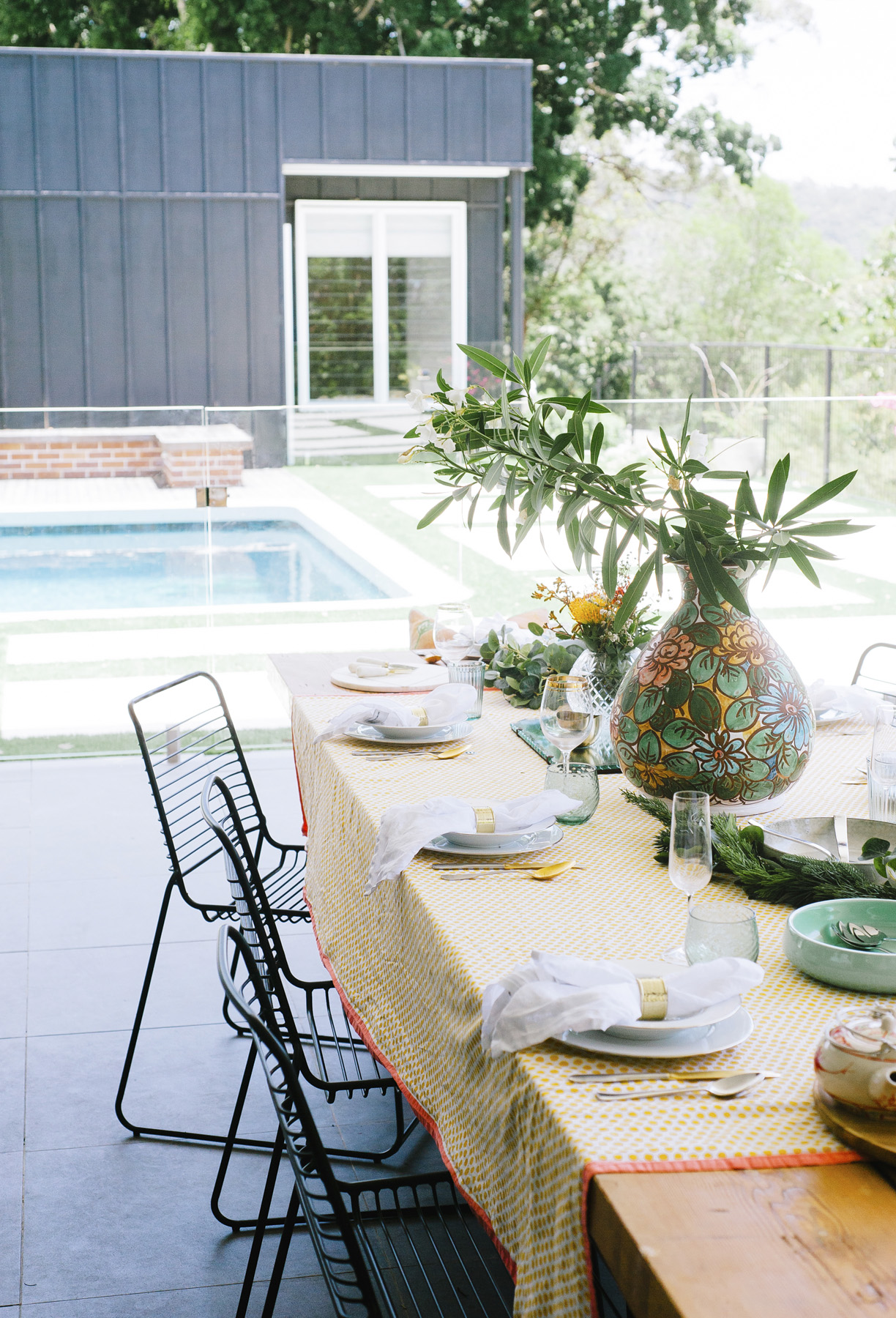 Christmas wreaths and garlands make beautiful table decorations if space allows. I like wreaths like this Adairs one to place under/around salad bowls. The marble cheese platter I won last year in our annual Stealing Santa game and I happen to know it was from Kmart because I was the one who bought it. BTW everyone should play Stealing Santa at Christmas. It's the highlight of our day every year.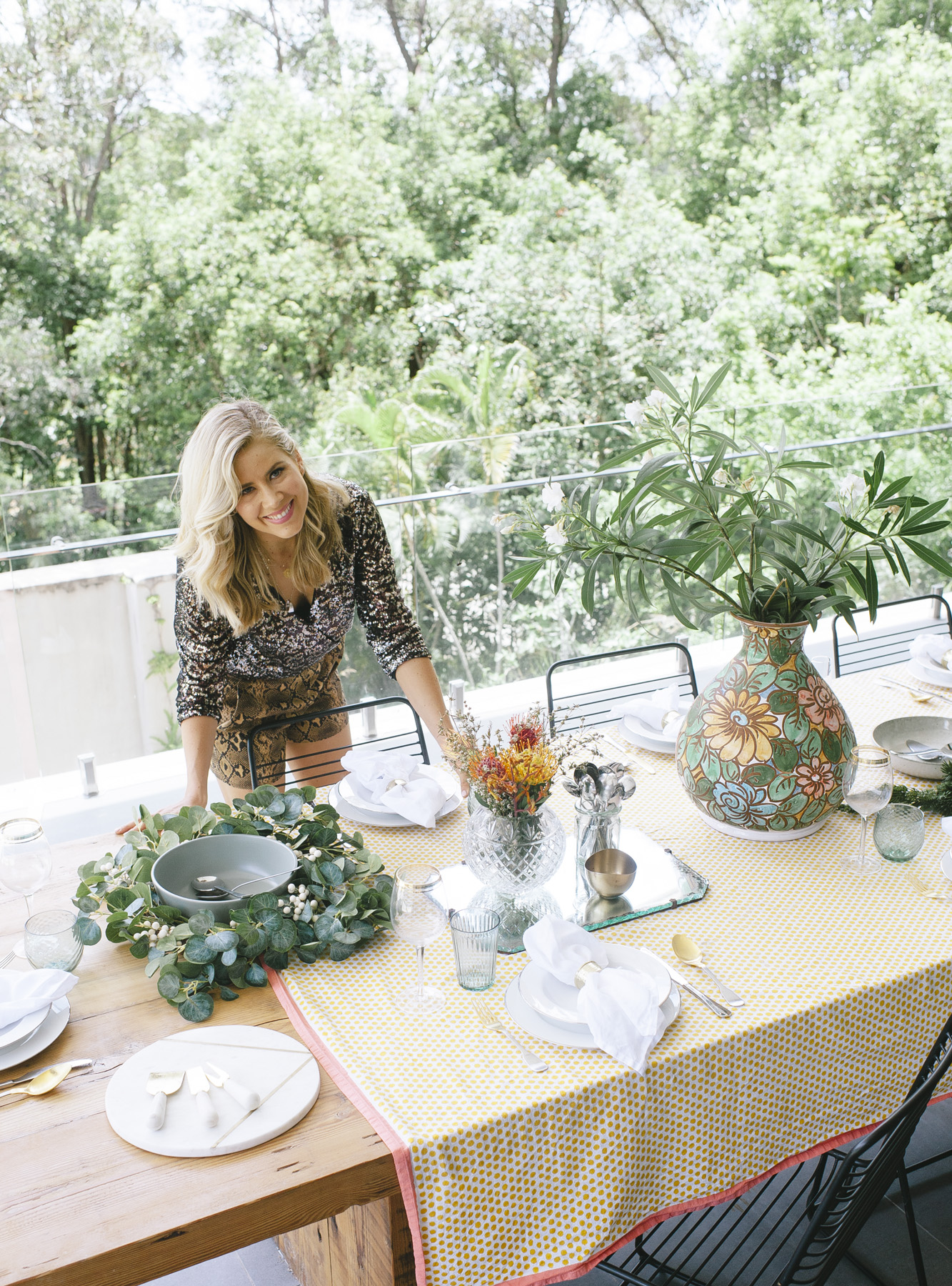 There's still time to get Christmasy, folks. I add a little to my collection every year and if you're resourceful you can style out your Christmas day table using largely what you have around the house. NB. It's a good idea to look beyond your kitchen too.
I'll be back later this next week with my "All I want for Christmas" list which I personally think acts as a pretty good gift guide. Until then…..
Carlene xx
Images by Nat McCommas.