I can sympathise with the fact that you're probably being bombarded with Mother's Day gift round-ups. This isn't a guide to items that I think would make great Mother's Day gifts in general, they're literally all the items on my own wish list AND I'm a Mum so sure, let's call it a gift guide. Some of these are in fact currently on their way to me. I know what I like so there's no way I'm going to leave it up to Michael's capacity to guess. P.S Can someone please forward this to Michael?! 😉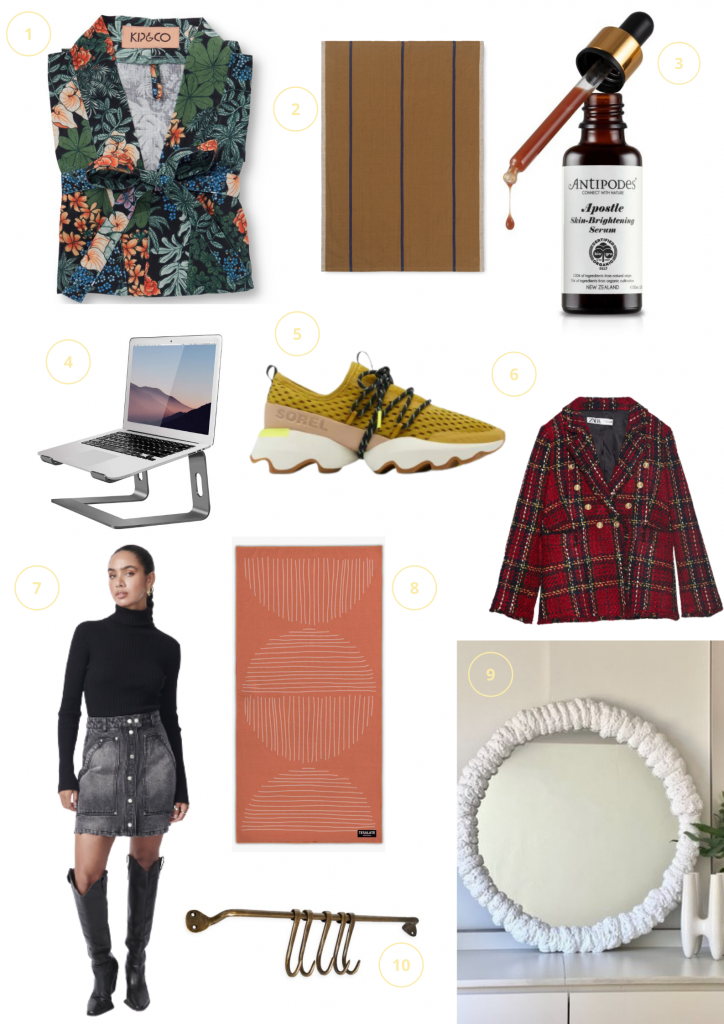 1. Atrium Linen Bathrobe, Kip + Co. – $139
OK – this one is indeed en route to me. I own a fluffy, warm robe and a very light cotton robe (which is useless to be candid) but this linen number will be light but thick enough to provide an extra layer when I'm meeting trades at 6am.
2. Ferm Living Hale Tea Towel – EU$15
I probably don't need fancy tea towels but mine hang over my oven on full display and you can't go wrong with a classic stripe.
3. Sorel Kinetic Impact Lace Sneaker – $140 
If anyone knows how I can get these specific sneakers in Australia I'd be forever grateful as it seems Sorel only sends a limited range to Australia. I don't NEED new sneakers but I've been told these are very comfy running shoes and I'm finding my current ones aren't shock absorbent enough. P.S I've just started running (jogging) and I'm oddly enjoying it.
I LOVE this blazer so much! I had one similar when I was 12 and I recall loving it also. I'd wear it over a tee with boyfriend jeans (I can't do "Mum" jeans because I'm a Mum) and sneakers or boots and I'd love myself sick!
5. Antipodes Apostle Skin Brightening Serum – $59
I'm really loving this skincare range. I've been using it over the past 8 months and I've just about tried the entire range (the face oils, night cream, face masks). I apply this serum after I clean my face in the morning and before moisturiser. It must be an age thing but knocking on 40 my skincare products have doubled!
6. Ena Pelly Jagger Denim Skirt – $179
This is another recent purchase. Ena Pelly does the best skirts. It's a good length to replace pants and still feel comfortable. I'd pair it back with a tee and denim jacket or blazer and sneakers or some over the knee boots. Disclaimer. The second bottom button is popping open way too easily so I might have to sew it up.
7. Tesalate Sunseeker Beach Towel – $79
My sister has these towels and highly rates them. They're sand-free, ultra absorbent, compact and super light-weight. The light weight factor is the real clincher for me, I'm done being a pack horse to go to the beach.
I carry my MacBook literally all over my house because I typically like to work from anywhere but by desk, although that's not always practical when I have samples and paperwork to contend with. The line around my neck suggests I'm spending way too much time looking down so this stand might be the answer.
9. Teresa Vigroux Round Mirror – POA 
My plan with this Teresa Vigroux mirror is to hang it above my fireplace (which is about to get bagged and painted) and have it painted my wall colour to keep the space tonal but still provide texture. Don't you just want to touch it?!
10. The Society Inc Chandler Rack Antiqued Brass – $125
This one isn't for me but actually something I might get my own Mum. Mum and Dad have a bare wall in their butler's pantry that is screaming for something just like this to hang an apron, utensils, tea towels…
NB: this is how you should do brass in the home – aged or antiqued!